5 People Hospitalized After Pedestrian Bridge Collapses Onto DC Highway
Five people have been hospitalized with non-life-threatening injuries after a pedestrian bridge that was in "poor condition" collapsed onto a busy Washington, D.C., highway.
The incident occurred before noon on Wednesday, June 23, on DC-295 near Polk Street.
The collapse was caused by a collision, D.C. Deputy Mayor for Public Safety Chris Geldart said during a press briefing Wednesday afternoon.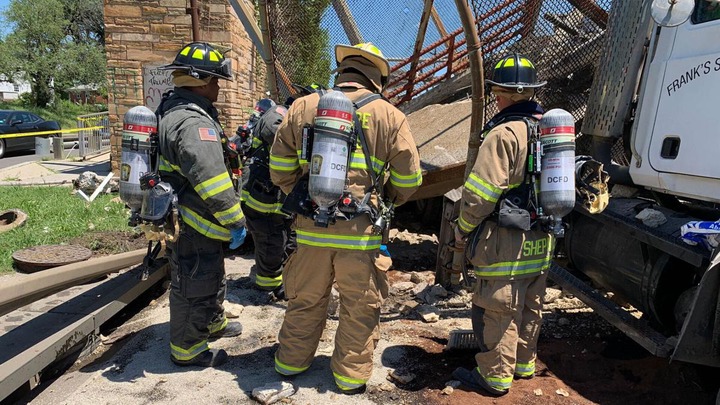 Based on the preliminary investigation, a truck carrying diesel fuel may have collided with the bridge, causing it to separate from its mooring, he said. Multiple cars were then involved in the crash, with five people in those cars transported to local hospitals, he said.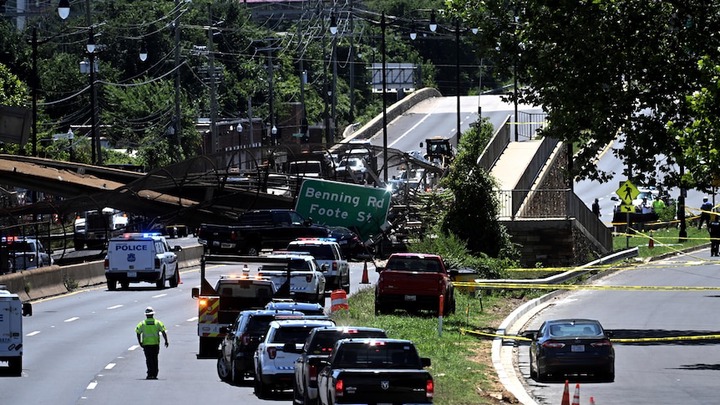 "Everything we see on the accident scene right now leads to this being a collision pulling the bridge off its mooring," said Geldart, who noted they were "very lucky" there weren't any serious injuries.
Images from the scene show a truck crushed under the bridge which was completely detached from a staircase and platform at one end.
The crash investigation and bridge removal could continue through Thursday, with traffic on the highway halted in both directions, Geldart said.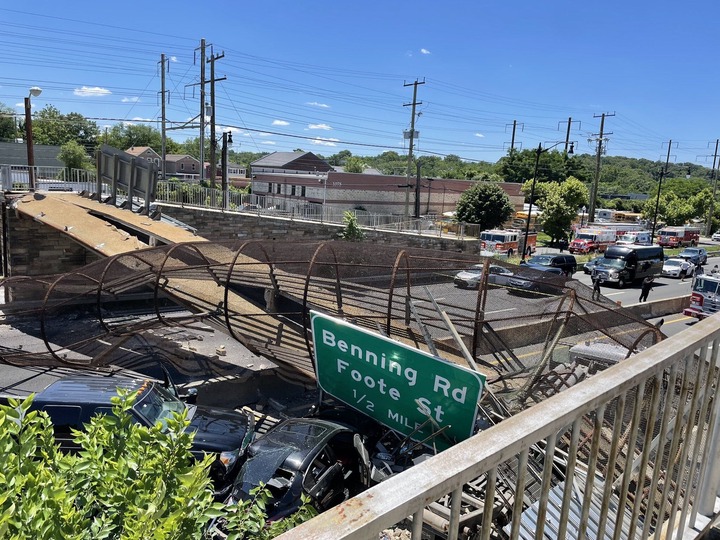 Officials initially said there were no structural concerns with the bridge when it was last inspected in February. But Geldart later issued a statement that they had "misstated the condition" of the bridge.
A May 25 inspection report gave the bridge a rating of "poor condition," prompting a plan to replace the bridge, he said.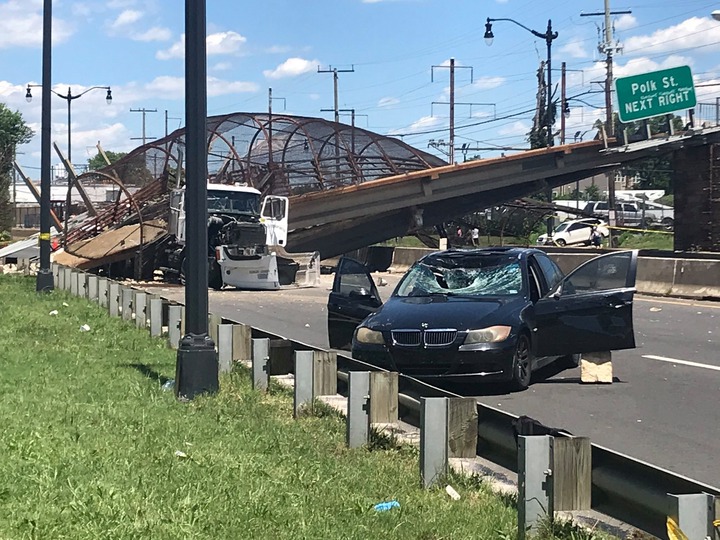 The bridge still had "good structural integrity," and the rating was due to the decking, the part of the bridge which people walk over, Geldart said during a press briefing Wednesday night.
The bridge is now believed to have collapsed due to a collision with the truck's boom, which had not been lowered after the driver left a nearby construction yard, he said.
'I Want To Learn From Xavi At Al Sadd' : Andre Ayew
Andre Ayew, Ghana captain  has heaped praise on Al Sadd boss Xavi Hernandes and says he expects to learn a lot from the Barcelona legend during his time at the club.
Ayew joined Al Sadd on a free transfer last week, where Xavi has been head coach since 2019.
2010 world cup winner, Xavi, led the team to win the Qatari League last season, and Ayew says he's been left impressed with the work he has done since taking charge of the team three years ago.
"Xavi, the coach of the team, was a great player and played for a long time with the biggest and best club in the world – Barcelona, and he is now a coach for the best club in the Gulf after playing with the team for five years".
"I follow the Al Sadd team and watched the development that took place in the team's performance in terms of entertaining football, the positioning of the players and the great tactics with which the team plays.
"I expect to learn a lot from him during my time with him. My goal is to win titles, to make the fans happy, and to strive hard to win the AFC Champions League."
Ayew expressed his happiness in joining the Qatari league champions
"I am very happy and proud to play at Al Sadd. It's an important moment for me and my family, because of what Al Sadd provided to my family in the past, and therefore when the club offered me a contract, I agreed immediately and I am sure that we will win more championships together."
Ayew played for six clubs, including his two loan spells at Lorient and AC Arlésien, in Europe and recorded 131 goals and 55 assists in over 400 appearances.
Ayew is expected to bring his wealth of experience on board to help the club achieve thier goal of conquering Asia having dominated domestic competitions in recent years.
Manchester United Agree Fee With Real Madrid For Varane
Manchester United have agreed a fee of £41m with Real Madrid for defender Raphael Varane.
The price for the France international is believed to be £41m including add-ons and the deal is set to go through, subject to a medical.
Having already signed England international Jadon Sancho for £73m from Borussia Dortmund, the acquisition of Varane would be a further statement of intent from United.
Ole Gunnar Solskjaer's team were second in the Premier League last season but finished 12 points behind Manchester City.
Varane is well established as one of the world's top defenders, having joined Real from French side Lens in the summer of 2011.
He has gone on to make over 350 appearances for the club, and be capped 79 times by France, helping them to World Cup glory in 2018.
He started all four of France's matches at Euro 2020 before they were knocked out on penalties by Switzerland.
If the deal goes through as expected, Varane's first competitive action for United could come when they start their Premier League campaign on August 14 against Leeds United at Old Trafford.
Twitter Tests Upvote And Downvote Buttons
Some iOS Twitter users will see up and down votes on comments as parts of research "to understand the types of replies you find relevant", the social network says.
The voting buttons will be thumbs or arrows according to a graphic shared by Twitter.
Twitter said downvotes will not be visible to other users and will not change the order of replies.
Commentators have drawn parallels with Reddit's use of up and down voting.
Twitter's interest in methods for users to downvote or dislike had already been trailed last year by product lead Kayvon Beykpour who tweeted it was something "we're exploring".
But in today's announcement the company was clear this was not a "dislike" button.
Reddit responded to the announcement on its twitter account with a gif that simply said "interesting".
Upvoting and downvoting are features of many sites, but users were uncertain as to whether this would improve the quality of interaction on twitter.
One writer wryly observed in a popular tweet: "I for one am glad that twitter is introducing a dislike button as the one thing this platform doesn't have enough of is unnecessary negativity."
Cody Elam, a user researcher at Twitter, tweeted that the change "gives people the power to privately voice their opinion on the quality of replies without publicly shaming others while also giving us more nuanced feedback."
Presently twitter allows users to hide individual replies to their tweets so that other users need to click if they wish to read them.