Amazon CEO Jeff Bezos And Wife MacKenzie Prepare For $137 Billion Divorce
These days, divorce is more common than not, and all the money in the world couldn't prevent it.
Amazon CEO, world's richest man, and iguana eater Jeff Bezos announced on Wednesday that he and his wife MacKenzie are getting divorced after 25 years of marriage.
"As our family and close friends know, after a long period of loving exploration and trial separation, we have decided to divorce and continue our shared lives as friends," the couple wrote in the statement shared on Twitter. "If we had known we would separate after 25 years, we would do it all again."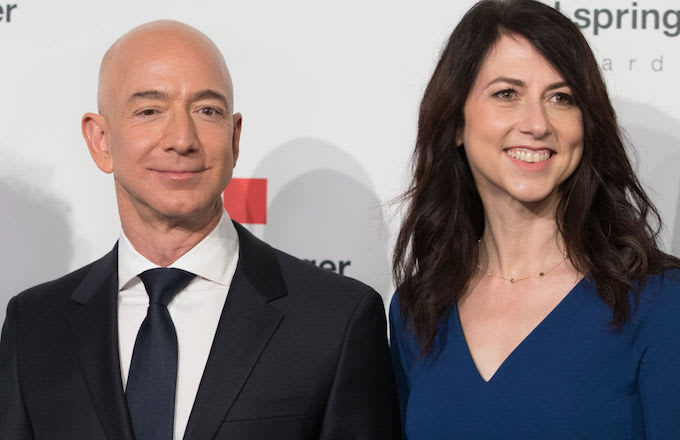 The split seems pretty amicable, but it's still got that dramatic edge tabloids love thanks to its alleged price tag. TMZ reports there is around $137 billion on the line in this divorce. Of course, it's not surprising that the world's richest man would go on to have the world's most expensive divorce.
— Jeff Bezos (@JeffBezos) January 9, 2019
The estimated figure seems somewhat high, but the price tag likely includes stock, property, or other things the uber-wealthy have. Jeff and McKenzie reportedly own a total of 400,000 acres of property, making them two of the biggest landholders in the country.
MacKenzie and Jeff Bezos met way before Amazon, at the bank D.E. Shaw, before heading from New York to Seattle to start the tech giant. They got married in 1993, and have four kids together.
At one point, MacKenzie also worked for Amazon. She likely helped her husband get the business off the ground, and continued to champion his unprecedented, ethically questionable success. It's unclear if the two had a prenup, but if not, this story is likely going to hit news feeds again, as we all gawk at the insane amount of money these people have.
Young Osu Guy Named "Cash" Kicks Off 2019 With A Brand New Car | PHOTO
CASH, A young osu based guy who has been working very hard since last year surprisingly has kicked off osu by getting himself a brand new car.
This surprise came up just this afternoon after he posted a photo of him by his car.
Famously know as "Cash" he was able to get his name on the car as its number plate whereby he was seen by his car.
He got himself a 2015 Hyundai which costs about $15,300.
See photo of cash and his car below.
Czech Republic Offers Nigerians 4,000 Euros To Leave Their Country
The government of Czech Republic has offered to pay Nigerians and other migrants €4000 (1.6m) to encourage them to leave their country and return to their homes.
A report by RemixNes, a Czech-Republic based newspaper, the offer is under a programme that focuses particularly on migrants from Afghanistan, Iraq, Nigeria, Mongolia, Russia, and Vietnam that wish to voluntarily leave their country.
The programme tagged "Returns" established by the Czech Interior Ministry would assist immigrants with transportation costs and integration in their country of origin, including accommodation, household equipment or domestic animal expenses.
"Anyone who voluntarily leaves the country and promises not to return not only to the Czech Republic but to the EU will be eligible for the money. Allocation for the program amounts to 60 million CZK, 75 percent is to be covered from the European Asylum, migration and integration fund. Each individual could get funds ranging between 40,000 and 100,000 CZK. First funded returns should be processed in the third quarter of 2019." the report read.
Huawei's New Campus In China Looks Like A Big European City And Can House 25,000 Employees | PHOTOS
Tech giant Huawei's massive new campus, which is designed to look like a group of European cities, has left people in awe.
The campus in the Chinese city of Dongguan recreates a wide swathe of Europe, from faux Italian towers to artificial lakes and classical palaces. It also has its own tram system.
The campus is split into 12 "towns," which are areas where employees work. Each town is named after a European city. There are towns including Paris, Granada, Verona, and Bruges.
The campus is still being built. So far 8 out of the 12 towns have been completed.
The nine square kilometer facility can house up to 25,000 employees. 17,000 employees are currently located on the campus. There are over 50,000 employees at Huawei's Shenzhen headquarters.
Huawei's Dongguan campus is so big that a tram operates to transport employees between different towns. There's also a bridge that connects the different parts of the campus on different sides of the lake. The bridge is a replica of the Freedom Bridge in Budapest, Hungary, CNBC reports.
More photos below.