Amazon CEO Jeff Bezos And Wife MacKenzie Prepare For $137 Billion Divorce
These days, divorce is more common than not, and all the money in the world couldn't prevent it.
Amazon CEO, world's richest man, and iguana eater Jeff Bezos announced on Wednesday that he and his wife MacKenzie are getting divorced after 25 years of marriage.
"As our family and close friends know, after a long period of loving exploration and trial separation, we have decided to divorce and continue our shared lives as friends," the couple wrote in the statement shared on Twitter. "If we had known we would separate after 25 years, we would do it all again."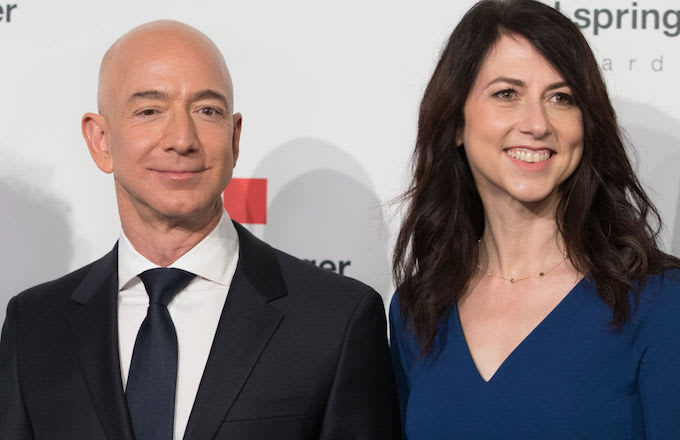 The split seems pretty amicable, but it's still got that dramatic edge tabloids love thanks to its alleged price tag. TMZ reports there is around $137 billion on the line in this divorce. Of course, it's not surprising that the world's richest man would go on to have the world's most expensive divorce.
— Jeff Bezos (@JeffBezos) January 9, 2019
The estimated figure seems somewhat high, but the price tag likely includes stock, property, or other things the uber-wealthy have. Jeff and McKenzie reportedly own a total of 400,000 acres of property, making them two of the biggest landholders in the country.
MacKenzie and Jeff Bezos met way before Amazon, at the bank D.E. Shaw, before heading from New York to Seattle to start the tech giant. They got married in 1993, and have four kids together.
At one point, MacKenzie also worked for Amazon. She likely helped her husband get the business off the ground, and continued to champion his unprecedented, ethically questionable success. It's unclear if the two had a prenup, but if not, this story is likely going to hit news feeds again, as we all gawk at the insane amount of money these people have.
Borussia Dortmund Signs Hazard
Borussia Dortmund have completed the signing of Borussia Monchengladbach winger Thorgan Hazard.
The Belgium international has signed a five-year deal with the Bundesliga runners-up having spent five years with Gladbach.
He becomes Dortmund's second summer signing after Germany left-back Nico Schulz completed his move from Hoffenheim on Tuesday.
The final fee for Hazard has not been disclosed by either club, with reports suggesting it could be anywhere from €25 million (£22m/$28m) to €40m (£35.2m/$44.7m).
Hazard has had an agreement in place to join Dortmund for some time, with only the technicalities of the deal between the two clubs required to get it over the line.
The 26-year-old leaves Gladbach having made 182 appearances for the club in all competitions, scoring 46 goals and laying on 44 assists.
PHOTOS Of One Of The Alleged Prostitutes Who Set Up Junior US Pops Up
Alleged photos of one of the said prostitutes who connived with the armed robbers who killed Nana Yaw Opoku aka Junior US in Philadelphia in the USA are fast going viral on social media.
The photos began trending barely 24 hours after the Philadelphia Police Department released footage of when Junior US was murdered in his home.
In the video just as was reported earlier by Ghpage.com, it was some ladies he was hanging out within his house a few hours to his birthday party that invited the killers to his house.
The footage started off with the girls and Junior in the house and then a knock sounded. One of the ladies rushed to open the door but and Junior US followed her to the door.
Two black men in black hoodie entered and shot him dead right at the gate. They proceeded to enter the room and searched for something later fled with the girls in the same car.
Social Media users are already circulating these photos alleging its one of the girls in the video who were hanging out with Junior US and invited the killers to the house to kill him.
Philadelphia Police Department has promised an amount of 20,000 US dollars to anyone who provides information leading to the arrest and conviction of the killers.
Deadly Storm Brings Hail, Flooding And 132 Reports Of Tornadoes In Central US
KUBILIVE – A deadly spring storm unleashed drenching rain, flash flooding and hail in the central United States — along with more than 130 reports of tornadoes in five days.
At least one person drowned in Oklahoma after driving around a barricade on a road in Perkins, the city's Emergency Management office announced.
A majority of tornadoes were in Kansas and Missouri, CNN meteorologist Taylor Ward said. Of the total number, Friday had the most tornadoes reported at 39 and Tuesday was a close second at 32.
About 28 million people are under the threat of severe weather Wednesday, mostly in Texas, Oklahoma, Kansas, Missouri, Iowa, Illinois, and Ohio, CNN meteorologist Michael Guy said.