Anas Drops A Snippet Of His Latest Expose Titled 'Abayee' | WATCH
Investigative Journalist, Anas Aremeyaw Anas has in his latest expose blown the cover of City Guards with the Accra Metropolitan Assembly (AMA) who are specialized in taking bribes and extorting money from hawkers in his latest exposé dubbed "Abayee'.
The city guard system was meant to maintain order and make our metropolis, our malls and massive markets more civil and modern. However, by their mercenary manners and dubious modus operandi, the men mandated by the Metropolitan authorities to make the measures work, have rather made things matchlessly murkier and life more meaningless for many a motorist, merchant and major patrons of our many mushrooming markets.
The Accra Metropolitan Assembly (AMA) rolled out a very laudable initiative, "Sustainable Smart City" among others to rid the Accra city of chaos, congestions and inordinate buildings and filth by hawkers, traders and other people as one of the means of cleaning up Accra and needed everyone's effort.
Already existing institutions were enhanced with vehicles and other tools while new reforms such as the Sanitation Metro Guards were instituted to see to the success of the initiative.
Personnel, City Guard (Abayee) and Sanitation Metro Guards (Asamanasaman), mandated to see to the successful realization of the Assembly's initiatives, have been rather using their power and mandate to extort money and gifts from people who break the assembly's bye-laws instead of helping to bring them to book. As a result, the nemesis we claim to be fighting, keep staring us in the face all the time.
The City Guards (Abayee) mandated to rid the city of people selling and putting up structures at unauthorized places such as the streets and pedestrian pavements, were on several occasions caught taking money from the very people they are to the police to allow shield them to go about their illegal activities.
There were instances where the Abayee would seize goods from hawkers and ask them to meet them at the place where they wrap up their daily activities, usually, opposite Kinbu, for negotiation and payment in order to retrieve their seized goods.
Tiger posing as a hawker selling slippers in a wheelbarrow had his wheelbarrow and goods seized on several occasions. On one of the occasions, the Abayee that seized the Tiger's goods demanded more than the GHS =5 they often collected from owners of seized goods. The guard eventually took Tiger's GHS 5 and an extra GHS10 from another coconut seller and returned their goods to them to go about their activities.
On another occasion, another Abayee, after seizing Tiger's wheelbarrow and collecting GHS 5 from Tiger, released his goods and allowed him to freely sell in the street with a caution not to get caught by other guards.
Watch the video below.
There was also an incident where an Abayee seized items from a Nigerian hawker at Tudu claiming that he was selling at an authorized place despite repeated warnings to the hawkers. This Abayee later takes GHS 10 from the Nigerian and another GHS 5 from Tiger, in the presence of some of their leaders after which the seized goods were released.
The negotiation to retrieve seized goods could also involve the affected hawker parting with some of the seized goods to the Aba-yee.
Those who are unable to pay either in cash or with some of their goods get their items transferred into a much spacious operation vehicle and transported to the AMA office near Kwame Nkrumah Mausoleum.
Carlos Tevez Reveals Rooney Gave Him His Own Lamborghini When Man Utd Team-Mates Teased Him About Driving An Audi
Argentine footballer, Carlos Tevez has revealed he was ridiculed at Manchester United because of the Audi car he was driving before one of his teammates gifted him a Lamborghini.
According to the 35-year-old striker, who spent two seasons at Manchester United after he joined them in 2007 from West Ham United, England and Manchester United legend, Wayne Rooney, handed over the keys to a Lamborghini when he discussed the situation with him.
'At Manchester United training, players would turn up with a Ferrari or a Lamborghini,' Tevez told Marca. 'Everyone, even the worst player, would have a Ferrari.'
'I turned up in the Audi that the club gave you and they all bugged me about it, as if it was a Fiat 600. I spoke to Rooney and, the crazy guy that he is, he told me 'take the Lamborghini'.
Tevez, who made sixty-three (63) appearances and scored 19 goals for the club, added: 'I went, without registering, around Manchester with this car, he gave it to me.'
Tevez and Rooney amassed 72 goals between them in all competitions, winning the Champions League and back-to-back Premier League titles before the Argentine footballer, who now plays for Boca Juniors in Argentina made a shock switch to Manchester United's cross-town rivals, Manchester City.
Anthony Joshua's Next Opponent Revealed After Win Against Andy Ruiz Jr
The president of the World Boxing Organisation has forced Anthony Joshua into defending his WBO title after winning his rematch with Andy Ruiz Jnr.
Francisco Varcarcel, the president of the organization said in a statement that Joshua will have to defend his WBO title against mandatory challenger Oleksandr Usyk within 180 days of Saturday's win.
That means that Joshua will now have to face the prospect of defending his WBO title before June 4th, and If he does not agree to meet the Ukrainian former cruiserweight king before then, he will be forced to vacate his belt, according to Mail Online Sport.
The publication also added that If Joshua does vacate his belt, Usyk could face either Dereck Chisora or Joseph Parker for the strap, which would divide the belts further across the division.
On Saturday night, Anthony Joshua defeated Andy Ruiz Jr in their world heavyweight title rematch in Riyadh, Saudi Arabia. The British-Nigerian boxer who suffered a shocking defeat to Andy Ruiz Jr back in June in New York City, regained his IBF, WBA and WBO titles as he defeated the Mexican-American boxer by unanimous decision.
Russia Handed 4-Year Ban From All Major Sporting Events Including World Cup 2022
Russia has been handed a four-year ban from all major sporting events by the World Anti-Doping Agency (Wada).
It means the Russia flag and anthem will not be allowed at events such as the Tokyo 2020 Olympics and football's 2022 World Cup in Qatar.
But athletes who can prove they are untainted by the doping scandal will be able to compete under a neutral flag.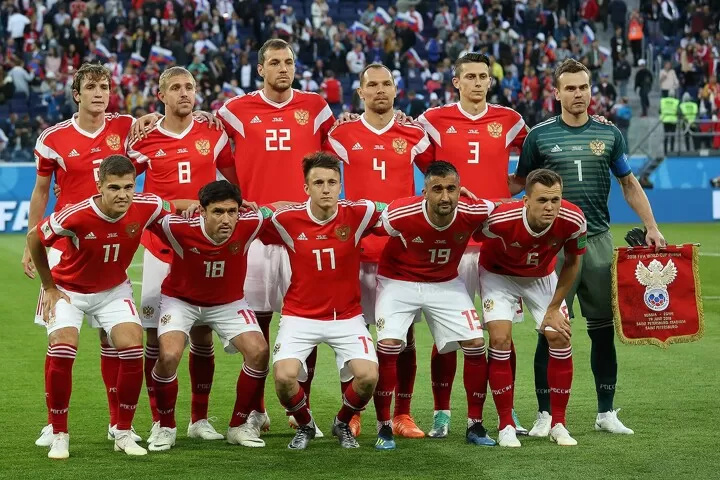 Wada's executive committee made the unanimous decision in a meeting in Lausanne, Switzerland.
It comes after Russia's Anti Doping Agency (Rusada) was declared non-compliant for manipulating laboratory data handed over to investigators in January 2019.