BBNaija Star, Liquorose Buys Herself A Brand New Lexus SUV As New Year's Gift | PHOTOS
Big Brother Naija star, Liquorose has bought herself a brand new Lexus SUV to kick off the new year 2022.
Sharing photos with the new whip, the superstar dancer wrote:
Guess who just got a new ride ?? Me .. yes me ..The first of many to come.
it still feels like a dream. I decided to start my year with a gift to myself and God came through for me.. may your new Year be filled with gifts as you celebrate with me ..
Happy new year Family.
See the pictures below;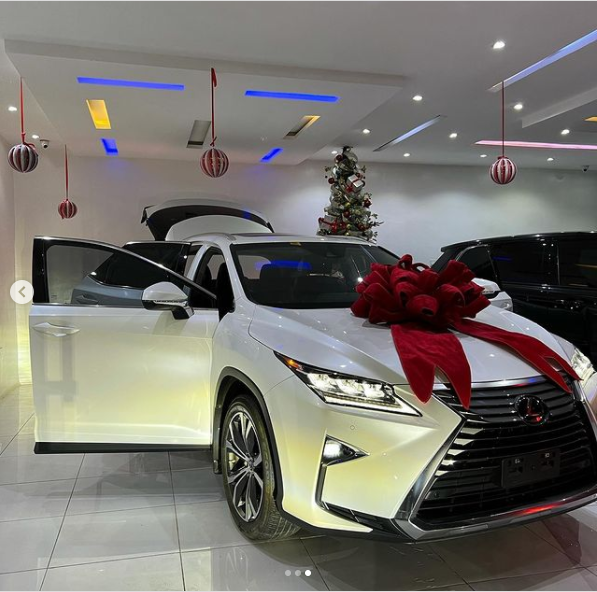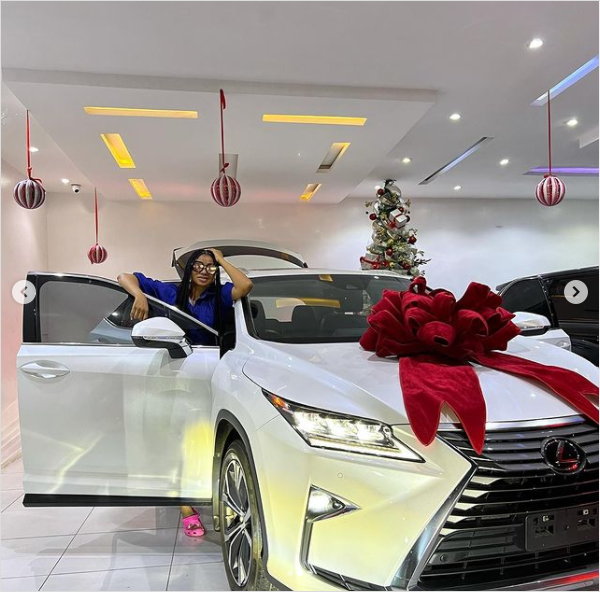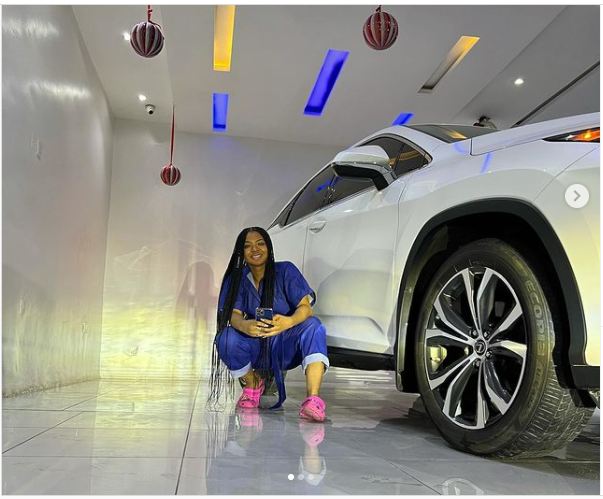 Little Girl Spotted Studying While Selling At The Market | PHOTOS
A little girl has chosen to assume control over her fate by not permitting her conditions to restrict her.
In a photograph that has sprung up on the web, the youngster who we believe to be around the ages of 6 – 7 was seen writing a few things in a book she set on her thighs in what appears as a studying session for her while taking care of her mum's petty business.
She was perched on an unfilled plastic can while zeroing in on the thing she was doing.
The fascinating thing about the image was that she was additionally selling a few groceries. Her current circumstance didn't look excessively comfortable for studies however the young girl as determined as she is didn't appear to be disrupted.
The photo has melted hearts on social media and some wished her all the best in her quest to become a successful woman in future.
Central Region: A Moving Truck Catches Fire At Mankessim; Two Escape Death
A KIA truck with registration number GX 89 -12 carrying foams has caught fire at Mankessim in the Central Region of Ghana.
According to reports, two men onboard the truck escaped death by a whisker after the vehicle caught fire.
It is not yet established the cause of the fire but from an eyewitness report, smoke was detected from the foams and within a few minutes, fire quickly spread throughout the vehicle.
The driver, on seeing the extent of the fire hurriedly stopped the truck at the roadside near Obrumankoma FM a local radio station in Mankessim and fled.
We are told the youth around mobilized themselves and managed to extinguish the fire before personnel of the Ghana Fire Service arrived.
See the images;
Mechanic Wrecks £2.5million Ferrari After Smashing Into Tree Stump On Test Drive
A bright red Enzo sports car which is one of only 400 made, has been totalled by a mechanic who smashed into a tree stump on a test drive.
The crash took place in the town of Baarn, just southeast of Amsterdam, on Tuesday January 18.
The £2.5million Ferrari suffered significant damage in the collision, in which its airbags were deployed, including two wheels having been ripped away along with several suspension pieces.
A local dealership mechanic was behind the wheel of the Enzo, and it was gathered that he escaped the incident unhurt after being taken to hospital for a check-up.
A witness to Tuesday's smash in Baarn, Netherlands, said:
"I think he wanted to turn back to the dealership."
Initially costing £450,000 when launched, the Enzos have since hugely increased in value. Most recently, a 2003 Ferrari Enzo was sold in August last year by RM Sotheby's for $3,360,000 (£2,463,132).