Benedicta Gafah Drops Wild PHOTO To Prove That She Doesn't Wear Hip Pad
Truly actress Benedicta Gafah is the real definition of beauty. Her new photos she has released on social media confirms.
With her contours visibly attractive, Benedicta has on every occasion slayed in all her garments.
Lately, the TV3 Music Music presenter has been on blast on social media for plainly the bad reasons.
Netizens came at her for wearing a hip pad and embarrassing her in the process. Well, she has released stunning photo to prove that she's natural and has nothing to do with a hip pad.
Captioning the photo, she captioned her post; "THE AFRICAN EMPRESS ??".
Check the photo below;
Model Emily Ratajkowski Announces She's Pregnant With First Child; Says She And Her Husband "Won't Know The Gender Until The Child Is 18" | PHOTOS
Emily Ratajkowski is expecting her first child with her husband Sebastian Bear-McClard.
The American model/actress, 29, shared the happy news on Vogue and revealed her growing baby bump in the special digital issue for the magazine.
Ratajkowski also penned an essay for the magazine, where she said the couple would wait until the "child is 18″ before revealing the gender because they hope to raise the child in a gender-neutral environment.
She wrote, "When my husband and I tell friends that I'm pregnant, their first question after 'Congratulations' is almost always, 'Do you know what you want?' We like to respond that we won't know the gender until our child is 18 and that they'll let us know then."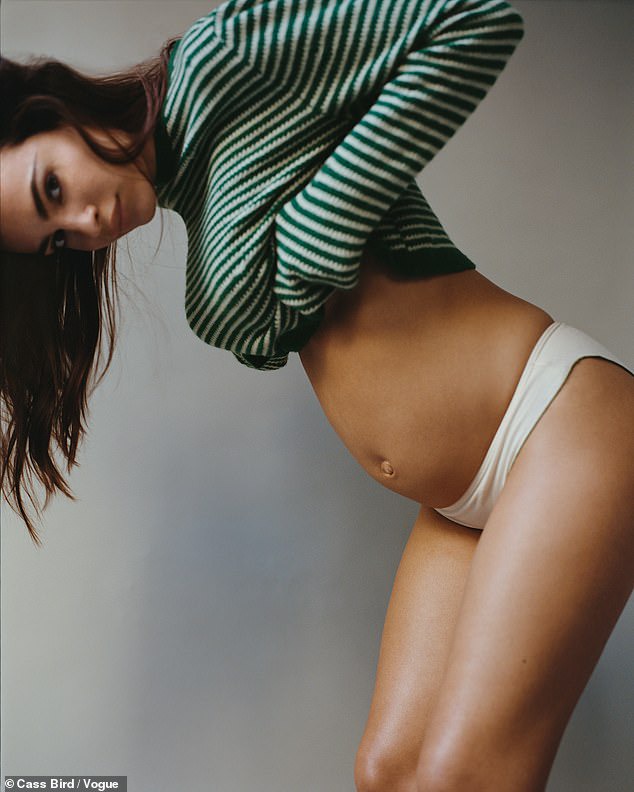 "Everyone laughs at this. There is a truth to our line, though, one that hints at possibilities that are much more complex than whatever genitalia our child might be born with: the truth that we ultimately have no idea who – rather than what – is growing inside my belly."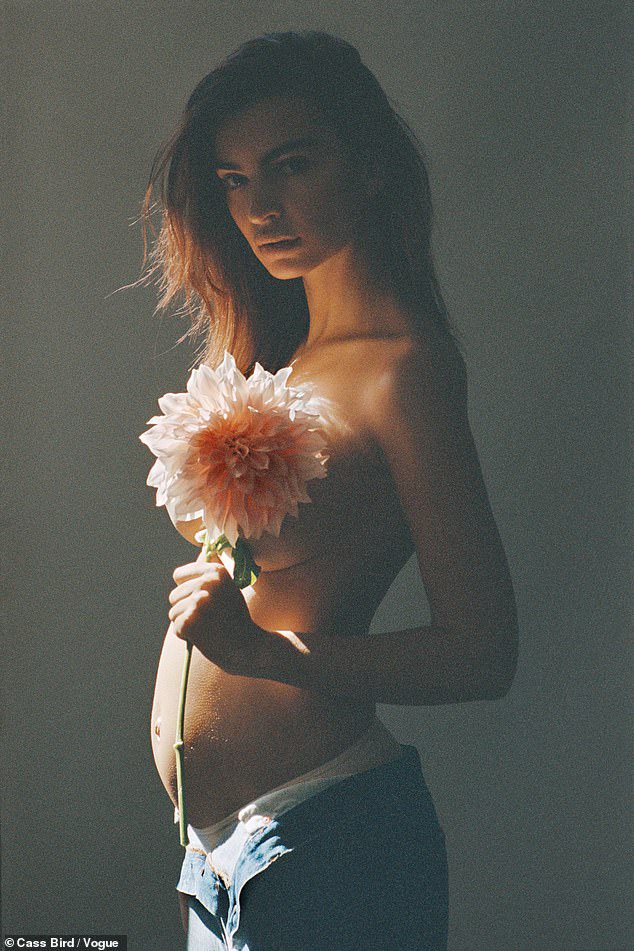 "But no matter how progressive I may hope to be, I understand the desire to know the gender of our fetus," she continues. "It feels like the first real opportunity to glimpse who they might be."
Emily Ratajkowski and her husband, movie producer Sebastian Bear-McClard have been married since 2018.
Meet Ama Serwaa, The Most Beautiful Policewoman In Ghana | PHOTOS
For days now, a police officer in Ghana has been trending on all the social media platforms after her photos surfaced on some blogs.
The young lady has been identified as Priscilla Serwaa Dufied but she goes by the name Ama Serwaa Dufie on social media where she is very popular.
The young lady from the information gathered is stationed at Wa in the Upper West Region of Ghana and she is with the Visibility (RPD) Unit.
Besides her beautiful face, what made her go more viral is the gigantic backside she carries. She has amazing physic with everything a woman would desire.
The 20+ old Ama Serwaa who is a Sunyani Senior High School (SUSEC) graduate has been in the police service for 3 years and still counting.
Interestingly, the mother of Ama Serwaa who hails from Abesim in the Bono Regio is also a policewoman and she is also heavily endowed. Indeed, like mother like daughter.
Check out more photos of Ama Serwaa Dufie below.
Obinim Is Back; A Woman Carries Him At Her Back To Get Healed Of Waist Pains | PHOTOS
A new photo fast circulating on social media sees the founder and leader of International Gods' Way Church, Bishop Daniel Obinim at the back of an elderly woman.
The elderly woman, a church member of Obinim's church carried the man of God on her back to be presumably healed of her chronic waist pains.
Judging from the woman's facial expression in the picture, she looked happy as she carried him [Obinim] on her back, vice versa.
See the photos below;
This photo of Obinim surfaced after the news went viral that all the branches of his church has been closed down.
It came out that the grounds on which Angel Obinim is closing down all the nationwide branches of his church is due to the inability to constantly adhere to the covid-19 safety protocols.
The rules are too much for IGWC, Obinim, and fans, we can't adhere to them. We don't want to have any issues with the government.
If I want to go by the protocols I will be conducting a lot of services. First, second, third, and even more than a hundred." One of Obinim's junior pastors reportedly said.