Brazil Legend Ronaldinho To Come Out Of Retirement At 39 To Feature For Colombian Side Santa Fe
Brazil football legend, Ronaldinho is temporarily coming out of retirement for Colombian side Independiente Santa Fe.
The club regarded as one of Colombia's most successful teams, having won 17 league titles announced the 39-year-old legendary footballer as the star attraction at the club's upcoming friendly on October 17.
According to reports the most expensive ticket for Ronaldinho's fleeting return have been priced at £30 before VAT.
Ronaldinho hung up his boots four years ago after a short spell with Fluminense. He also featured for Barcelona, AC Milan, Paris Saint-Germain, and Flamengo over 17 years, with 97 caps for Brazil.
Meanwhile, there could travel challenges for Ronaldinho as his passport is seized after failing to pay an environmental damage fine in Brazil.
Abortion Is Not A Sin, The Same As Sex Before Marriage : Counselor Lutterodt
Controversial relationship and marriage counselor, George Lutterodt has made a rather surprising comment about abortion.
According to the counselor, sex before marriage is not a sin but it is the church that has engraved such thought in the minds of Ghanaians.
The counselor believes abortion is not a sin and also sex before marriage shouln't also be seen as such.
"Pregnancy just comes because people don't know when to have sex and when not to have it. The abortion problem is becoming common to us because we have not educated the people on when to have sex.
The church has also come in to make people believe that sex before marriage is a sin. Where is abortion a sin? , Counselor Lutterodt indicated.
This statement by Counselor Lutterodt has sparked a controversy on social media as netizens have described his comments as outrageous.
Former Black Stars Player Odartey Lamptey Welcomes Third Child
Information reaching KUBILIVE indicates that former Ghanaian footballer Nii Odartey Lamptey has welcomed his third child.
This good news was shared on Twitter by Sports Journalist Saddick Adams where he revealed that it is the footballer's first male child after his issue with his ex-wife.
Saddick Adams tweeted; "Congratulations to Nii Odartey Lamptey (Ex-Ghana international) on the birth of his third child. Finally, that one male that you so desired. Those who know the story knows why we so happy for this man".
See tweet below.
Odartey Lamptey is one of Ghana's exceptional footballers who has played a vital role in the Ghana Football Association.
He retired from active football in 2008 and later founded the Glow-Lamp International School.
Odartey Laptey divorced his first wife Gloria Appiah after DNA test proved that he was not the biological father of all his three children.
After the divorce, his ex-wife took him to court to get 50% of his assets but was refused by the judge.
Odartey Lamptey is currently married to model and actress Ruweida Yakuba with whom he now has three children with; two girls, one boy.
FIFA Announces Arsene Wenger As Chief Of Global Football Development : Official
Arsene Wenger has been unveiled today as FIFA's new Chief of Global Football Development. The illustrious French manager was welcomed by FIFA President Gianni Infantino to the world football governing body's headquarters in Zurich.
Wenger will be chiefly responsible for overseeing and driving the growth and development of the sport for both men and women around the world.
He will also be the leading authority on technical matters, both as a member of the Football and Technical Advisory Panels involved in The IFAB's review and decision-making process on potential changes to the Laws of the Game, and as chairman of the FIFA Technical Study Group, which has conducted the technical analysis of FIFA tournaments since 1966.
Wenger said: "I very much look forward to taking on this extremely important challenge, not only because I have always been interested in analysing football from a broader perspective but also because FIFA's mission as world football's governing body is truly global.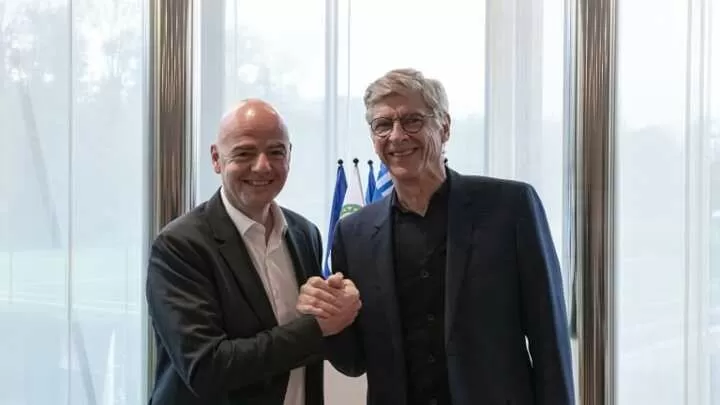 "I believe that the new FIFA we have seen emerging in recent years has the sport itself at the very heart of its objectives and is determined to develop the game in its many different components. I know I can contribute to this objective and will put all my energy into this."
On the new appointment, President Infantino said: "Arsene Wenger's profound knowledge and passion for the different aspects of our game sets him apart as one of the most respected personalities in football. I am delighted to welcome him to the team.
"Since I arrived at FIFA, we have placed football at the centre of our mission, striving to learn from those who know the sport inside out: Arsene is someone who, with his strategic vision, competence and hard work, has dedicated his life to football.
"His arrival is just another example of how we keep strengthening our purpose to bring FIFA back to football and football back to FIFA."