Busola Dakolo Insists Pastor Fatoyinbo Raped Her, Demands An Apology
Busola Dakolo who in June 2019 accused the founder and Senior Pastor of Commonwealth of Zion Assembly, Biodun Fatoyinbo of raping her when she was below 18 has demanded "a personal letter of apology" from the cleric.
In a suit filed on her behalf by her lawyer, Pelumi Olajengbesi and Co of Law corridor before the Federal High Court in Abuja, the celebrity photographer stated that the rape act affected her marital sex life.
Punch reported that she also said that the COZA founder's June 28 2019 press statement in which he denied the alleged act, caused her continuous emotional distress and amounted to intentional infliction of emotional distress on her.
Olajengbesi said, "The claimant avers that she was immediately terrified and in shock while the defendant pinned her down on the couch following which he caressed her body, fondled her breasts, pulled her pant, quickly half-pulled his trousers and ordered her to allow him have his way with her.
"The claimant avers that the defendant in the process used his hand to cover her mouth, thereby muffling her screams. The claimant avers that the defendant made efforts to penetrate her vagina, whilst she struggled to fight him off; however, the defendant overpowered her and penetrated her vagina and had sexual intercourse with her.
"The claimant avers that while she was in shock of the incident which had rendered her befuddled and mortified, the defendant rushed out of the living room area of her family home and briefly returned with a bottle of soda (Krest) which he forced down her throat thereby making her breathing difficult."
He added, "The defendant further proceeded to threaten the claimant's life by telling her he would greatly harm her if she ever revealed the incident to anyone. The claimant avers that following her second ordeal with the defendant, she became dejected, kept to herself and hated herself, developed utter loathing for everything around her and withdrew to herself and away from all spiritual activities of the church.
"The claimant avers that despite getting married, she continues to live in constant fear, suffers several series of mood swings, emotional and psychological distress, and also worries about her safety. The claimant avers that her marital sex life has been affected negatively as a result of her terrible experience with the defendant, thereby resulting in her continuous emotional and psychological distress, which has not ceased."
Chelsea 2-2 Arsenal: Captain Bellerin Saves 10-Man Gunners In Intense Derby Draw
Arsenal overcame David Luiz's dismissal against his old club to twice come from behind against Chelsea in an eventful London derby.
Match Reports
After six weeks out with a hamstring injury, Bellerin – named captain for the game by Mikel Arteta – curled home from 18 yards with three minutes remaining after Cesar Azpilicueta thought he had won the game for the Blues.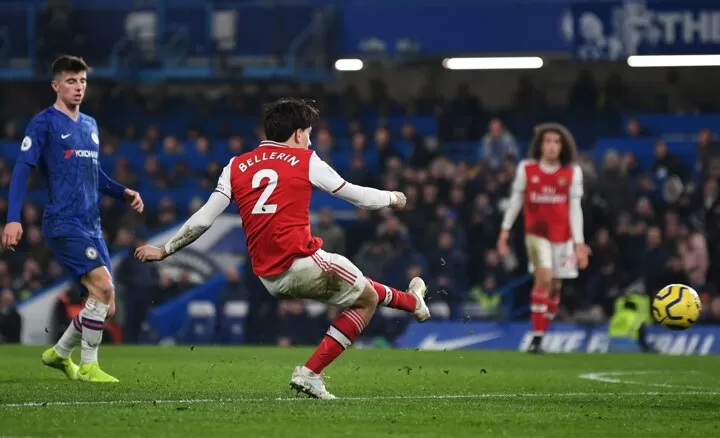 Chelsea took the lead in the 28th minute when Jorginho slotted home a penalty after David Luiz was shown a red card for bundling over Tammy Abraham in his attempt to bail Shkodran Mustafi out for a loose pass.
Arsenal did well to stay in the game and after Gabriel Martinelli cancelled out the opener, and Bellerin ensured Chelsea's jubilation following Azpilicueta's 84th-minute volley was short-lived.
EPL Standings.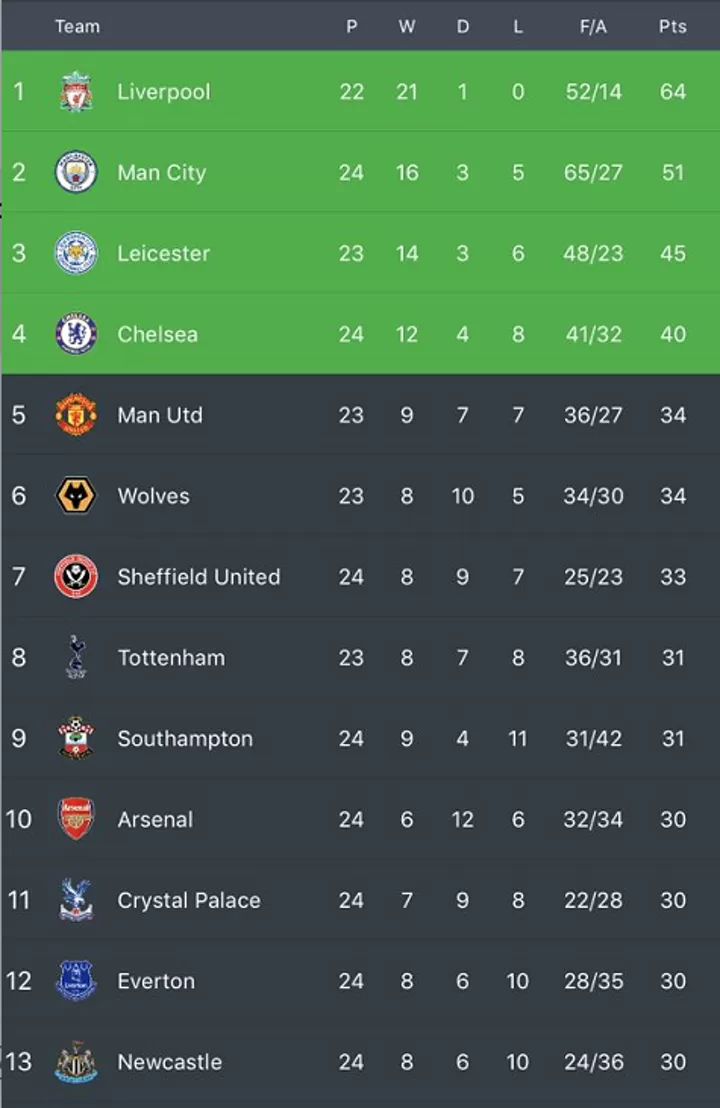 Match Events
7′ Kovacic's shot blocked by Mustafi
Chelsea open up the Arsenal backline as Hudson-Odoi and Azpilicueta combine to tee up Kovacic in the box. The midfielder stabs an effort towards goal, only to be denied by a block from Mustafi.
10′ CLOSE! Christensen's header wide out
Emerson lifts a good cross into the middle from the right flank and the ball travels towards Christensen. However, the Dane can only glance his effort wide of the post, although Rudiger could have distracted his team-mate by jumping in front of him
15′ CHANCE! Abraham's header saved
Abraham has to score. Hudson-Odoi turns Martinelli inside and out and delivers a dangerous cross to the back post. Rudiger heads it back into the middle where Abraham meets the ball, only to guide a tame effort straight into the hands of Leno.
17′ CLOSE! Hudson-Odoi hits the crossbar
Hudson-Odoi collects and he tries to curl an effort over the top of Leno to surprise the Arsenal keeper. The ball does loop over Leno, but it strikes the top of the bar before bouncing over.
26′ Red Card! David Luiz sent off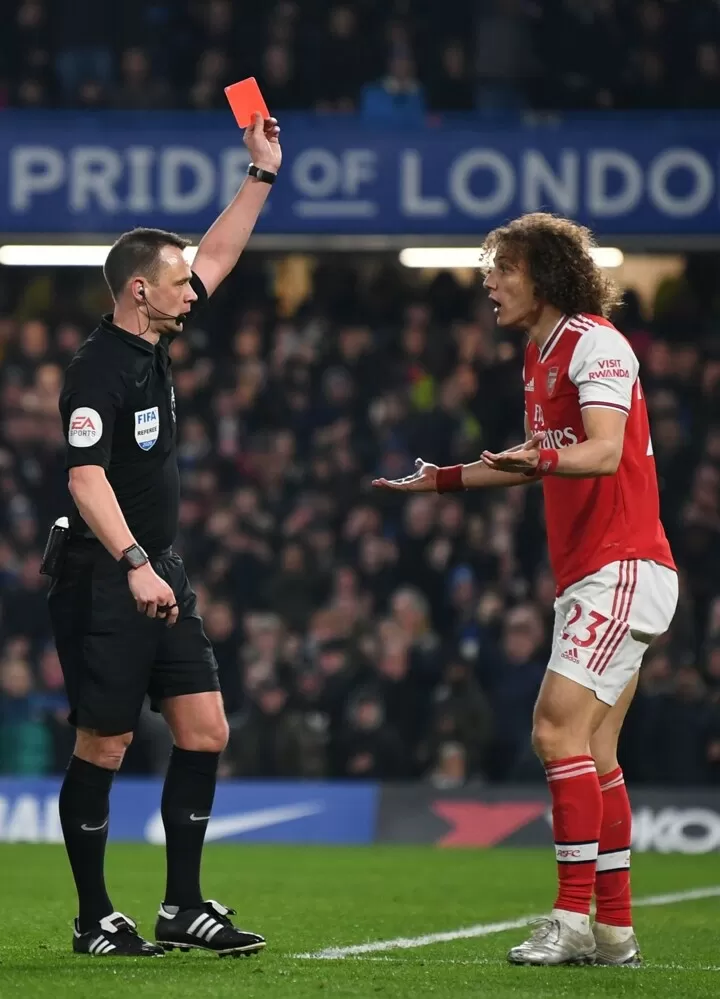 Mustafi has a nightmare as he plays a short backpass to Leno and Abraham races on to the loose ball. The striker rounds Leno and charges into the box. David Luiz takes action and brings down Abraham to deny him the scoring opportunity. The referee does not hesitate in pointing to the spot.
28′ Penalty Goal! Chelsea 1-0 Arsenal (Jorginho)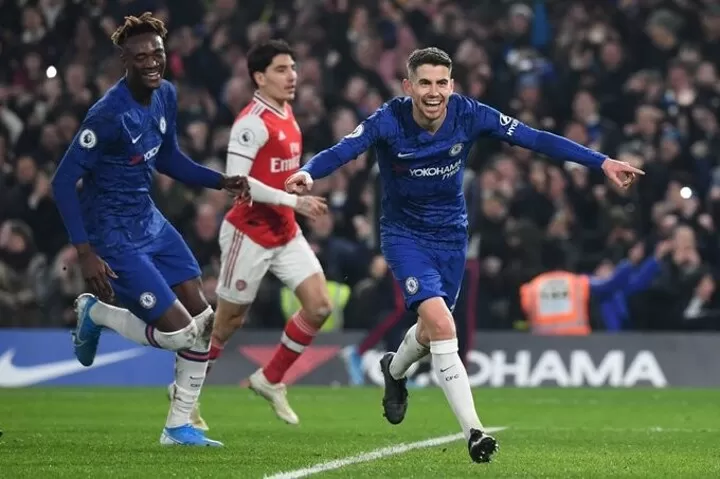 Chelsea take the lead from the penalty spot as Jorginho holds his composure from 12 yards. The Brazilian places his effort into the bottom-right corner far enough away from the dive of Leno to find the back of the net. A super spot-kick from the Chelsea midfielder.
59′ Yellow Card! Christensen booked
Christensen lunges in on Lacazette and goes into the book.
63′ GOAL! Chelsea 1-1 Arsenal (Martinelli)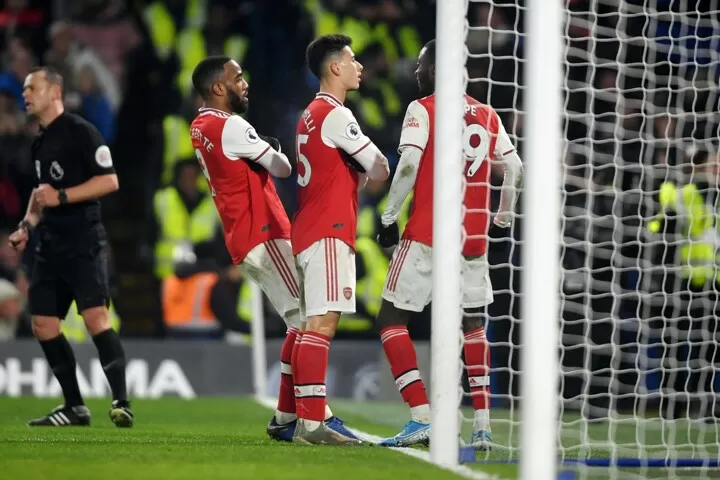 Martinelli bundles the ball away from a Chelsea corner on the edge of the box and keeps on running. Kante slips on the half-way line and it allows Martinelli a clear path towards goal. He surges into the box and slots a low effort to the right of Kepa to find the back of the net. A super run and finish from the Brazilian.
72′ OFFSIDE! Lacazette's goal disallowed
Pepe works the ball through three Chelsea defenders to Lacazette, who collects in acres of space, but the Frenchman is ruled offside as he buries his strike.
84′ GOAL! Chelsea 2-1 Arsenal (Azpilicueta)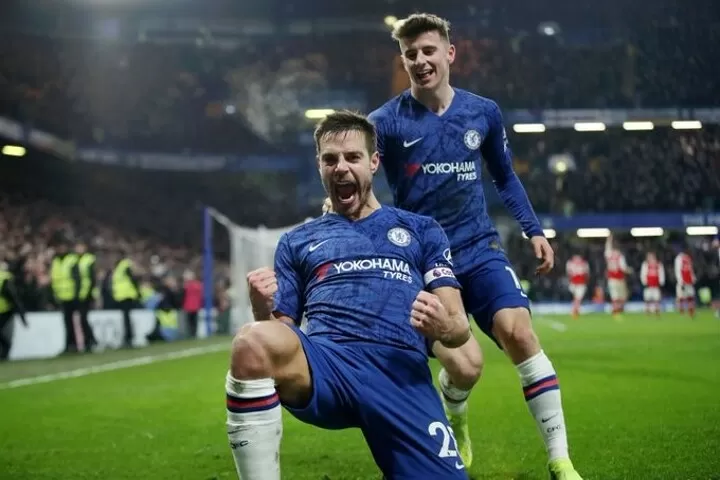 Chelsea take the corner short and Hudson-Odoi curls a right-footed cross in from the left flank. The Arsenal defensive line is caught out by the presence of Abraham hobbling back into the middle. They switch off for a second and allow Azpilicueta to guide a low strike with his right boot into the bottom-left corner.
87′ GOAL! Chelsea 2-2 Arsenal (Bellerin)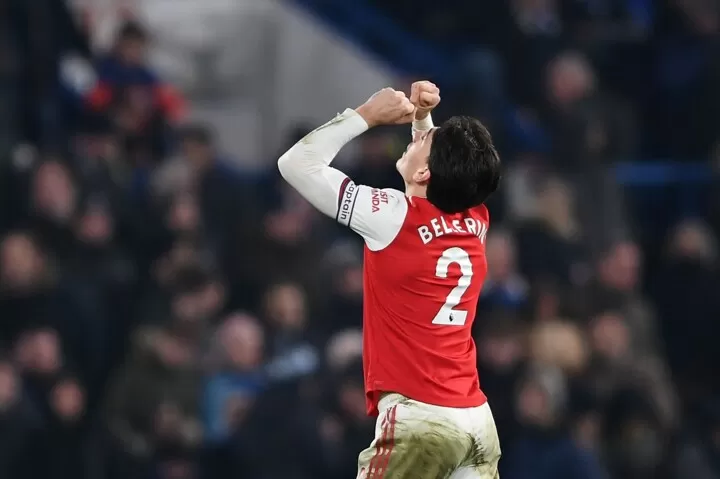 The Gunners fight back for the second time in the contest to level the scores. Bellerin collects a lay-off from Torreira and cuts inside from the right flank. He shoots on his left foot after being afforded space and time, and he curls his effort beyond the reach of Kepa into the bottom-left corner. What a moment in the game.
Player Ratings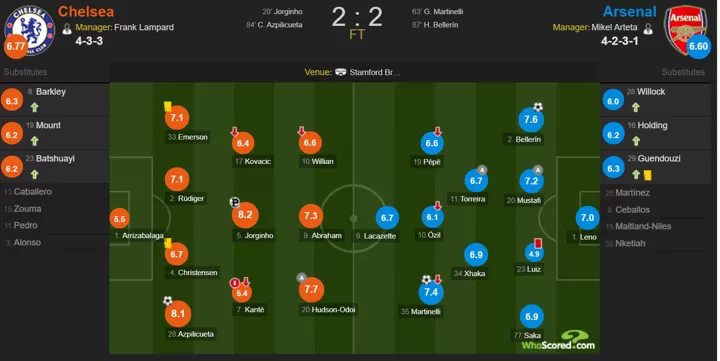 Manchester United Hit With FA Charge For Surrounding Referee Craig Pawson During Liverpool Clash
Manchester United have been charged by the Football Association for failing to "conduct themselves in an orderly fashion" during their 2 – 0 Premier League defeat to Liverpool on Sunday.
The incident happened after Liverpool defender Virgil van Dijk challenged goalkeeper David De Gea, which led to Roberto Firmino's goal but it was later disallowed and free-kick was given to Manchester United.
Before the goal was disallowed, about seven United's players were seen surrounding referee Craig Pawson to confront him for not disallowing the goal initially.
A statement from the FA read: "Manchester United FC has been charged with a breach of FA Rule E20(a).
"It is alleged that the club failed to ensure its players conducted themselves in an orderly fashion during the 26th minute of the Premier League fixture against Liverpool FC on Sunday (19/1/20)."
Speaking about the charge today, boss Ole Gunnar Solskjaer said: "Maybe I shouldn't talk too much about that. Let's get that decision done. The goal – it's overturned. I reacted myself because everybody could see it was a foul."
United have until Thursday to respond to the charge.
Football Fan Who Was Caught Looking Guilty After He Was Filmed Kissing Another Woman At A Match Has Been Dumped By His Girlfriend
A football fan who was caught looking very guilty when he was filmed kissing a woman next to him at a match has reportedly admitted that he was cheating on his partner.
The awkward moment was captured by cameras at half-time of the friendly between Barcelona SC and Delfin in Ecuador on Saturday.
The man, who The Metro identified as Deyvi Andrade was filmed cuddling close to the woman before he then shared a kiss with her, but as soon as he noticed the kiss cam were on them, he reacted very sheepishly and composed himself.
Mexican sports paper Record said: 'If you're thinking of cheating on your other half, a football match in a stadium with thousands of people in the stands and millions more watching on TV would be the last place you'd go…unless you're this nice Barcelona SC fan in Ecuador.'
Andrade has since taken to his Facebook and Instagram pages to defend his actions and also revealed that his relationship has been destroyed.
'If it was a woman in my place what would you do?' he wrote as reported by The Metro.
'Various videos have been circulating of unfaithful women but they haven't been made fun of as much as me. I hope you never have to be in my position.
'I'm going to defend my honour and my pride as a man until the end… We all fail and we all repent, thank you to those who have invited me to church and if I go it is so I can heal my family.
'No one is going to be able to damage my image, God is big and strong and these women who are criticising me, I know too have cheated but they still comment.
'You've already destroyed my relationship, what more do you want? I hope this doesn't serve you in any way because you are only hurting a son of God.
'You don't know the psychological damage you have caused with your hatred directed at me. Everyone fails and we can forgive from our hearts. God give me strength!'
He also apolosgied to his partner and asked her to take him back, writing, 'I want to go back to living these moments by your side.
'I am really sorry and this is why I've come out in public to comment on this nonsense, so I can ask you to forgive me.
'I'm so confused but I want to get you back.'