Favela massacre in Brazil leaves at least 18 dead (Photos)
Authorities in Brazil say 18 people have been killed during a raid against a criminal gang that controls one of Rio de Janeiro's most violent favelas.
Four hundred heavily-armed military police were deployed to the Alemão favela in the early hours of Thursday, July 21.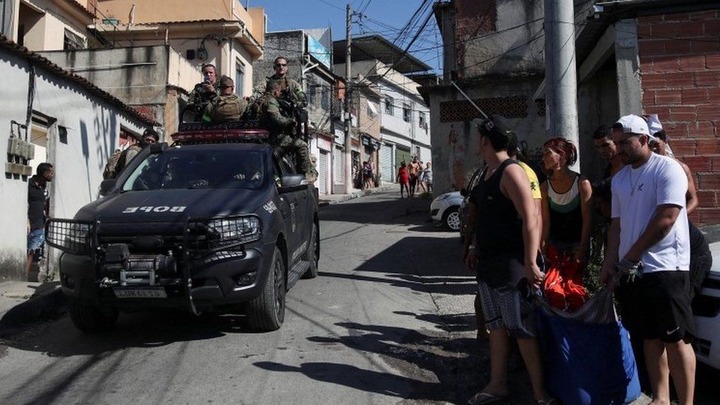 Sixteen of the dead were suspected criminals, while a police officer and a bystander were the other two victims, officials said.
The operation lasted all day and left thousands trapped in their homes. The objective of the raid was to locate and arrest criminals who were planning operations in rival slums, police said.
Some of the targets were wearing uniforms similar to military police, which made them harder to spot, local media outlet O Dia reported.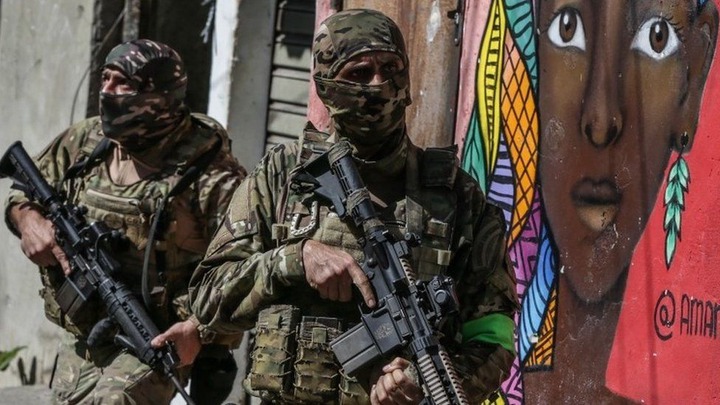 Ivan Blas, spokesperson for the state's military police, said at a press conference that the number of dead is still being tallied. In earlier statements, the force said that an officer was killed, and that the raid had targeted a criminal group in Complexo do Alemao that stole vehicles and cargo and robbed banks as well as invaded nearby neighborhoods.
"I will continue to fight crime with all my strength. We will not back down from the mission of guaranteeing peace and security to the people of our state," said Rio state Gov. Cláudio Castro on his official Twitter profile, lamenting the officer's death.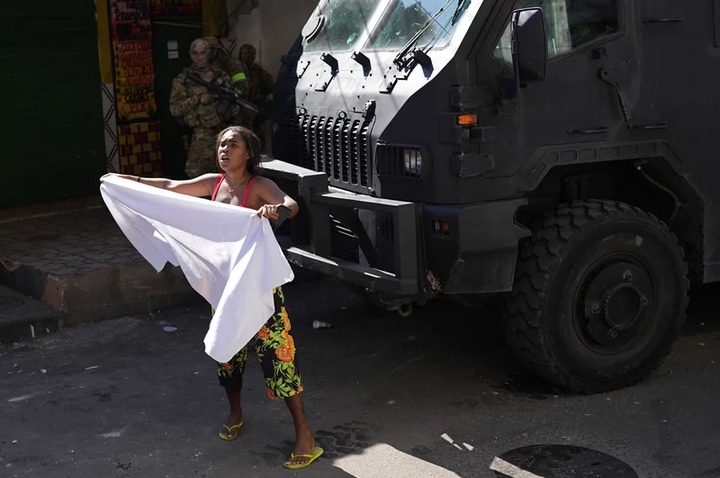 But many disagree with the government's strategy for tackling violence and organized crime, an approach that regularly sees deadly police operations.
"ENOUGH of this genocidal policy, governor!" Talíria Petrone, a federal lawmaker for Rio, said in response to the governor's tweet. "This failed public security policy leaves residents and police on the ground, en masse. It's no longer possible to keep piling up black bodies and favela residents every day!"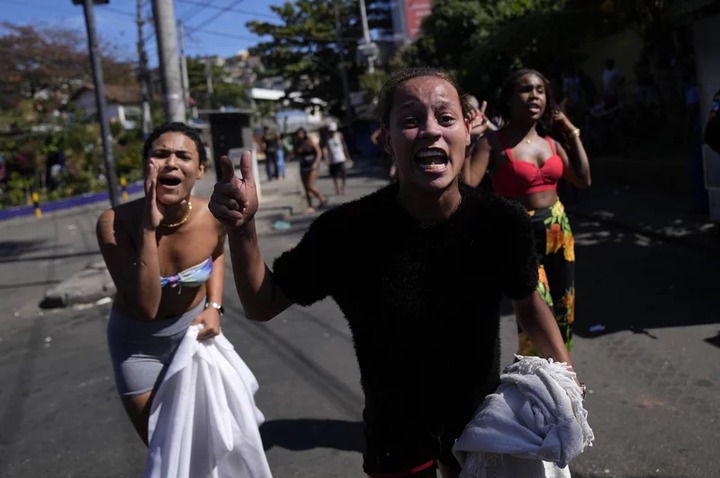 Robert Muggah, co-founder of Igarapé Institute, a Rio de Janeiro-based think tank focused on security, said Thursday's raid is "a symptom of failed leadership and an institutional culture that condones excessive force."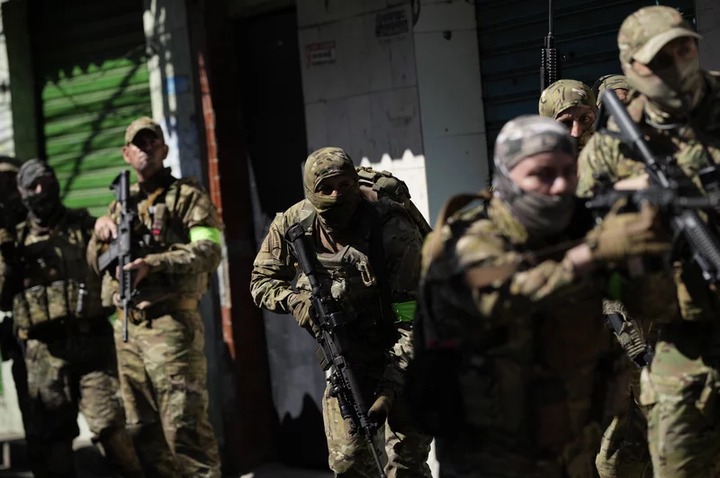 "The killings resulting from large scale police operations is a grim reminder that militarized policing is not only ineffective, it is counterproductive," Muggah said in a text message, adding those raids generate "extreme violence predominantly affecting low-income Black populations while also corroding the trust between residents and law enforcement."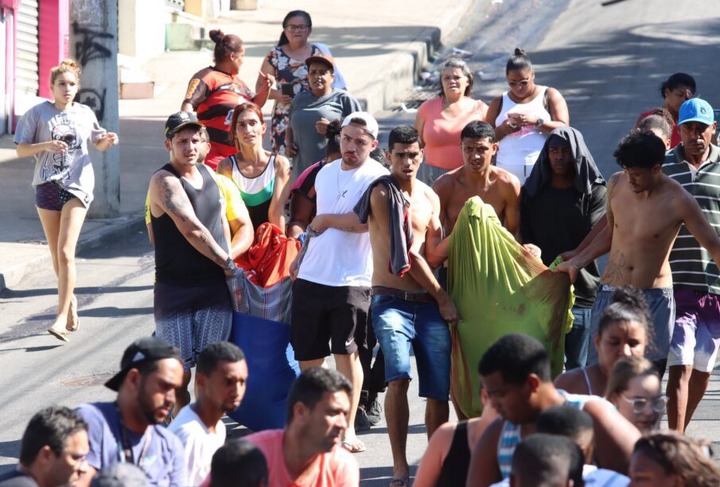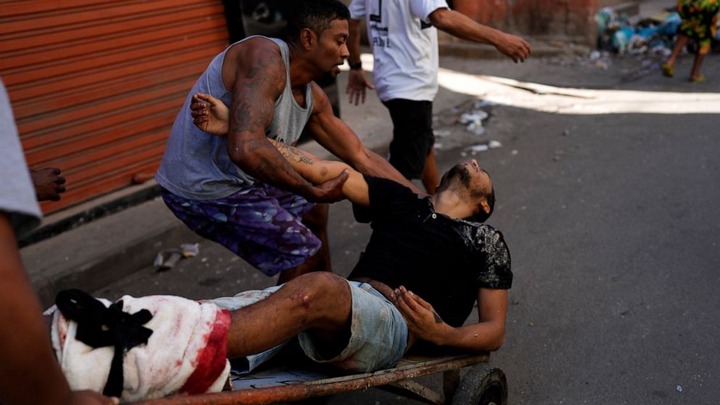 Akuapem Poloo converts to Islam (Photos)
Ghanaian actress and brand influencer, Rosemond Alade Brown, popularly known as Akuapem Poloo has shocked Ghanaians after converting to Islam.
In a fresh-exciting IG post that has been spotted on the video vixen's page, the mother of one shared the good news to her teeming fans on the social media pages.
In a set of photos from her conversion ceremony, Akuapem Poloo was seen clad in full Muslim regalia while holding an ablution can and a prayer mat.
The caption she attached to the photos reads;
"Alhamdulillah full Muslim now, thanks to the Deputy National Chief Imam's Quran Reciter and his board for assisting in this," – she captioned the photos.
See screenshot of her post below;
Below are some of the comments gathered under the post;
osmanstarsking082 – May Allah blessed you in ur New religion ??? welcome to Islam
stephanie.otoo – You are just not correct,
equiablackbeauty – Joining you soon sis
malik_richbadd – You for real ? Welcome to Islam
wakil4926 – Big Grace to you and may Allah bless you
'My gist partner' : Davido writes as he shares screenshot of himself and Chioma on video call
It appears singer Davido and his former lover and mother of his son Ifeanyi, Chioma Rowland, are quite cool.
This evening he shared a screenshot from a video call he had with Chioma and wrote "My Gist partner".
His comment post came with "smiling face with heart" emoji as well as the peace sign.
See below.
Rapper Fetty Wap arrested for threatening to kill someone over FaceTime (Photos)
American rapper, Fetty Wap was arrested on Monday morning, August 8, for allegedly violating the terms of his bail by threatening to kill someone over FaceTime while displaying a firearm.
The rapper, whose legal name is Willie Junior Maxwell II, was arrested in Newark, New Jersey, on Monday morning and indicted in the Eastern District of New York, according to John Marzulli, Eastern District of New York spokesperson.
Magistrate Judge Steven Locke of the Eastern District of New York revoked Fetty Wap's bond on Monday afternoon, meaning the rapper will remain in jail, Marzulli told NBC News.
According to court documents, the government obtained a video recording of a FaceTime call in which Fetty Wap threatened an unnamed individual on Dec. 11, 2021.
He pointed the gun at the individual and said "Imma kill you and everybody you with" as well as "I'm gonna kill you," which he repeated several times during the call.
By possessing a firearm and threatening an individual, which is a violation of state law, the rapper violated the terms of his Nov. 5, 2021 release on $50,000 bond for his role in allegedly possessing and conspiring to sell controlled substances.
Fetty Wap was arrested by the FBI on Oct. 28, 2021, in connection with an alleged drug distribution conspiracy in New York, and pleaded not guilty. He was indicted and charged with conspiracy to distribute and possess controlled substances and arraigned on those charges on Oct. 29, 2021, according to court documents.
He was one of six people indicted in the federal case, which alleges a scheme to distribute more than 100 kilograms or more than 220 pounds of drugs to dealers who then sold them in New Jersey and Long Island.
The FBI seized $1.5 million in cash along with stacks of pressed cocaine and bags of heroin and fentanyl that they say the rapper along with five others – including a New Jersey correctional officer – were selling in Long Island and New Jersey.