Footballer Ashley Young Offers Advice On Staying Safe During The Coronavirus Pandemic
Former Manchester United captain, Ashley Young has shared an advice on how to stay safe amid the coronavirus pandemic which has halted activities in some countries around the world.
The 34-year-old English footballer who now plays for Inter Milan which is in the heart of Europe's worst-affected region, stated that a supermarket is most likely where people get infected with the virus.
Ashley Young tweeted;
Hi everyone, just wanted to share my thoughts given I'm currently living in Italy, the epicentre of the virus.
Realistically a supermarket is now your main risk at spreading this virus and even catching it. Speaking with family and friends at home it sounds like going to get food is just crazy. Remember, lockdown means lockdown!
In Italy going to the supermarket is surprisingly calm… no fights over food, no stripped shelves and most certainly no abusing staff members for limiting food or any reason at all! And in almost every case it's usually just one person shopping for a household!
Please read the following and share this if you haven't already, it really is time to do your bit to help tackle this awful global crisis we are in!
Queuing to go into supermarket is standard, but not because it's for stockpiling or greed. Supermarkets have limited the number of people entering at any time so it's never over-crowded! So wait and be patient to go in if your supermarket is doing this.
If you have to get in the lift only get in with 1 more person, 2 people per lift at one time. And stand on opposite sides of the lift and face the wall – don't breathe outwards towards that stranger.
Always use gloves from moment you get out of your car! You don't want to touch trolleys that other hands have been on. Keep the gloves on until you are getting back in the car.
Use a face mask or scarf to keep you nose and mouth covered. Always keep your distance at the till. Keep the trolley behind you when you unpack at the till as it stops people from being able to to get too close.
Don't unpack your shopping right on top of somebody else's, make a gap between theirs and yours so none of your shopping touches theirs. Here we can't put our groceries on the belt until the person in front has finished paying.
This may sound harsh but treat everybody that's not in your household as if they have the virus, you just don't know!!!
Most importantly, just stay safe! This is what we are doing here, it's not an overreaction, it's staying safe. And just remember others should be looking at you in this way as well. It's not horrible, it's a way of keeping your distance to ultimately help save lives.
Italy is one of the worst affected country in the world with 6,820 deaths and 69,176 confirmed cases. The country has been in lockdown for more than two weeks with restrictions on movement for most of the population.
Facebook Posts Falsely Claim That The US Arrested A Chinese Scientist Who "Created" The Coronavirus
Facebook posts shared thousands of times feature a video of US officials talking to reporters, with captions claiming they are announcing the arrest of a Chinese scientist who "created" the new coronavirus. However, the footage has nothing to do with COVID-19 and scientists have refuted allegations the virus was deliberately created.
"USA Arrested A Chinese Scientist That Created Coronavirus (sic)," reads the caption on a video shared more than 3,500 times by MOB TV, a Facebook page covering Nigerian news.
The clip features two officials from the US Department of Justice holding a press conference.
"We're here today to announce three separate cases highlighting the ongoing threat posed by Chinese economic espionage and research theft," one of the men says, standing in front of a US Department of Justice sign.
"China's communist government's goal, simply put, is to replace the United States as the world's leading superpower and they're breaking the law to get there," his colleague says later on in the footage.
However, at no point do they refer to the coronavirus pandemic that has claimed more than 50,000 lives around the world as of April 3, 2020.
AFP ran a reverse image search on the video using the InVID We Verify tool, which traced the footage to local news reports on a press conference on January 28, 2020, in Boston, Massachusetts.
Scientists charged
At the conference, US Attorney for Massachusetts Andrew Lelling and the head of Boston's Federal Bureau of Intelligence (FBI), Joseph Bonavolonta, announced the arrest of a Harvard scientist and two Chinese nationals for hiding alleged ties to China.
AFP reported that US prosecutors charged the chairman of Harvard University's chemistry and chemical biology department Charles Lieber with hiding his alleged role in a Chinese government programme that security officials say steals trade secrets.
Two other scientists, both Chinese nationals, were also charged as part of an investigation into hundreds of cases of alleged theft by Chinese scientists in the US.
The arrests were widely covered by local media, who broadcast footage from the original press conference.
Virus not man-made
Experts have refuted the theory that the new coronavirus was deliberately created. In a letter published in The Lancet medical journal, various public health scientists said that the virus "originated in wildlife".
"We stand together to strongly condemn conspiracy theories suggesting that COVID-19 does not have a natural origin. Scientists from multiple countries … overwhelmingly conclude that this coronavirus originated in wildlife, as have so many other emerging pathogens," it reads.
Scientists at the Ohio State University in the US also published a paper concluding there was "no credible evidence" that the new coronavirus was engineered in a laboratory.
The coronavirus outbreak has sparked a surge in anti-Chinese sentiment on social media, while US President Donald Trump has called for the protection of Asian communities after his use of the term "Chinese virus" sparked a backlash.
Daniel Maldini Confirms He Is 'No Longer Showing Any Symptoms' For Coronavirus
Milan starlet Daniel Maldini has confirmed that he is 'no longer showing any symptoms' for coronavirus.
Daniel and father Paolo were both struck down by COVID-19 last month, but the young attacker assures he is now fit enough to resume training at home.
"I'm fine, I'm no longer showing any symptoms and I've resumed individual training," he said during a live Instagram Q&A.
The 18-year-old has two legendary mentors in Zlatan Ibrahimovic and his dad.
"Ibrahimovic's given me a lot of advice, both on and off the pitch. The legacy of my grandfather Cesare and dad Paolo is an important responsibility, but I've been used to this pressure from an early age."
Daniel debuted for the first team against Verona in a 1-1 draw last month, before the season was cut short by coronavirus.
"In my head I was fairly calm and focused on the game, but San Siro gave me a unique emotion, the best I've experienced in this sport."
Vinicius Working Tirelessly To Return From Crisis In Flying Form
The Brazilian is doing a couple of training sessions a day under the eye of his trainer, Thiago Lobo, and he wants to be at top speed when football returns.
Vinicius is working tirelessly during the coronavirus shutdown. He's not just going through the motions either with two workout sessions a day under the watchful eye of his physical trainer, Thiago Lobo. The work takes place in the mornings and in the evenings, seven days a week.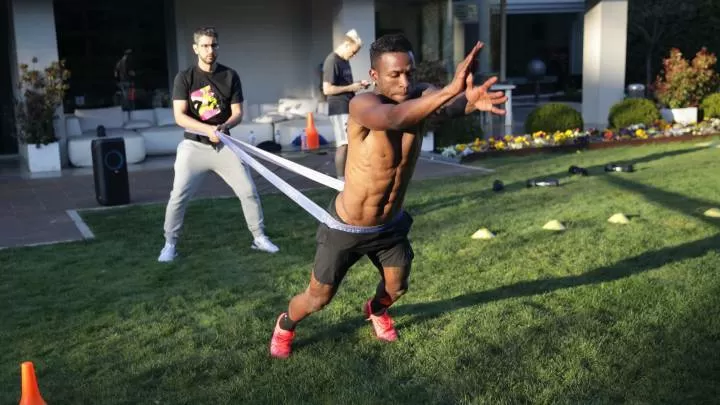 The coronavirus has thrown everyone's routines off-kilter. Everyone has been forced to adapt to a new normal including Real Madrid's players. For Vinicius, the break comes at a terrible time given how good he was playing when LaLiga was interrupted by the coronavirus. In his head, he is only thinking about one thing: getting back to where he was before the rug was pulled out from underneath us. He wants to control the things he can control and his physical fitness is one of them.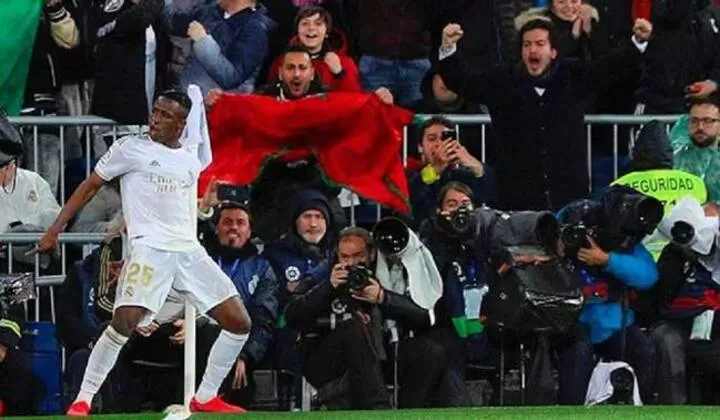 In total, Vinicius works at least three and a half hours a day to maintain his fitness and strength. With Lobo, he works on a strict plan that is extra to his normal workout and is always okayed by the club. Dupont, the team's trainer, gives him workouts to do as homework and Lobo adds that little bit more.
With or without the ball, Vinicius is a player who trains with a smile on his face and he hasn't lost that despite Spain's strict isolation rules. He has a gym in his house along with a garden to do the rest of the work necessary to remain in shape.