Get Closer To The Action With The Canon PowerShot ZOOM
Canon Europe today announces the launch of the PowerShot ZOOM – a palm-sized, lightweight 12-megapixel camera with image stabilization and an easy-to-use 3 step zoom, designed to help users experience the moment and relive it in detail. A dynamic and innovative concept in product design and usability, the Canon PowerShot ZOOM is a portable, monocular-style fixed lens camera, capable of Full HD video and super-zoom. With 100mm, 400mm and a digitally extended 800mm [1] zoom, this compact digital camera is ideal for families enjoying outdoor activities or nature enthusiasts wanting to get closer to wildlife from afar.
The Canon PowerShot ZOOM enables users to photograph and film distant subjects as though they are in front of them. Whether capturing your child scoring a winning goal from the sidelines or spotting a rare bird, the 3 step zoom enables instant optical and digital magnification. Reaching 100mm and 400mm optical focal lengths at apertures of f/5.6 and f/6.3 respectively, the Canon PowerShot ZOOM manages a sharp focus on faraway subjects. With the extended 800mm equivalent digital zoom, this telephoto capability is ideal for casual bird watchers and nature explorers. Weighing only 145g, but with an outstanding level of zoom for its size, this unique single-lens design enables users to shoot quality still and video imagery without the need for heavy equipment, ideal for capturing special moments as they happen.
Instinctive control
With a minimal, ergonomic design, the Canon PowerShot ZOOM is an easy-to-use camera that produces great results. Five accessible buttons enable control with one hand, for both still imagery and Full HD movie capture during shooting and playback, as well as menu display for ease-of-use. This intuitive device features a simplified menu display, making the PowerShot ZOOM simple to operate. Full auto control of stills and Full HD 1080p movies in MP4 means users can capture precious family moments, such as a child's first sports day or a trip to the zoo to observe the animals from afar, without worrying about changing the camera's settings. The smart electronic viewfinder (EVF) has a minimalistic overlay to avoid obscuring the view while allowing users to get immersed in the high-resolution picture.
The powerful DIGIC 8 processor creates sharp and colorful images that bring unmissable moments to life while enabling 10fps burst speed shooting to capture in-the-moment action. Employing a 12-megapixel sensor, users can capture wildlife on the move, which benefits from a high resolution and fast read-out. Coupled with continuous autofocus – with both face tracking and 1-point AF options available, the PowerShot ZOOM is ideal for capturing candid family moments.
With an advanced Optical Image Stabiliser, the PowerShot ZOOM creates steady, sharp images, while shooting or just observing distant subjects. This lightweight camera also has a generous battery life and reaches full charge from USB Type-C® USB-PD Compatible devices in under two hours, perfect for shooting while out and about.
Amine Djouahra, Sales and Marketing Director at Canon Central and North Africa says, " Canon's Kyosei philosophy is at the heart of the brand, and it is a Japanese word for living and working together for the common good. This is paramount to how we interact with our consumers and one way to do this is by enabling our customers to create memories. The Powershot ZOOM is the perfect piece of equipment to help do this. The compact design and superior features capability will create infinite possibilities for those who use it. This is what Canon is all about – that our customers can leave a lasting legacy for future generations with a simple click'.
Connect and share your experiences
To safeguard treasured memories, the Canon PowerShot ZOOM allows users to import, browse, and geo-tag images through Wi-Fi, supported by a Bluetooth® link to their smartphone. With Wi-Fi and Bluetooth, connectivity users can unlock remote Live View shooting for stills via the Canon Camera Connect app. If friends or family connect [2] their smartphone to the camera in advance, they can even see what the shooter sees through the viewfinder in real-time [3] when stood close-by. The Canon PowerShot ZOOM ensures users experience the moment, catch all the details, and share them with friends and family seamlessly.
or more information about the Canon PowerShot ZOOM, please visit: https://bit.ly/2IsIBA2
Canon PowerShot ZOOM Key Features:
12.1-megapixel sensor
3 Step Zoom between 100mm, 400mm, 800mm1 focal lengths
Optical 4-axis image stabilization
Full HD movies in 1080p @ 24/25/30 fps
USB Type-C® USB-PD Compatible devices
Wi-Fi and Bluetooth®
[1] The focal lengths mentioned are 35mm equivalents.
[2] Up to one connection at a time, while storing up to 10 predefined connections' details
[3] Depending on the communication environment, there may be delays in remote operation or remote Live View images, and it may take time to transfer images. Also, during wireless communication with a smartphone, power consumption is higher than during normal use, and it can heat up faster.
Model Emily Ratajkowski Announces She's Pregnant With First Child; Says She And Her Husband "Won't Know The Gender Until The Child Is 18" | PHOTOS
Emily Ratajkowski is expecting her first child with her husband Sebastian Bear-McClard.
The American model/actress, 29, shared the happy news on Vogue and revealed her growing baby bump in the special digital issue for the magazine.
Ratajkowski also penned an essay for the magazine, where she said the couple would wait until the "child is 18″ before revealing the gender because they hope to raise the child in a gender-neutral environment.
She wrote, "When my husband and I tell friends that I'm pregnant, their first question after 'Congratulations' is almost always, 'Do you know what you want?' We like to respond that we won't know the gender until our child is 18 and that they'll let us know then."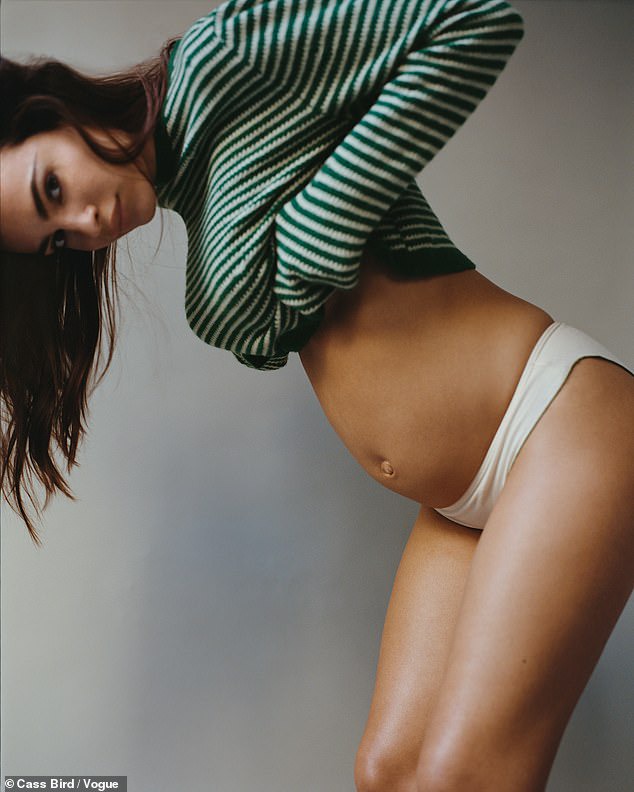 "Everyone laughs at this. There is a truth to our line, though, one that hints at possibilities that are much more complex than whatever genitalia our child might be born with: the truth that we ultimately have no idea who – rather than what – is growing inside my belly."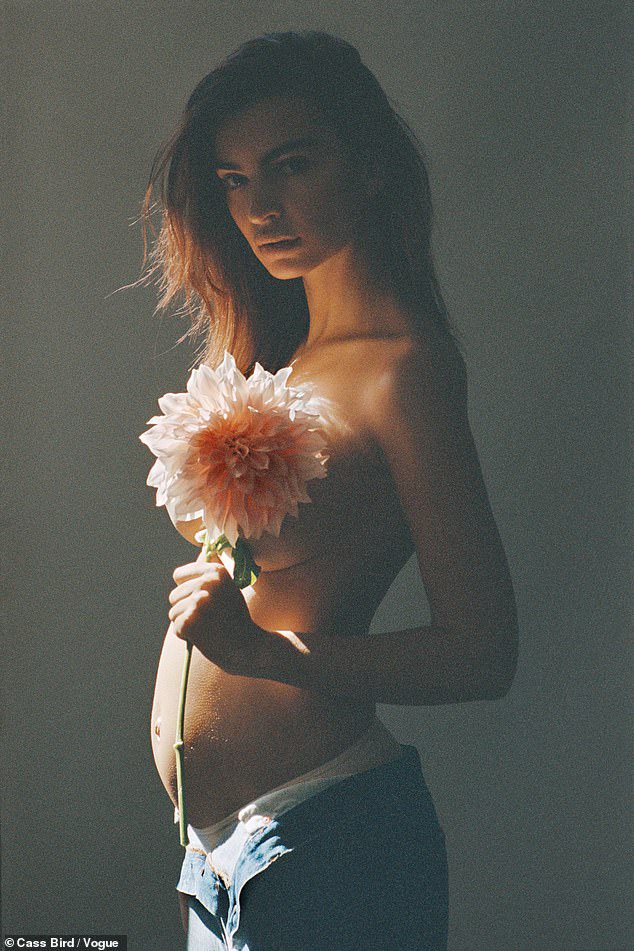 "But no matter how progressive I may hope to be, I understand the desire to know the gender of our fetus," she continues. "It feels like the first real opportunity to glimpse who they might be."
Emily Ratajkowski and her husband, movie producer Sebastian Bear-McClard have been married since 2018.
Instagram Apologizes To Nigerians For Incorrectly Flagging Posts In Support Of #EndSARS Campaign
Social media network, Instagram has apologized to Nigerians for incorrectly flagging down posts in support of #EndSARS as "false information."
Recall several Instagram users took to their respective accounts to react in anger after their posts aimed at spreading awareness about the #EndSARS campaign were flagged down as "false information."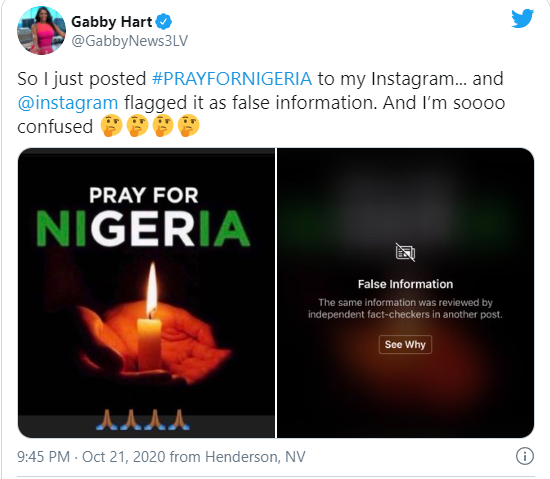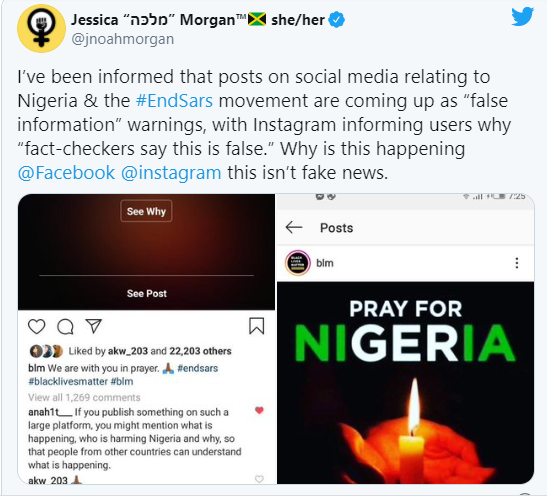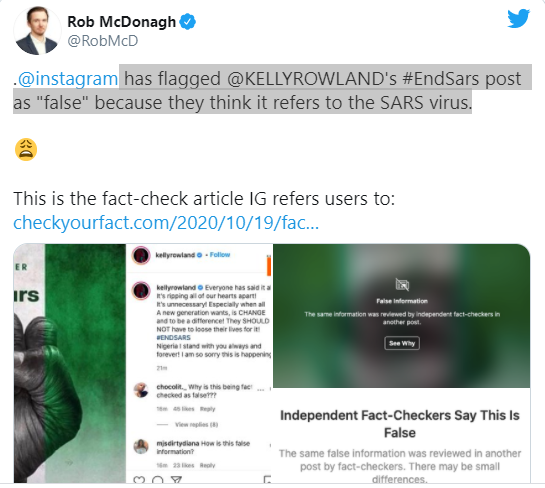 In a statement released to their Twitter page, the social media platform admitted that they incorrectly flagged down posts in support of #EndSARS and apologised to Nigerians for the error.
The statement read: "Yesterday our systems were incorrectly flagging content in support of #EndSARS, and marking posts as false. We are deeply sorry for this. The issue has now been resolved, and we apologize for letting our community down in such a time of need."
Yesterday our systems were incorrectly flagging content in support of #EndSARS, and marking posts as false. We are deeply sorry for this. The issue has now been resolved, and we apologize for letting our community down in such a time of need.

— Instagram Comms (@InstagramComms) October 22, 2020
I Will Never Love A Woman Again : Ghanaian Man Shares Sad Story After Looking After A Woman Through School For 4 Years, Preparing For Her Wedding & Finding Sleeping With Another Man In His Own House
A Ghanaian made on Jodel app has shared a sad story of him looking after a level 100 UPSA lady for 4 years.
According to him, they started as friends and since the lady's family was fit enough to pay her school fees, they asked the lady to drop out of school but then, the young man told the lady's parents he will look after her.
The man had spent millions on the lady by looking after her, paying her fees, buying her provisions, and all.
Fast Forward, it got a time the lady proposed to the man and the guy had to speak with the lady's father on the issue. The man accepted and decided to marry her, buying her wedding gowns and all. Unfortunately, his brother died and they had to do the funeral in his village. He spends about a month and more there and upon returning to his own home, he found a car parked in his own home.
Entering the home, she heard a moaning voice which probably was his yet-to-be wife who was being given a serious doggy.
Read the full story below.
https://twitter.com/David_Sackey_Jn/status/1317899598980128769?s=19
Guys you really need to fear women.