'Ghana Is The Real Giant Of Africa' : Nigerians React To News Of Twitter Opening Its African Headquarters In Ghana
Nigerians are reacting on Twitter after the social networking service announced its African headquarters will be located in Ghana.
Twitter CEO, Jack Dorsey made the announcement in a tweet on Monday afternoon, April 12.
"Twitter is now present on the continent. Thank you Ghana and Nana Akufo-Addo".
President Nana Akufo- Addo in his response, welcomed the news and revealed that he held a virtual meeting with Jack on April 7,
The choice of Ghana as HQ for Twitter's Africa operations is EXCELLENT news. Gov't and Ghanaians welcome very much this announcement and the confidence reposed in our country. 1#TwitterInGhana
#TwitterGhana
As I indicated to @Jack in our virtual meeting of 7th April 2021, this is the start of a beautiful partnership between Twitter and Ghana, which is critical for the dev't of Ghana's hugely important tech sector. #TwitterInGhana#TwitterGhana
These are exciting times to be in, and to do business in Ghana.
In a statement, Twitter gave its reasons why it chose Ghana to host Africa's Head Quarters.
"As a champion for democracy, Ghana is a supporter of free speech, online freedom, and the Open Internet, of which Twitter is also an advocate. Furthermore, Ghana's recent appointment to host The Secretariat of the African Continental Free Trade Area aligns with our overarching goal to establish a presence in the region that will support our efforts to improve and tailor our service across Africa."
However, Nigerians have taken to Twitter to express their views over the news.
While some were pleased with the new development, others mocked the Nigerian government after Twitter hailed Ghana for being a "supporter of free speech, online freedom, and the Open Internet," while explaining why Ghana was picked as its African headquarters.
Here are some reactions below.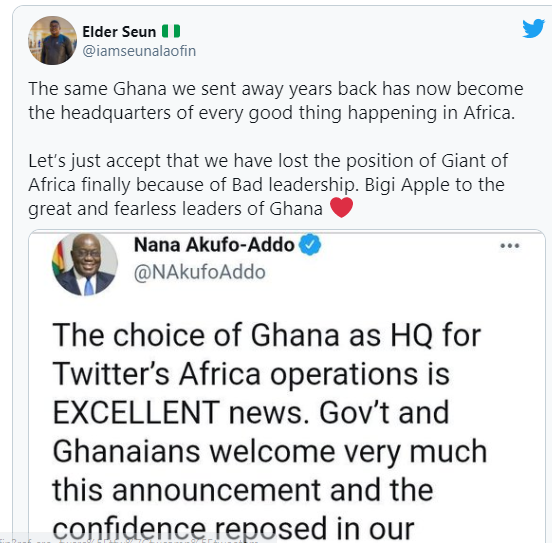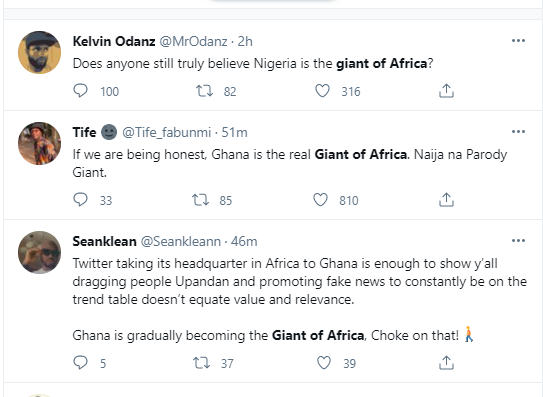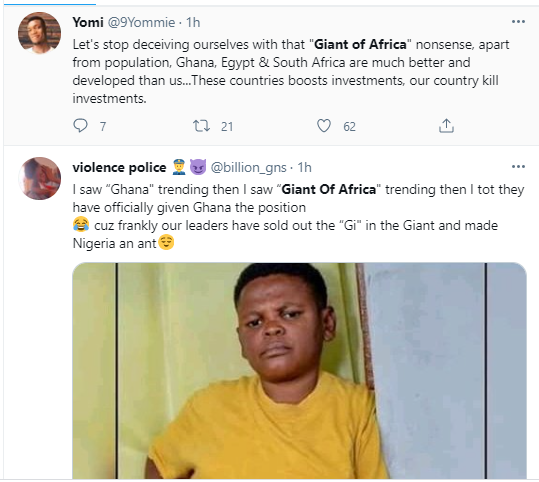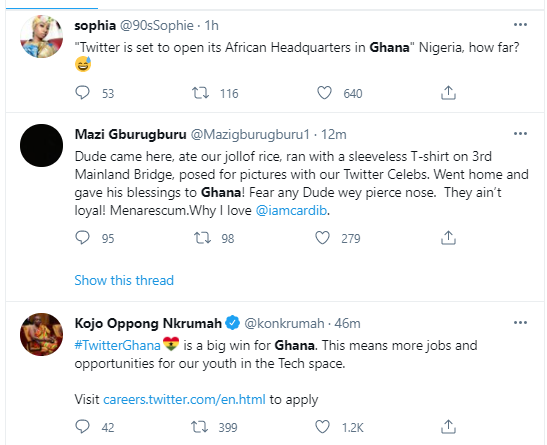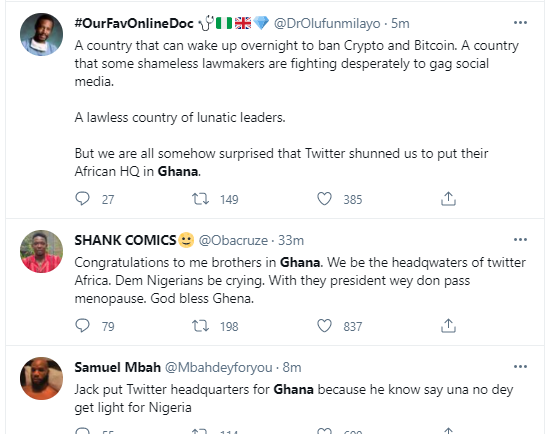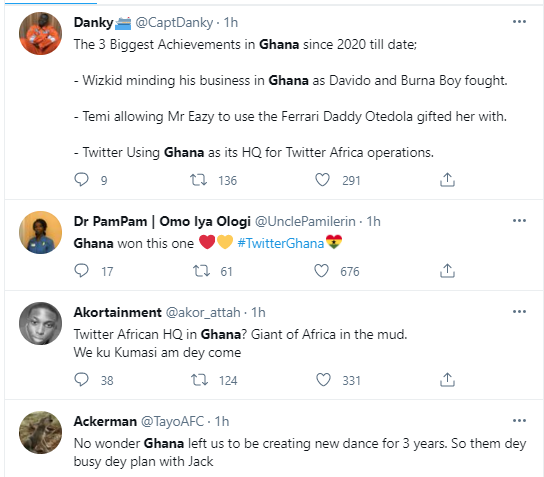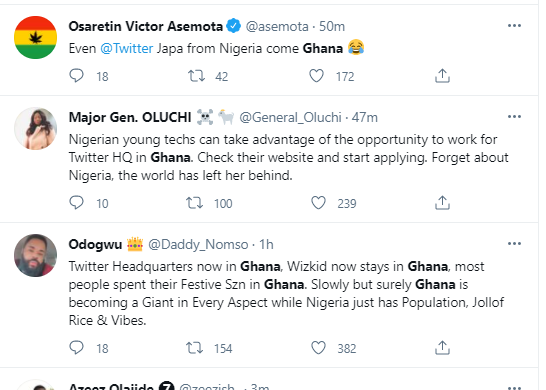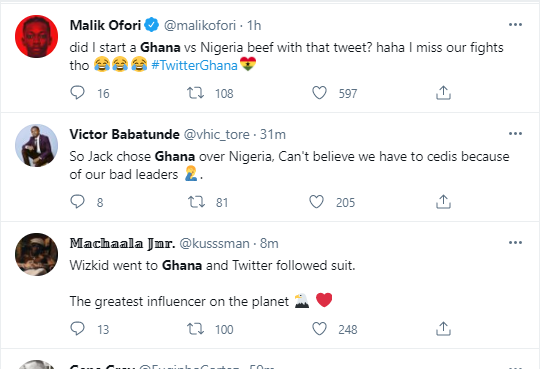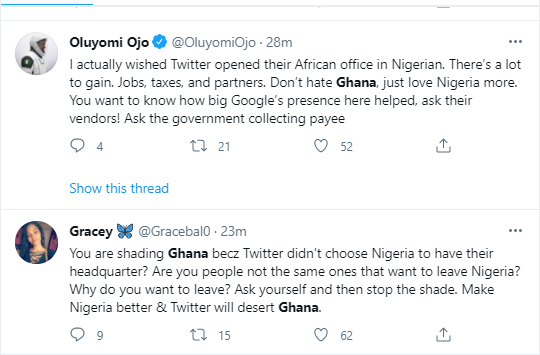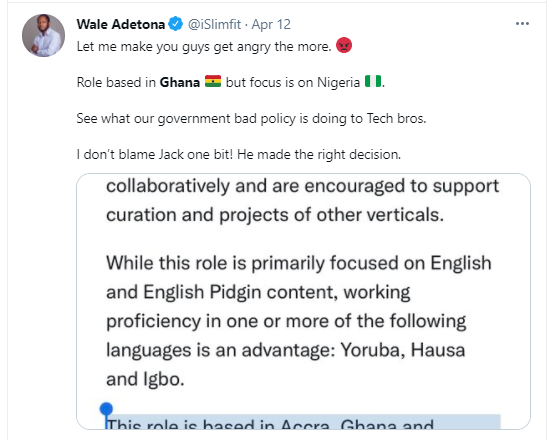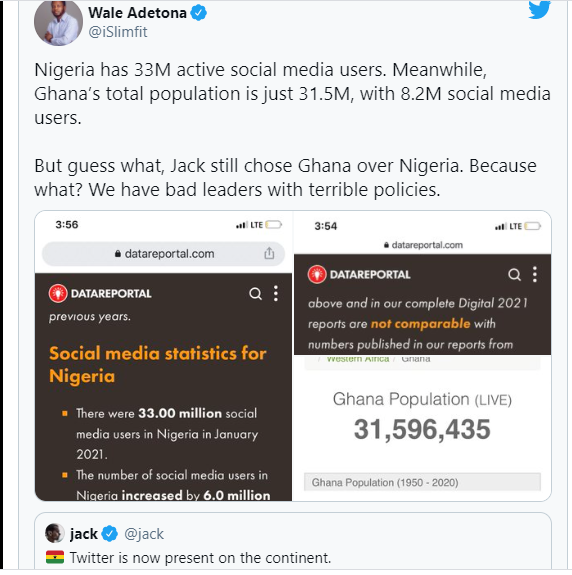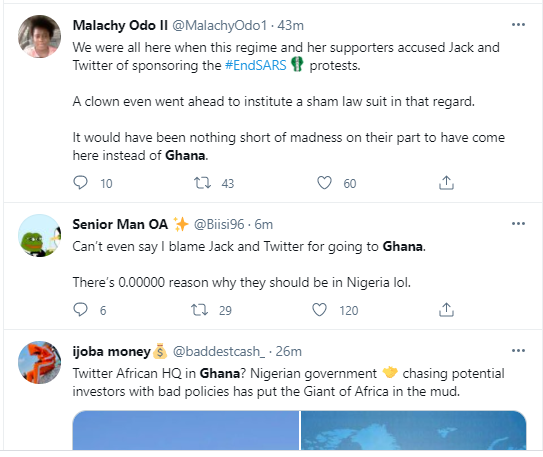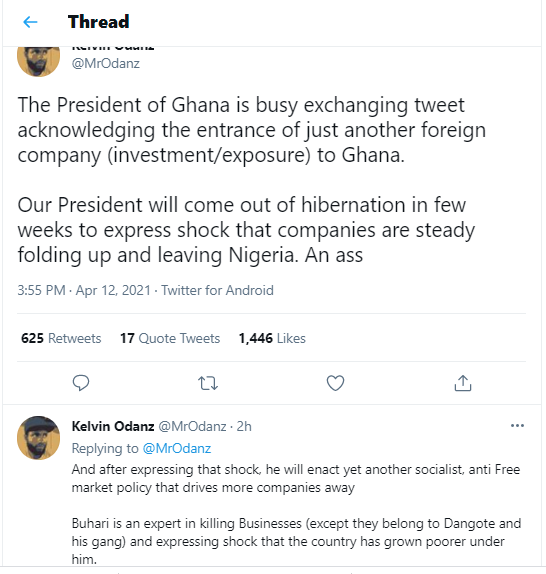 Man City Win Premier League 2020-21: Third Title in Four Seasons For Guardiola's Men
Pep Guardiola's Manchester City regained the Premier League title after rivals Manchester United lost 2-1 at home to Leicester City.
Accra Timber Market On Fire, Fire Service Respond With No Water; Ghanaians React | WATCH
Reports coming in from the famous Accra Timber markets suggest some part of the place is on fire and some personnel from the Ghana Fire Service went to the venue without water.
As at now, its not known what might have caused the fire at the market which mostly trades in 'wood' by an eye witness account reveals people from the market called the Ghana National Fire Service and reported to them about some place of the market burning in flames.
They say the Fire Service responded to the call swiftly and upon arriving at the place, told the people and the shop owners around that they don't have water in their truck to quench off the fire which was spreading to other areas of the market.
This left the people and the shop owners to result in a different method to try and quench off the fire and prevent it from spreading to other shops around.
Since the news hit media circles Ghanaians are reacting to it stating Fire Service don't have water to quench off fire but yet still, the Ghana Police Service yesterday filled their trucks with hot water ready to spray it on #FixTheCountry protestors.
Check out the video of some parts of the market burning and the some comments from the public;
Nana Hemaa@Mystery26265713·1hReplying to @SneakerNyame_Yet water was reserved to hurt citizens… The hashtag must be taken to a much higher level.. The foolishness within the country must end now…. Govt officials think state resources are for their use alone.. Just look at this, totally burnt
Hit Boi@asapfreag·57mReplying to @SneakerNyame_You see they didn't bring the sobolooo trucks
#FixTheCountryNow@kofi_nokturnal1·56mReplying to @SneakerNyame_But yestee, those afuom people will be like, "nne de3 yeb3 nua amanfuor mma." Siasem #FixTheCountry#fixitnow
"Nana Addo And His Appointees Are Planning To Eliminate John Dumelo" : Ibrah One Alleges
Controversial news commentator, Ibrahim Dauda, also known as Ibrah One has dropped another bombshell, revealing some of the evil plans of the ruling New Patriotic Party (NPP) government. He seems to be inviting trouble to his camp and has never learned from his mistakes.
According to him, Ghanaian actor cum politician, John Dumelo should be careful because the President and his appointees are conspiring against him.
He said that Nana Akufo Addo and his appointees are planning to eliminate the actor for some reasons better known to him.
Well, he never specified as to the President and his appointees would want to eliminate John Dumelo but he cautioned his to be extra careful.
He wrote; "John Dumelo should be very vigilant, What happen to Ahmed Suale might happen to him. Nana Addo and his appointees are evil, they are planning to eliminate him.#Ibrahone"
See the screenshot below:
Meanwhile, Ibrah One also took his platform to launch fresh attacks on controversial politician, Kennedy Agyapong following his comments on the #FixTheCountry campaign.
According to Ibrah One, Kennedy Agyapong first needs to fix his 'foolishness' before coming out to advise Ghanaians to fix their minds.
In his post, he also said that Karma will one day brutally deal with the Assin Central representative in parliament.
Kennedy Agyapong should Fix his foolishness before coming out to tell Ghanaians to fix their minds. When karma hits Kennedy in the face, Ghanaians will there. Just in case it needs some help.#Ibrahone, he wrote.