Here Is Gifty, One Of The Slay Queens Who Allegedly Was Smuggled By Thomas Partey & Nuhu Into The Black Stars Camp In Egypt
Moments after the Ghana Black Stars were kicked out of the AFCON 2019 competition due to their abysmal performance, a story broke that some Black Stars players smuggled women into the team's camp each night against the rules popped up.
Although some of the team players have denied the allegation, a lady who was allegedly smuggled into the Black Stars camp allegedly by Thomas Partey and his close teammate, Nuhu Kassim is going viral.
The lady in question who has been identified as Gifty, Ghpage.com has gathered from a post on footballghana.com caused a stir in the camp of the Black Stars and was banned from visiting the team in Dubai during pre-competition training in Dubai.
But Partey who it's believed is dating the girl kept sneaking her into the camp in Dubai with the assistance of Kassim Nuhu who is his very close friend.
Even in Dubai during the Black Stars' training, Gifty shared a photo of herself with Thomas Partey and Kassim Nuhu chilling in town. This was after she had been banned from returning to the camp again.
Fast forward in Egypt where the African Cup of Nations 2019 is being held, Gifty stormed the players' hotel many times even though Thomas Partey was allegedly warned many times about it
According to reports on the football portal, a National Security operative who was with Ghana Black Stars in Ismailia, Egypt received information about her presence and informed the team's management about the situation.
KUBILIVE has reliably been informed that the team's Captain, Andre Dede Ayew at a point got upset with the occurrence and confronted the players involved in sneaking women into the camp. It nearly ended in a fist when he tried it.
For the first time in the history of Ghana, the National team, Ghana Black Stars were kicked out of the African Cup of Nations (AFCON) competition at the Round 16th stage.
The team lost out to Tunisia in a penalty shootout which ended 4-5 in favor of Tunisia.
Throughout the competition, the team only successfully beat Guinee Bissau in the group stage. The rest of the games were all drawn against their opponent until Tunisia kicked them out
Pep Guardiola Bans Players From Attending Christmas Party
Manchester City manager, Pep Guardiola has cancelled Christmas for his first-team stars, as they have all been banned from attending the club's festive party.
According to Goal, Guardiola is keen to avoid another festive slump, like the one which threatened to derail their treble hopes last year. After last year's celebrations, Manchester City were surprisingly beaten 3-2 at home to Crystal Palace and then lost to Leicester four days later.
They eventually recovered to successfully defend their Premier League title. And with City currently 14 points behind league leaders Liverpool, Guardiola has taken action to avoid a similar slump by banning players from this year's bash.
Neymar Sues His Former Club Barcelona For £2.9m Over 'Unpaid Wages'
PSG striker, Neymar is taking his former club, Barcelona to court for £2.9m in unpaid wages from his previous four-year stay at the Spanish club.
The 27-year-old Brazilian footballer who signed for Barcelona in 2013 from Brazilian club Santos has accused Barcelona president Josep Maria Bartomeu of acting with 'absolute bad faith' since he joined the Ligue 1 champions for a world-record £198m fee in 2017.
According to Spanish outlet El Mundo, Neymar now believes he is owed £2.9m (€3.5m) in unpaid wages in addition to the £36.2m (€43.6m) he thinks he is owed via a renewal bonus.
The report also details that Barcelona believe they are owed money from selling Neymar, "due to the first part of a renewal bonus, alongside £7m (€8.5m) in damages and interest."
In an interview with Cadena Ser, Neymar Santos Sr, who serves as an agent to his son, said that the action was part of the original suit and expressed optimism that everything would be settled amicably.
"It's a demand about his termination when he left the club," Neymar's father said, adding that "Neither Barcelona nor us are worried. We will solve this situation."
With the current court battle, It's now unclear if Neymar will return to Barcelona despite rumors in the summer linking him with a return to the Nou Camp.
Jürgen Klopp Agrees To New Liverpool FC Contract Until 2024
Liverpool Football Club have announced that Jürgen Klopp has agreed to a new contract extension with the club.
The 52-year-old inked a new four-and-a-half-year deal on Friday, December 13, to extend his tenure until 2024.
On signing the new deal, the German football coach said: "For me personally this is a statement of intent, one which is built on my knowledge of what we as a partnership have achieved so far and what is still there for us to achieve.
"When I see the development of the club and the collaborative work that continues to take place, I feel my contribution can only grow.
"People see what happens on the pitch as a measure of our progress and although it is the best measure, it's not the only measure. I have seen the commitment from ownership through to every aspect and function of the club you can think of.
"When the call came in autumn 2015, I felt we were perfect for each other; if anything, now I feel I underestimated that. It is only with a total belief that the collaboration remains totally complementary on both sides that I am able to make this commitment to 2024.
"If I didn't I would not be re-signing. This club is in such a good place, I couldn't contemplate leaving.
"I must also highlight the role of our sporting director, Michael Edwards, in this journey so far. His input and collaboration has been just as important as anyone else's in getting us into a position to compete for the game's top titles.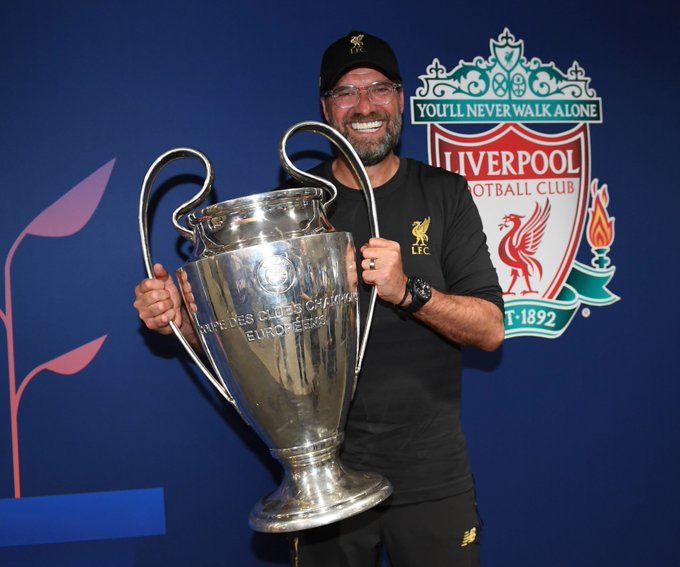 "For anyone in football who aspires to compete in an environment where every element of the organisation is at its very best – from the support of the supporters to the vision of the owners – there can be no better place than this."
Klopp who was first appointed as Liverpool manager in 2015, got Liverpool to the finals of both the League Cup and Europa League.
In 2016-17, Klopp helped the Reds to qualify for Champions League for the first time since 2014, with a top-four finish. Liverpool also got the finals in Kiev, but suffered a 3-1 loss to Real Madrid.