"How Do I Control My Oily Skin And Prevent Pimples?" : A Dermatologist Explains
How can I control the excessive oil secretions on my face that leads to acne? Anonymous
Pimples are the worst! They hurt, pop up overnight and can be impossible to hide.
You're right that oily skin is believed to be the most critical factor for causing acne.
But rest assured, there are a few things you can do to keep your oil at bay and control the likelihood of a breakout.
Why am I so oily… all the time!
Before we start talking about how to avoid acne, let's chat about why oily skin causes acne.
Oily skin is caused by the overproduction of sebum by an overactive oil gland (also known as the pilosebaceous unit, which is just a fancy term for a hair follicle and its oil gland).
There are a few reasons we get acne, one being the pore of the oil gland can be blocked – this can be made worse by using certain types of makeup.
Some of our hormones during puberty drive sebum overproduction, hence acne-overload. Fun fact: anabolic steroids, typically used by bodybuilders, can trigger acne too.
Acne bacteria lives on the skin and its overgrowth around your oil glands can worsen inflammation and pus formation. This is what causes acne to hurt sometimes.
If there's a strong history of acne in your family, there's a good chance you might get it too.
It is also linked to medical conditions such as polycystic ovarian syndrome.
Trust me on this, a proper skin routine is everything
As a dermatologist, I recommend cleaning your face every morning and evening. If you wear makeup, ALWAYS wipe it off before going to bed – no excuses!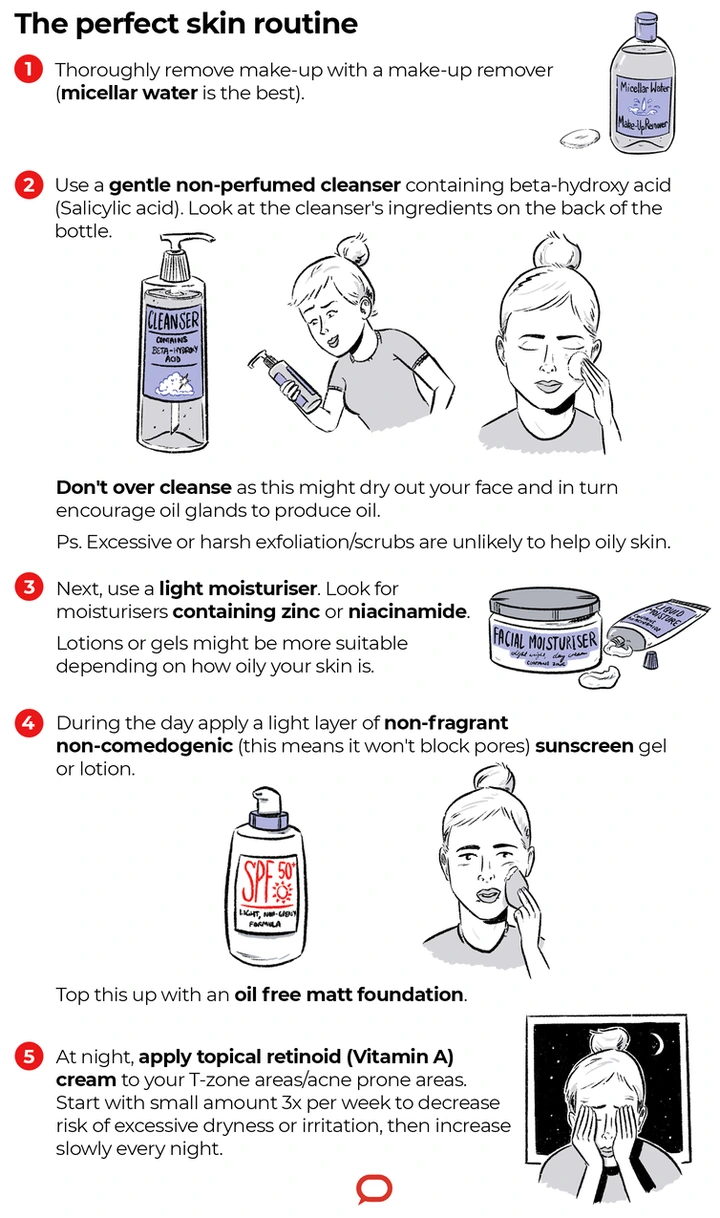 Using pore-clogging oil-based makeup can worsen or cause acne. This can become worse if makeup is not thoroughly removed!
If you want to hide your acne with makeup, just be sure to use brands that contain good ingredients (I talk a bit more about this below).
A few tips to help keep your skin clear 🌟
Diet: Eat a healthy balanced diet containing low glycaemic index food groups with complex carbohydrates and omega-3 fatty acids. There might be a role for oral zinc supplements. It is best to avoid sugary, processed and refined food.
Make up and hair products: If you choose to wear make up, opt for mineral-based foundations, eg. La Roche Posay, Bare Minerals, Nude by Nature, Jane Iredale, Youngblood and Ultraceuticals. Wash your hair regularly with shampoo, especially if you're using hair products and if you have oily hair or scalp. Avoid using oil-based products on your face and beware of oil-based pomades and hair wax, especially near your forehead.
Regular use of a good quality broad spectrum SPF 30 and above ultralight sunscreen lotion: This reduces early onset wrinkles, pigmentation issues and in the long-term reduces your risk of developing sunspots and dangerous skin cancers.
Maintain a healthy weight and embrace exercise: Not only is this good for mental health (stress can lead to acne), it also reduces levels of acne-causing hormones.
About to leave the house and still feel oily?
I recommend using a blotting paper or oil-control film when this happens. They aren't too expensive – Target sells packs of 100 for A$5 – and can be bought at supermarkets and pharmacies.
You can also apply a thin layer of mattifying gel or a mineral-based loose powder foundation to reduce and absorb excess oil.
Some final words of advice
Use oil-free and non-comedogenic cleansers, moisturizers and makeup. When picking a foundation opt for "oil free" liquid silicone (dimethicone or Cyclomethicone) matte foundations over oil foundations
remember to thoroughly remove your make up with a make up remover
avoid touching, picking or scratching your pimples
if you feel your acne is particularly bad, make sure you see your GP or get a referral to see a dermatologist. It's always best to get on top of your acne and reduce risk of acne scarring.
Instagram Verifies Shatta Bandle's Account
Self acclaim world youngest billionaire, Shatta Bandle, has been verified by Instagram. This is news to us because he becomes the first of his kind to secure the blue badge.
In this sense, we mean he is the first among the Ghanaian social media sensations, who became popular on social media for one thing or another, to have secured the verification badge. We've seen the likes of Rashida Black Beauty, Two Thoozing, Ghana Tupac among others but their relevance did not reach an Instagram verification level.
This feat projects that Shatta Bandle is here to stay, unlike the others. Announcing his verification, Bandle wrote "Congratulations to my self. I'm verified as a billionaire By Instagram, no more fake billionaire creating my fake profiles. How can Instagram verify you if you have audio money?
Who Is Winning The Miss Malaika Crown This Year : Meet Your Top 10 Finalists | WATCH
After weeks of the Miss Malaika beauty pageantry show running, 10 lucky girls have made it to the top ten cut. The reality show's organizers have set 2nd November for a Queen to be crowned at the grand finale.
It will happen at the National Theatre and now, we are simply asking, WHO IS WINNING MISS MALAIKA 2019?
Hit Play!
'Why We Haven't Suspended President Trump's Account' : Twitter Explains
Twitter has clarified when it will enforce rules against "world leaders" saying unless Trump explicitly violates Twitter's rules, leaving no room for interpretation, the company will do nothing.
"We focus on the language of reported Tweets and do not attempt to determine all potential interpretations of the content or its intent" Twitter said in a blog post.
Twitter's blog post comes in the wake of a series of controversial tweets from Trump that drew condemnation from Sen. Kamala Harris, a Democrat representing California and running for the party's nomination for president, who called for Twitter to suspend him.
"Trump's tweets about the whistleblower represent a clear intent to harass, intimidate, or silence their voice. His blatant threats put people at risk and our democracy in danger. His account must be suspended" Harris wrote in an open letter to Twitter CEO Jack Dorsey.
The company spelled out a series of "enforcement scenarios" under which it would take action, including promotion of terrorism, clear and direct threats of violence, posting private information or intimate photos, child sexual exploitation, or promoting self-harm.