"I Nearly Sat On The Thing" : Woman Finds Terrifying 4ft Python In Her Toilet Bowl At 5.30am
A woman was terrified when she visited her toilet early in the morning to find a giant snake in her toilet bowl.
Laura Tranter, 34, a sports teacher in the West Midlands, England, stumbled over to the loo at 5.30am on Saturday and was shocked to see the snake.
She said the reptile was so big it couldn't actually get out the toilet.
Laura thought she was hallucinating and had to close the bathroom door and open it again to check.
Then she called the RSPCA – but they said they couldn't help till 7am, when they opened.
Laura then called her friend's brother Steve, a snake and exotic animals expert.
Laura said: "I woke up at half-past five in the morning to go to the toilet, and it was just there.
"It scared the hell out of me, I nearly sat on the thing. Its head was just resting on the seat.
"I shut the toilet door and thought, have I really seen that, so I double-checked if it was real – but I really thought I was hallucinating."
"I went around my mate Sarah's house at half five in the morning in my dressing gown and trainers. She was so confused she asked if I'd been drinking."
Steve travelled the 20 minute journey straight away to deal with the shocking sight.
Laura said getting the snake out wasn't easy because it was so fat.
She explained: "It was actually stuck in my toilet, because it was so fat in the middle that it couldn't get out and couldn't get back.
"We couldn't actually get it out, so we had to put washing up liquid down the toilet and then flush it to help get it out."
Finally, Steve and his friend Dan fished it out, passing the animal over the RSPCA.
They agree it's probably an overgrown pet disposed of by its owner.
'I'm Speechless': Cristiano Ronaldo's Girlfriend Shows Off The £150,000 Designer Jewellery Trunk She Received From Him
Cristiano Ronaldo left his girlfriend Georgina Rodriguez speechless with his latest gift, a £150,000 designer jewellery trunk.
The 27-year-old Spanish model showed off her amazing present from the Manchester United legend, to her Instagram fans.
The astonishing Louis Vuitton Malle Vendome boasts eight drawers for the stunning brunette's most expensive bracelets, necklaces and rings.
Georgina wrote alongside a photo of two of their four children getting their first glimpse of the gift: 'I'm speechless, Cristiano.'
The Malle Vendome was designed to celebrate the opening of the new Louis Vuitton boutique on Vendome Square in Paris.
The 4ft 6ins high trunk has eight drawers as well as a mirror and a bust where Georgina can hang some of her most-treasured necklaces.
'Incoming Mother Of My Twins' : Funny Face Says As He Introduces New Curvy Baby Mama
After suffering a serious mental breakdown over her relationship with Vanessa (the mother of his twins), Funny Face has resurfaced on social media to introduce his incoming baby mama.
We all know Funny Face's obsession with big and curvy backside of women. Despite his troubles with his two baby mamas who are both endowed, the comic actor has gone for another woman.
He first shared a video of himself smooching the lady identified as Kukua in a car and registered that she was his new friend.
Funny face shared a photo of the same girl and told the world what she really means to him.
The actor thanked the lady for being there for him when the world repudiated him and declared not to hide her from the world anymore.
He said the time has come for his fans and the world to know his new baby mama.
The comedian said he was going to use part of the money he will get from Adebayor to sponsor a trip for the girl to any holiday destination.
READ HIS POST BELOW;
"GYE NYAME " ??? .. @brianamoateng .. PAPA , do you remember" prophecy " .. JEHOVAH is gonna make me like " ABRAHAM … well Da prophecy …. Has started working … ???? .. GOD bless you for being der for me When da world Rejected me ????? #FUNNYFANS .. I promise not hide anything from you all again .. I was quite when a woman gave my child to another man because I was broke !!! ??? so from today I won't hide anything from you guys again .. your new incoming Twin boys MOTHER .. obaaa KUKUA .. love you baby ??????? No MOrE secrets !! #FUNNYFANS ur incoming queen ? ???? and @e_adebayor .. if we sign da contract .. I will use some of the " ur money " to sponsor her trip ???????????? I have forgotten to take my 7:30 medicine ? Asem aba .. secrets upon secrets to be revealed".
Inside Cardi B's New $1.5 Million Dominican Republic Mansion From Offset As Her 29th Birthday Gift | PHOTOS
American rapper, Cardi B turned 29 on October 11, and the mother of two was gifted a $1.5 Million Mansion in Dominican Republic by her husband, Offset.
The newly constructed, luxurious villa has 7 beds, 7 baths and 8,000-sq.-ft of living space … sitting on a 4-acre hillside lot right near the beach.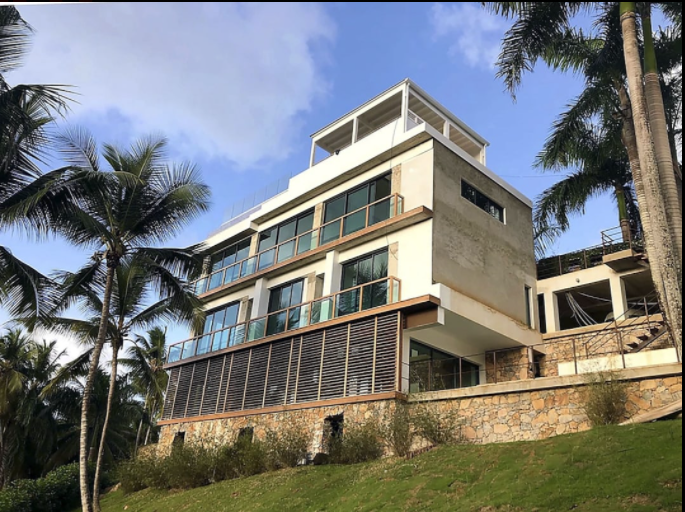 The 4-story mansion also has an Italian kitchen, wine fridge, rooftop pool and a separate studio with a kitchen and living room. It also boasts of 3 tennis courts, private beach access, 2 more pools and, of course, a helipad.
The property is located inside a guarded and gated private community.
See more photos below;