I Will Make Sure Obinim Is Jailed : Kennedy Agyapong
Hon. Kennedy Agyapong is in the news again this time very furious and determined to do whatever it takes to put the founder, leader and head pastor of International God's Way Ministries Angel Bishop Daniel Obinim to jail.
In Hon. Ken's quest to bring to bear all the evil doings of Obinim he has again in the studios of Net 2 TV show to the public a very chilling video which captures the man of God torturing a teenager with heavily and dirty slaps to speak the truth that she has indeed had an affair with a man.
Bishop Obinim in the said video forced the young teenage girl to admit that she is in a relationship and has had several sexual affairs with different men. He again ordered for a belt to whip the hell out of the girl if she tries to hide the truth from him because in his church none hides the truth and goes scot-free.
After Ken promising that he has forgiven Obinim on live TV, the loudmouth politician has taken back his words and has since then constantly bringing out videos to expose Obinim.
Obinim knowing the implications of his actions still went ahead to assault the young girl in his church during one of his live church services aired on TV. He from the video sighted after slapping the girl stated that he doesn't care about what his actions may cause and careless if he is taken to court for doing that.
"Do you think I care about being taken to court for doing this? Your Foolishness and stupidity won't be tolerated in Ghana here! Anybody who tries to have a case with me would be punished by me" Obinim angrily stated in the video.
The acclaimed man of God gave another punch on the chest of the young girl. He said he would give the girl asthma and add on with more because she is very disrespectful and had the guts to stand before an Angel like him and lie.
"If Obinim is not jailed, I will revenge the girl's beatings, We cannot allow such things to go on in this country all in the name of Fake pastors? " Hon. Ken warned.
Hon Kennedy Agyapong in the video available was more than ready to go at length with Obinim until he is finally brought to book.
He dared Obinim that if he is a man enough he should face him one on one to know who is the man. This serious rivalry between them is not ending anytime soon.
Facebook Posts Falsely Claim That The US Arrested A Chinese Scientist Who "Created" The Coronavirus
Facebook posts shared thousands of times feature a video of US officials talking to reporters, with captions claiming they are announcing the arrest of a Chinese scientist who "created" the new coronavirus. However, the footage has nothing to do with COVID-19 and scientists have refuted allegations the virus was deliberately created.
"USA Arrested A Chinese Scientist That Created Coronavirus (sic)," reads the caption on a video shared more than 3,500 times by MOB TV, a Facebook page covering Nigerian news.
The clip features two officials from the US Department of Justice holding a press conference.
"We're here today to announce three separate cases highlighting the ongoing threat posed by Chinese economic espionage and research theft," one of the men says, standing in front of a US Department of Justice sign.
"China's communist government's goal, simply put, is to replace the United States as the world's leading superpower and they're breaking the law to get there," his colleague says later on in the footage.
However, at no point do they refer to the coronavirus pandemic that has claimed more than 50,000 lives around the world as of April 3, 2020.
AFP ran a reverse image search on the video using the InVID We Verify tool, which traced the footage to local news reports on a press conference on January 28, 2020, in Boston, Massachusetts.
Scientists charged
At the conference, US Attorney for Massachusetts Andrew Lelling and the head of Boston's Federal Bureau of Intelligence (FBI), Joseph Bonavolonta, announced the arrest of a Harvard scientist and two Chinese nationals for hiding alleged ties to China.
AFP reported that US prosecutors charged the chairman of Harvard University's chemistry and chemical biology department Charles Lieber with hiding his alleged role in a Chinese government programme that security officials say steals trade secrets.
Two other scientists, both Chinese nationals, were also charged as part of an investigation into hundreds of cases of alleged theft by Chinese scientists in the US.
The arrests were widely covered by local media, who broadcast footage from the original press conference.
Virus not man-made
Experts have refuted the theory that the new coronavirus was deliberately created. In a letter published in The Lancet medical journal, various public health scientists said that the virus "originated in wildlife".
"We stand together to strongly condemn conspiracy theories suggesting that COVID-19 does not have a natural origin. Scientists from multiple countries … overwhelmingly conclude that this coronavirus originated in wildlife, as have so many other emerging pathogens," it reads.
Scientists at the Ohio State University in the US also published a paper concluding there was "no credible evidence" that the new coronavirus was engineered in a laboratory.
The coronavirus outbreak has sparked a surge in anti-Chinese sentiment on social media, while US President Donald Trump has called for the protection of Asian communities after his use of the term "Chinese virus" sparked a backlash.
Daniel Maldini Confirms He Is 'No Longer Showing Any Symptoms' For Coronavirus
Milan starlet Daniel Maldini has confirmed that he is 'no longer showing any symptoms' for coronavirus.
Daniel and father Paolo were both struck down by COVID-19 last month, but the young attacker assures he is now fit enough to resume training at home.
"I'm fine, I'm no longer showing any symptoms and I've resumed individual training," he said during a live Instagram Q&A.
The 18-year-old has two legendary mentors in Zlatan Ibrahimovic and his dad.
"Ibrahimovic's given me a lot of advice, both on and off the pitch. The legacy of my grandfather Cesare and dad Paolo is an important responsibility, but I've been used to this pressure from an early age."
Daniel debuted for the first team against Verona in a 1-1 draw last month, before the season was cut short by coronavirus.
"In my head I was fairly calm and focused on the game, but San Siro gave me a unique emotion, the best I've experienced in this sport."
Vinicius Working Tirelessly To Return From Crisis In Flying Form
The Brazilian is doing a couple of training sessions a day under the eye of his trainer, Thiago Lobo, and he wants to be at top speed when football returns.
Vinicius is working tirelessly during the coronavirus shutdown. He's not just going through the motions either with two workout sessions a day under the watchful eye of his physical trainer, Thiago Lobo. The work takes place in the mornings and in the evenings, seven days a week.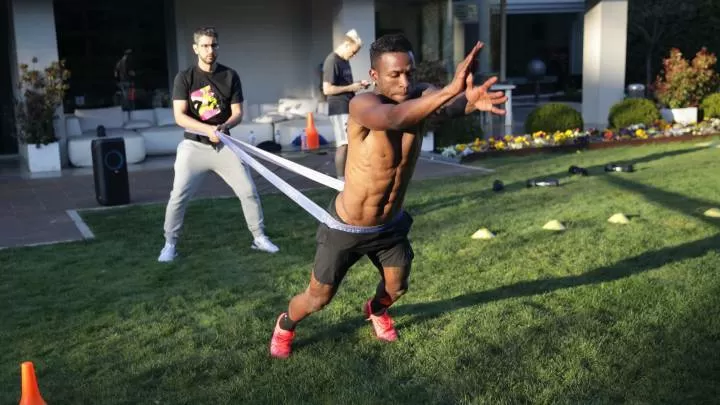 The coronavirus has thrown everyone's routines off-kilter. Everyone has been forced to adapt to a new normal including Real Madrid's players. For Vinicius, the break comes at a terrible time given how good he was playing when LaLiga was interrupted by the coronavirus. In his head, he is only thinking about one thing: getting back to where he was before the rug was pulled out from underneath us. He wants to control the things he can control and his physical fitness is one of them.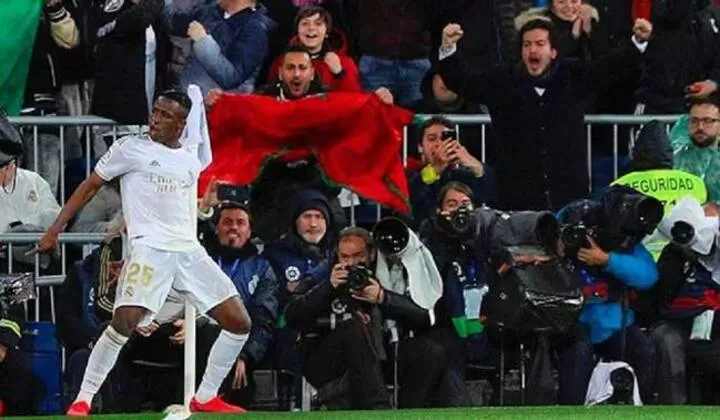 In total, Vinicius works at least three and a half hours a day to maintain his fitness and strength. With Lobo, he works on a strict plan that is extra to his normal workout and is always okayed by the club. Dupont, the team's trainer, gives him workouts to do as homework and Lobo adds that little bit more.
With or without the ball, Vinicius is a player who trains with a smile on his face and he hasn't lost that despite Spain's strict isolation rules. He has a gym in his house along with a garden to do the rest of the work necessary to remain in shape.