Kanye West And Julia Fox Make Red Carpet Debut As A Couple | PHOTOS
Kanye West and Julia Fox have officially made their red carpet debut as a couple.
The rapper and actress made their debut this weekend at Paris Men's Fashion Week as they attended Kenzo's show in matching denim looks.
Arriving on the red carpet on Sunday 23 January, Fox was dressed in full Schiaparelli, wearing a cropped denim jacket and loose-fitting, low-waisted blue jeans.
The jacket, which featured conical breasts reminiscent of Jean Paul Gaultier's signature corsets, was paired with large gold earrings and matching Diesel denim boots.
West opted for a full Balenciaga look, wearing a padded denim jacket, blue jeans, and knee-length Red Wing boots.
Speaking to WWD about her outfit, Fox said she was wearing Schiaparelli creative director Daniel Roseberry's personal pair of jeans.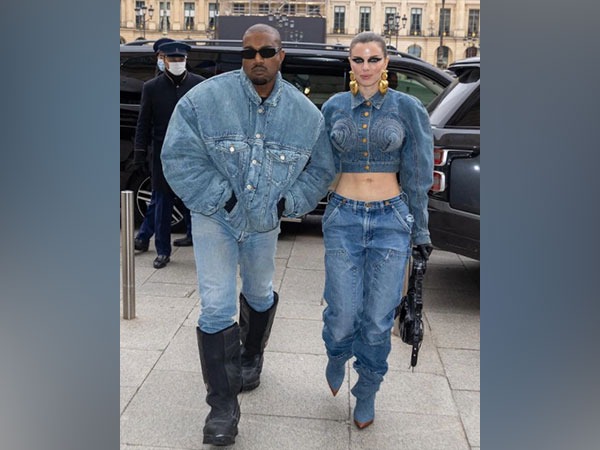 "I was just at the [Schiaparelli] showroom before coming here," she said.
"I'm actually wearing Daniel's pants, the designer of Schiaparelli. I took the pants off of his body and he was very kind to let me wear them," she added.
Fox shared photographs of the pair arriving at the show to her Instagram stories. In one, West smiles at the floor as he walks with his arm around the actor's shoulder.
At the show, the couple were seen seated between rapper Tyler The Creator and Kenzo's artistic director, Tomoaki Nagao, better known as Nigo.
Fox and Kanye have been dating for less than a month, since meeting on New Year's Eve 2021.
See the images below;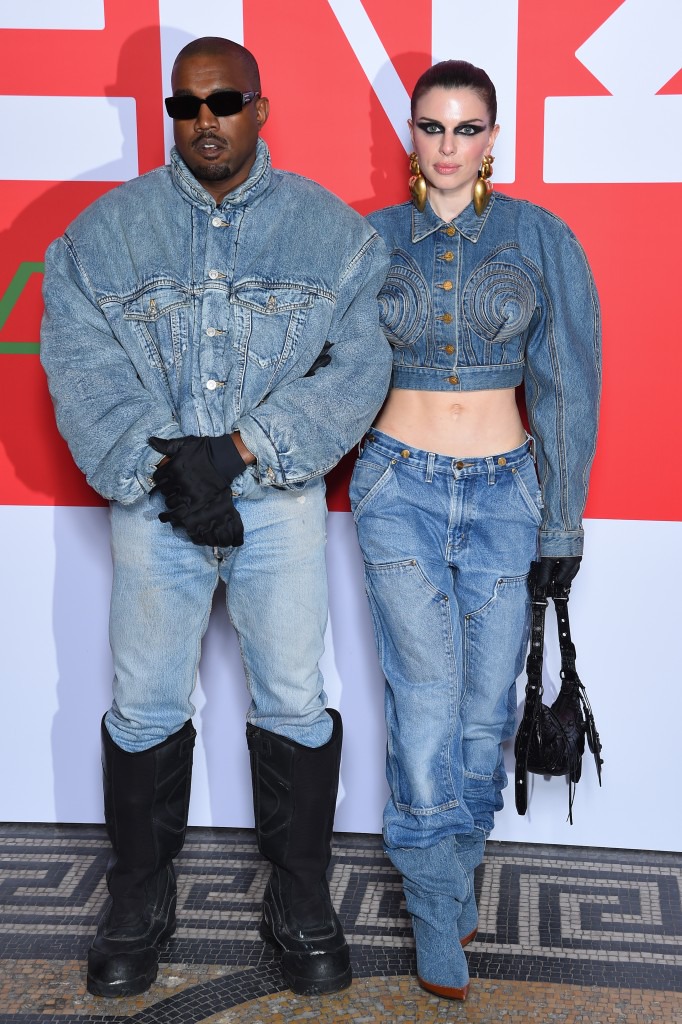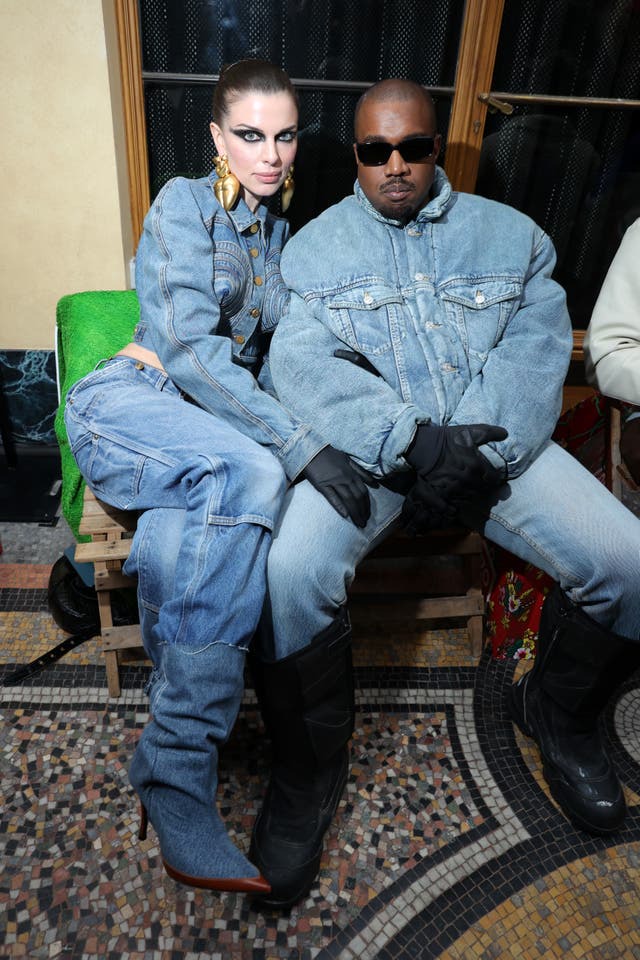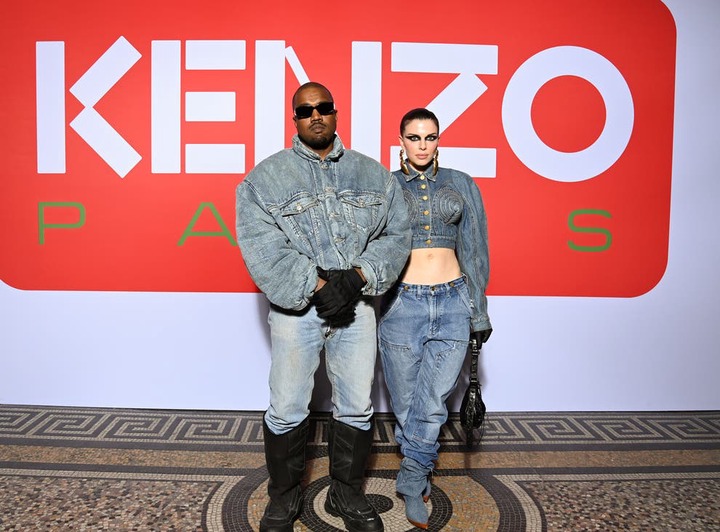 Kanye West's Ex Julia Fox Goes Grocery Shopping In Her Underwear
Julia Fox went grocery shopping in her underwear.
The actress stood out in a black cotton bra and underwear ensemble from Alexander Wang, which she paired with a denim blazer, knee-high boots, and a denim purse.
She defended herself after photos of her shopping in her underwear went viral.
"I just think that if it's socially acceptable at the beach it should be the same everywhere lol," she joked on her Instagram Stories on Monday, May 16.
Rapper JT Reacts After Her Lady Part Was Accidentally Exposed On Stage At The Billboard Awards
JT, real name Jatavia Shakara Johnson, of City Girls, had a wardrobe malfunction while presenting an award at the 2022 Billboard Music Awards.
JT's dress rode up as she and her bandmate Yung Miami took the stage, exposing her black panties and partially exposing her intimate parts.
Social media users quickly chastised the singer and her stylist.
As people discussed the photo, JT quickly rose to the top of the trending list.
A fan shared a photo of JT's exposed lady parts and wrote: "Why does nobody tell @ThegirlJT to put her kitty away."
JT responded, "I have on black Panties RELAX.."
However, fans have continued to troll JT by zooming her photo and showing her that her panties didn't cover what it needed to cover.
Kourtney Kardashian And Travis Barker Get Legally Married | PHOTOS
Just a month after exchanging vows in an impromptu ceremony in Las Vegas, Kourtney Kardashian and Travis Barker have finally said "I do."
According to the insider, the reality TV star and the drummer married legally in Santa Barbara on Sunday, May 15, in front of a few close friends and family members.
"They had to legally marry first before their big Italian wedding, which is coming up soon," a source tells PEOPLE. "All of the details are in place, and the entire family, including all of the children, is very excited."
Kourtney, who wore a white minidress and veil, drove away with her husband Travis in a convertible, holding a "Just Married" sign, as seen in photos in the slide below.
Kardashian, 43, and Barker, 46, got engaged in October 2021 on the beach in Montecito, California, after dating for less than a year.
The couple, who are trying to have a baby together, already have children from previous relationships. Kardashian and ex-husband Scott Disick have three children: Mason, 12, Reign, 7, and Penelope, 9. Barker and ex-wife Shanna Moakler have two children: Landon, 18, and Alabama, 16. He has also maintained contact with his 23-year-old stepdaughter Atiana, whom he shares with boxer Oscar De La Hoya.