KNUST Lecturer Remanded Into Police Custody Over Her 'Disappearance' Of His Wife Rhodaline Amoah-Darko
The police have accused the husband of Rhodaline Amoah-Darko, a 32-year-old staff of the Lands Commission in the Ashanti region of being behind her disappearance.
The suspect, Dr. Wilberforce Aggrey, a lecturer at the Kwame Nkrumah University of Science and Technology (KNUST), has been remanded into police custody
According to the police, Rodaline Amoah-Darko left home at Gyenyase in the Asokwa Municipality of the Ashanti Region on Monday, 30th August 2021.
However, her family in a statement released on Sunday, 5th September 2021, indicated that Rhodaline left home for Sunyani on 30th August 2021, but was last seen on Thursday, 2nd September 2021 around 8:00 am on the KNUST campus.
Her husband, Dr. Wilberforce Aggrey, was subsequently interrogated in relation to the issue.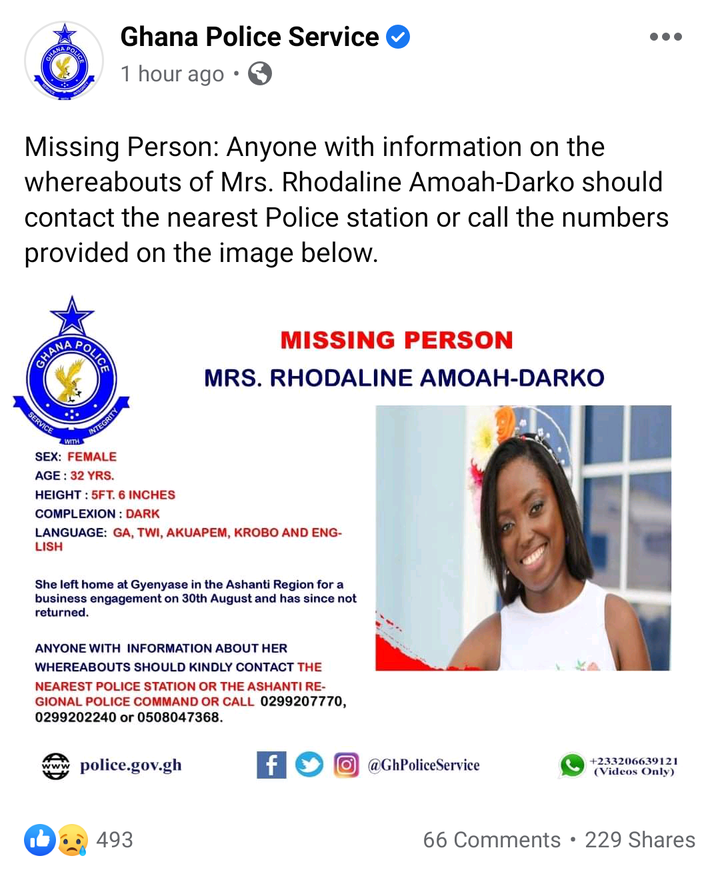 The police later secured an order to refer Dr. Wilberforce Aggrey for psychiatric examination, following some incoherent statements he made on the whereabouts of his wife.
Appearing before the Asokwa District Court on Friday, the court provisionally charged Dr. Wilberforce Aggrey
with kidnapping.
The prosecution prayed the court to remand him into police custody to allow for further investigations into the matter, of which the court presided over by His Worship Korkor Achaw Owusu agreed.
According to the police's charge sheet, Dr. Wilberforce Aggrey, has admitted to sending messages with the victim's phone claiming that she has been kidnapped.
The police say Dr. Wilberforce Aggrey disclosed to them that he was forced to send those messages to his phone and family members of his wife by someone called 'Rukie', who had threatened to harm his family.
The police added that the accused stated that he had to take his wife away to a place closer to the Volta lake to ensure she is safe.
The accused, Dr. Wilberforce Aggrey, a lecturer at KNUST on 2nd September, 2021 reported to the police that his wife, Rhodaline Amoah-Darko had been kidnapped from their home around KNUST, as he had received some text messages.
Police then began investigations into it. Investigations however revealed that the messages that were sent from Rhodaline's phone to some family members and friends, including her husband, were sent from KNUST campus closer to the house of the accused person (the husband).
As a result of this, Dr. Wilberforce Aggrey was arrested on 6th October, 2021 to assist with investigations.
The police say in his caution statement, he admitted to sending those messages through his wife's phone.
The accused person, however, says he does not know the whereabouts of the victim's phone.
He has also not been able to disclose the location of his wife to the police. The police have thus charged him provisionally with kidnapping.
He is expected to reappear before the court on 26th November 2021.
'Black Stars Coaches Are Afraid Of Andre Dede Ayew' : Countryman Songo
Controversial Ghanaian journalist, Patrick Osei Agyemang who is known as Countryman Songo has made a bold claim about Black Stars captain, Andre Dede Ayew.
He made this bold claim when he appeared on the flagship evening show, Good Evening Ghana aired on the popular Ghanaian television station, Metro TV.
During his submission, he was asked about the leadership of Dede Ayew in the Black Stars team, and answering this, he stated that there is no problem with the leadership of Dede, however, the coaches are afraid of the player.
According to him, as a coach, you must be able to control every player in your team, and in the case of Andre Ayew, he has declined in form so coaches must know when to play him, however, these coaches make the player dictate to them.
Watch the interview below;
He was in the studios of Metro TV to discuss the performance of the Black Stars at the ongoing African Cup of Nations (AFCON) tournament in Cameroon where the team failed to win any of their group matches and ended up at the bottom of the group.
They lost two matches against Morocco and Comoros and drew with Gabon.
Mohammed Salisu Reportedly Agrees To Play In Ghana's World Cup Playoffs Against Nigeria
Ghanaians can express a sigh of relief as Southampton defender, Mohammed Salisu has at long last chosen to support Ghana in their FIFA World Cup campaign against adjoining nation, Nigeria, in the play-offs, his uncle Yakubu Ahmed revealed.
Mohammed Salisu affirmed his choice not to play Ghana at the international level when Alhaji Grusah reached out to him which turned into a subject of public interest.
Football administrative head, Alhaji Karim Grunsah revealed that Salisu requested that he "remain away" when he attempted to persuade the footballer to play for Ghana.
Mohammed has turned down innumerable Black Stars call up referring to reasons that he isn't yet prepared but the uplifting news coming from his uncle has it that he has at long last acknowledged to address his country as the Black Stars are set for a vital season finisher game against West African opponents Nigeria, as the two groups mean to meet all requirements for the competition in Qatar.
Speaking on the subject, the player's uncle said he has informed the family of his decision to finally play for the national team.
"He will be playing for Ghana soon. He has assured us that he will play in the World Cup qualifiers," Yakubu Ahmed told Kumasi-based Sikka FM, as quoted by GhanaWeb.
"He cleared the air about his absence in the AFCON but assured of availability for the World Cup qualifiers."
Shatta Wale Is Fighting Nigeria Out Of Frustration : Sam George
Member of Parliament for Ningo Prampram, Sam George, disclosed that Shatta Wale animosity towards Nigerians is a result of frustrations from the system.
In an interview on Hitz FM, Sam George mentioned that Shatta Wale's frustration comes from a poorly organized system.
"Shatta is fighting Nigeria. It's a frustration of the system. We were in a world of our own, but again, what did we do? No conscious effort by the state or private capital to invest in that sector."
According to Sam George, Ghanaians are selfish and will the fight progress of their own.
"Then again, it comes to what I think is a problem of our country. Ghanaians celebrate mediocrity. We are content with little. Ghanaians tag you as greedy when they see you pushing for more… Ghanaians will fight you. We fight our own. Nigerians celebrate their own."
Sam George also revealed that in the late 70s, Ghanaian musicians have really enjoyed West Africa more than Nigerian music.
He said, "In the 70s Ghanaian music was the ish across West Africa, Highlife. In the early 2000s, our Hiplife was what it was and Nigerians didn't have any response to us. They were still banging on Fela Kuti's music to respond to our Hiplife. At the time, Obrafour and Lord Kenya were setting the place ablaze. At the time, Okomfuor Kwaadee came out with hits, Samini, then Batman, Kokovelli, KK Fosu, I mean Nigerians had absolutely no response to us."