Lionel Messi Ordered To Demolish His '77-Room' Hotel Worth £26m In Barcelona | PHOTOS
PSG ace, Lionel Messi's world has been hit with devastating news after his £26m hotel was reportedly ordered to be demolished.
Messi's £650,000-a-week salary could be jeopardized when his 77-room hotel was found to be in violation of city regulations.
Messi's four-star hotel, the 'MiM Sitges,' is close to the private estate where he stayed during his time in Barcelona and was one of his favorite spots to visit.
A court order for the hotel's demolition is presently underway, according to El Confidencial. El Confidencial asked Messi's camp for a statement, but neither he nor his staff chose to respond.
Messi, whose Majestic Hotel Group operates hotels in Ibiza and Majorca, invested £26 million on the Hotel MiM Sitges in 2017, which is little over 100 feet from the coastline.
According to the new investigation, Messi acquired the property without realizing that Sitges Town Hall had previously ordered its destruction because of some code violations.
Big Brother Terry Treasure's Only Fans Account Hacked; Private Part Pictures Goes Viral
#BBMzansi star Terry's private part go viral as her Only Fans account is hacked – PHOTOS. Big Brother Mzansi Season 3 star, Terry, is currently trending again after her vagina and breasts pictures began to go viral on Twitter
This morning, it was reported that Terry has an Only Fans account where she's been sharing her naked pictures of her p*ssy and breasts.
According to her, she says she makes nothing less than 50K-100K per month from her Only Fans account.
Shortly after her arrival at the Big Brother Mzansi house, her fans who have been following her for long revealed Terry has an Only Fans account.
Currently, she's imitating Angel's content as she's been walking around the house half naked.
Kanye West And Julia Fox Make Red Carpet Debut As A Couple | PHOTOS
Kanye West and Julia Fox have officially made their red carpet debut as a couple.
The rapper and actress made their debut this weekend at Paris Men's Fashion Week as they attended Kenzo's show in matching denim looks.
Arriving on the red carpet on Sunday 23 January, Fox was dressed in full Schiaparelli, wearing a cropped denim jacket and loose-fitting, low-waisted blue jeans.
The jacket, which featured conical breasts reminiscent of Jean Paul Gaultier's signature corsets, was paired with large gold earrings and matching Diesel denim boots.
West opted for a full Balenciaga look, wearing a padded denim jacket, blue jeans, and knee-length Red Wing boots.
Speaking to WWD about her outfit, Fox said she was wearing Schiaparelli creative director Daniel Roseberry's personal pair of jeans.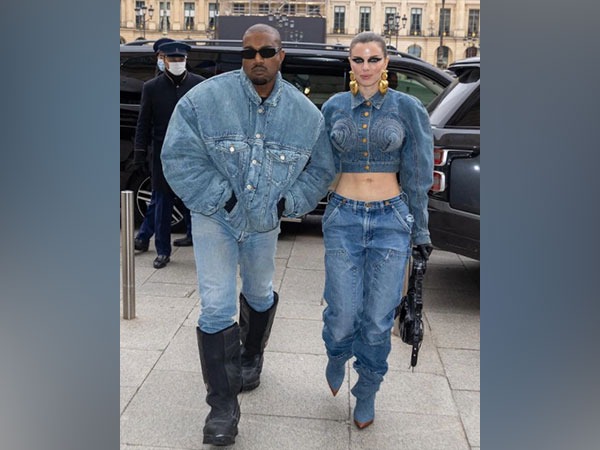 "I was just at the [Schiaparelli] showroom before coming here," she said.
"I'm actually wearing Daniel's pants, the designer of Schiaparelli. I took the pants off of his body and he was very kind to let me wear them," she added.
Fox shared photographs of the pair arriving at the show to her Instagram stories. In one, West smiles at the floor as he walks with his arm around the actor's shoulder.
At the show, the couple were seen seated between rapper Tyler The Creator and Kenzo's artistic director, Tomoaki Nagao, better known as Nigo.
Fox and Kanye have been dating for less than a month, since meeting on New Year's Eve 2021.
See the images below;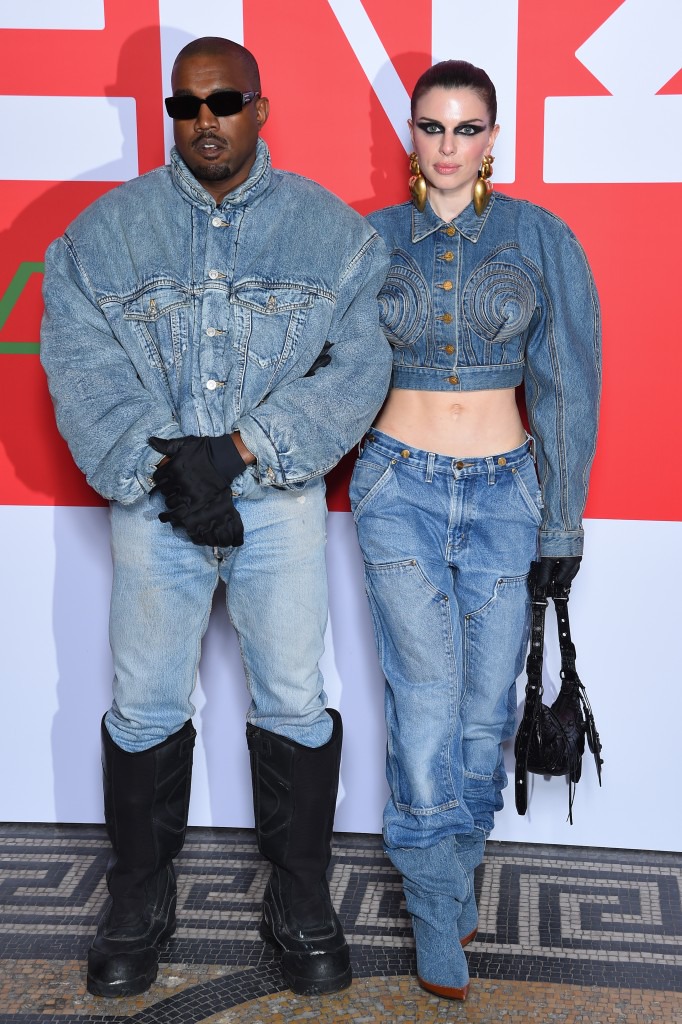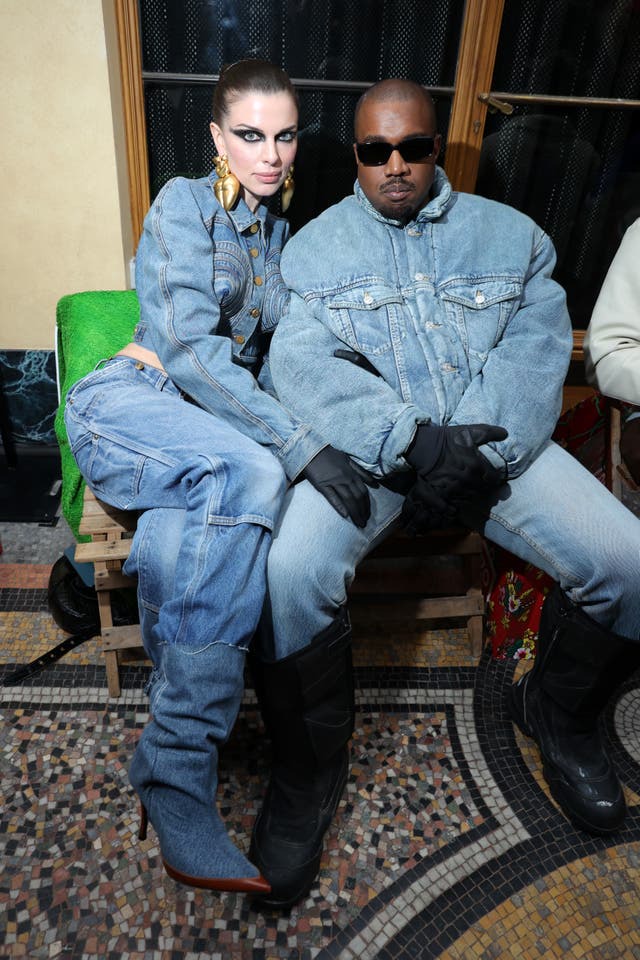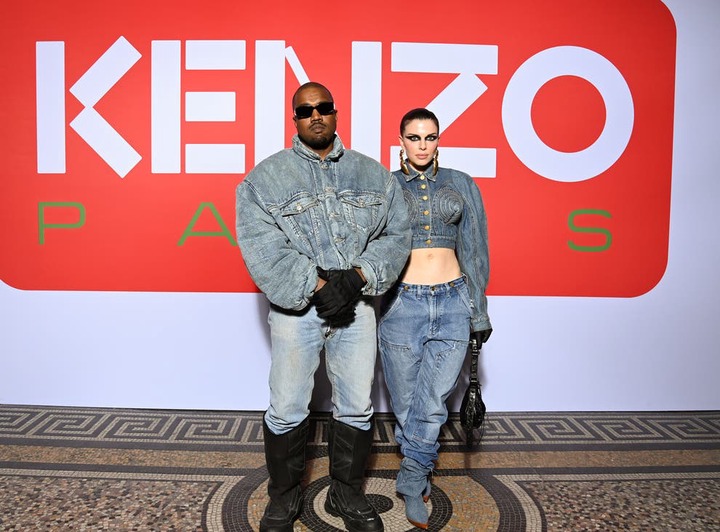 'So Happy I Met You My Love' : Shatta Wale Says As He Shares Another PHOTO Kissing His New Lover
Dancehall artiste Shatta Wale appears to be madly in love and he can't hide it from his fans and followers anymore.
For a couple of days now, the award-winning musician whose affair with baby mama Shatta Michy ended about 3 years ago has been seen showing off a new woman believed to be his girlfriend.
This comes after the romantic relationship between him and his alleged cousin Magluv, who took the place of Shatta Michy, seemingly hit the rocks abruptly.
In these all-loved-up photos and videos that have gone viral on the internet, it's evident that Shatta Wale is madly in love with his new bae whose name has been given as Elfreda, and will hopefully settle down with her officially.
In a new photo shared on his Instagram page, Shatta Wale expressed his happiness to meet Elfreda who he touts as his Queen.
The caption of the photo read: "Who's that lucky girl. So happy I met you my love. The queen for my future. Zaddy is here mami ..Just enjoy this beautiful life God is".
According to Insider information shared by IG blogger AbaTheGreat, Shatta's new girlfriend is an SM diva.
The insider further went on to add that, Elfreda was Shatta Michy's best friend prior to her break up with Shatta Wale.