Man Utd Track Leipzig Boss Nagelsmann To Replace Solskjaer
Manchester United have earmarked Julian Nagelsmann as a future Old Trafford manager.
Sportsmail has learned United have begun doing their groundwork on RB Leipzig's highly-rated young boss Nagelsmann.
Nagelsmann is just 32 but already on his second top-flight job in Germany and earning admirers at struggling Premier League giants United.
While pressure is building on current boss Ole Gunnar Solskjaer now, Sportsmail understands United currently have Nagelsmann down as one to watch for further down the line. But the process of gathering information on him is well underway.
Nagelsmann eventually turned to coach after seeing his playing career at Augsburg cut short by injury aged 20.
The promise he quickly showed as a coach earned him the nickname 'Baby Mourinho.' Nagelsmann became the youngest manager in Bundesliga history when he was appointed by Hoffenheim at 28.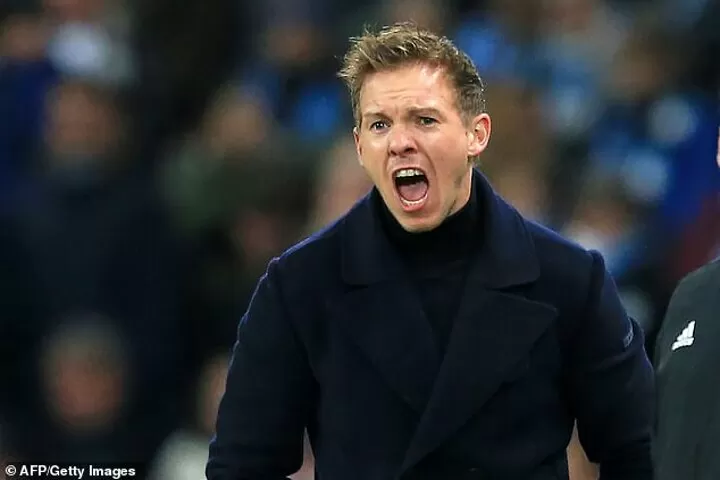 He led them from second-bottom to well clear of safety after taking over in February 2016, fourth and into the Champions League for the first time in his first full campaign the following year and then third in 2017/18.
Having been knocked out in the play-offs by Liverpool in 2017-18, their third-placed league finish earned Hoffenheim a Champions League group stage place for the first time ever.
Nagelsmann's managerial rise continued when he took over at RB Leipzig in June.
Leipzig are currently fifth in the Bundesliga, just two points off early-season leaders Borussia Monchengladbach.
Nagelsmann is tied to Leipzig until 2023 and United plan to continue doing their due diligence on one of European football's rising managerial stars as his career develops.
Meanwhile, Solskjaer is feeling the heat after overseeing United's worse start to a season in 30 years.
And the Norwegian fears a big defeat in his side's next outing after the international break at home to Liverpool could leave him facing the chop.
Menzgold Begins Document Validation For Payments
Menzgold has announced outlets in the various regions for their customers to go and verify their documents in order for payments to be effected to them.
A statement by the gold collectible firm said the document validation period will begin on October 28, 2019 and end on November 28, 2019.
The outlets where the exercise will take place include Mile 7 in Accra, Osu, Kosoa, Bogoso among others.
Below are details of a statement from Menzgold
Menzgold schedule for payment: Commencement of Validation As a part of our efforts to finally discharge our financial obligations to our cherished customers, we have tabled down the following schedule to commence the process of validation in order to settle all verified claims of our customers.
All customers are to take note of the following:
1. Validation of documentations starts from 28th October to 28th November, 2019. Time: 9am-4pm each working day.
2. Designation outlets for this exercise are as follows:
GREATER ACCRA REGION
Venue Location
a) Osu Opposite Osu Police Station,
behind Glory Oil Filling Station.
b) Dansoman After Dansoman Roundabout, Bechem Bus stop.
c) Odokor Opposite Anointed Electricals Company.
d) Mile 7 Adjacent ECOBANK.
e) Madina Madina-Tamale Lorry Station.
f) Awoshie Opposite Victory Bible Church.
CENTRAL REGION a) Kasoa Opposite Walantu Junction, after Justap Clinic.
ASHANTI REGION
a) Adum Adjacent Melcom.
b) Bremang Behind Bremang Park, adjacent Church of Christ.
WESTERN REGION a) Bogoso Adjacent Multi Credit.
La Liga Does Not Agree El Clasico To Play On December 18th
La Liga does NOT agree with the decision that El Clasico to play on December 18th, and they may take legal action to appeal.
The match had been scheduled to be played at the Blaugrana's Camp Nou stadium on 26 October but due to the current volatility of the situation, La Liga asked that the game be reversed to Madrid's Santiago Bernabeu stadium.
The Spanish FA, as supported by the clubs, have pushed for the date of 18 December but La Liga instead had been arguing for 7 December, with the Real Madrid-Espanyol and Barcelona-Mallorca matches, scheduled for that weekend, be played on Wednesday 4 December.
The date of Wednesday 18 December coincides with the Copa del Rey – when neither of the giants will be playing, but La Liga wanted a weekend date for maximum TV exposure.
"La Liga does not share the resolution of the Competition Committee to set on December 18 – following the agreement reached by FC Barcelona and Real Madrid, despite LaLiga's refusal – as the dispute date of the Classic previously postponed, although it is studying the documentation recently received from the file referring to this procedure to assess the possible legal actions to be taken, against the corresponding institutions and before the public bodies or jurisdictional bodies that it deems appropriate," read a statement from the league.
"We believe that, given the briefness of the resolution, the lack of reference to legal norms and the reference to various reports and documents to which this League has not had access until now, a detailed study of all the documents in the file of reference to assess the possible actions to be filed, against which institutions, and before which organs or agencies."
Forbes List Gareth Bale's Agent Jonathan Barnett As The World's Most-Powerful Sport Agent After Generating Deals Worth £1Billion
Forbes has ranked Jonathan Barnett, agent to Real Madrid winger Gareth Bale as the world's most powerful sports agent with Cristiano Ronaldo's agent Jorge Mendes and Paul Pogba's agent Mino Raiola also making the top five.
Barnett, who also manages Atletico Madrid midfielder Saul Nigez owns the London based Stellar Group and has made over 99million pounds in commission and negotiated over a billion pounds of transfer fees and player salaries.
Coming second in the Forbes 2019 ranking is Baseball agent Scott Boras , with Cristiano Ronaldo and Jose Mourinho's agent, Jorge Mendes coming third. Jeff Schwartz, the most powerful basketball agent at No 4 and Zlatan Ibrahimovic, De Ligt and Paul Pogba's agent Mino Raiola coming fifth.
Mendes negotiated Cristiano Ronaldo's £100m move from Real Madrid to Juventus last year, negotiated De Gea's new 300,000 pounds per week salary and also represents the likes of Bernardo Silva and James Rodriguez.
Raiola, one of the world's most outspoken agent who came into limelight when he started managing Mario Balotelli is fifth on the list with £54m worth of commissions.