Man Utd Want To Strike £75m Jadon Sancho Deal Before Euro 2020
Jadon Sancho would like his future resolved before this summer's European Championships, with Manchester United still in the driving seat to make the deal happen.
90min understands that Borussia Dortmund, Sancho's current club, have accepted and agree that Sancho will be sold this summer – a year removed from United's very public and ultimately unsuccessful pursuit of the 21-year-old England international.
United's sticking point in 2020 was Dortmund's asking price for the player – the German giants would not drop below £100m – though it is now understood that a deal could be completed for around £75m, with room for manoeuvre on up front payment, plus incentives and bonuses.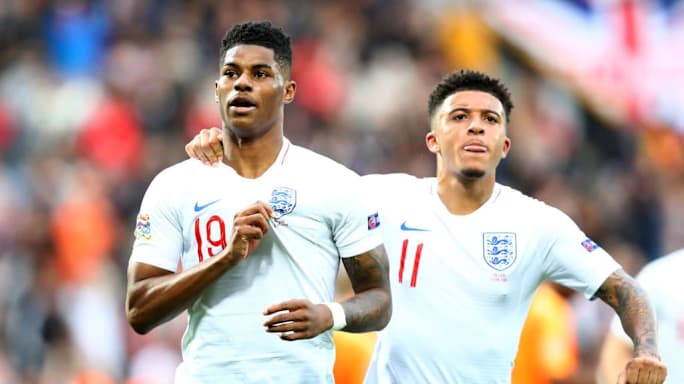 A deal could be struck for an initial £60m, with the rest made up in additional payments.
90min has maintained since last summer that United's interest in Sancho has not waned, and that lines of communication have remained open between all sides. Personal terms were even agreed, with plans even discussed on how Sancho would fit into United's system long term under Ole Gunnar Solskjaer.
United had been looking to address a potential problem at centre forward before deciding on their next move, though Edinson Cavani's confirmed contract extension on Monday now likely means adding a new centre forward will be delayed for another year. Erling Haaland and Harry Kane have been among the targets.
A right winger, with Sancho as first choice, is a priority, while United would also like to sign a central midfielder and centre half. The likes of Villarreal's Pau Torres and Jules Kounde of Sevilla have been prominent on the wish list for the latter.
There is some interest in Sancho from elsewhere in England. Chelsea, Liverpool and Arsenal have all asked to be kept informed of the winger's situation, but it is United who remain in pole position.
Lady Who Murdered GH Media Student, Priscilla Tsegah Captured On CCTV | WATCH
A 23-year-old woman by name, Priscilla Tsegah, was stabbed to death by her female friend in a hotel where they lodged for two days.
Her body was found in the hotel room after she had been declared missing by her family with her friends running a social media campaign using her pictures and appealing to the public help find her.
She is said to have been stabbed in her lower abdomen by another lady identified only as Natashia, suspected to be the "lesbian partner' of the deceased. Natashia took to her heels after the incident and no eye balls have been set on her since.
Natashia is alleged to have murdered her lover after the boyfriend of Priscilla, yet to be identified, went to the Justa Hotel, at New Legon, where the two women were lodging.
According to workers of the hotel, Natashia booked a room in their facility on May 20, 2021 at about 6:43pm and after one hour and 17 minutes, she left and returned with Priscilla, whose identity was not known by the hotel until after her death.
Watch the video breakdown below.
View this post on Instagram
Korle-Bu Shooting: Ghana Police Release Investigation Notice Over Killing Of Police Officer
KUBILIVE earlier reported on a robbery attack on the Korle-bu road in Accra.
According to a post shared on social media by media personality Afia Pokua Vim Lady, a bullion driver, a police officer and a woman have been shot dead.
It was believed that suspected armed robbers attacked the bullion van and shot the driver and the police officer in the process.
Watch the incident below.
The police have then released an official statement towards the investigation of the incident.
See below.
#JusticeForConstableEmmanuelOsei pic.twitter.com/XBOvS52Vb5

— THA LEGEND (@___LoyaltyYRN) June 14, 2021
Joel Glazer Opens Up On Man Utd's Transfer Plans This Summer
Manchester United co-chairman Joel Glazer has insisted that the club will invest 'meaningfully' in the summer transfer window, and is confident about what the future holds for the Red Devils.
Man Utd are close to agreeing a deal for Borussia Dortmund's Jadon Sancho, while they have also been linked with moves for Spurs' Harry Kane and West Ham's Declan Rice.
Glazer, who United fans seldom hear directly from, confirmed at a recent fans' forum that the club will invest in the playing squad this summer.
"We're going to keep investing on the pitch, which we did last year, and we plan on doing it meaningfully this year. So, we feel that we're in a good spot," he said, via Man Utd's website.
Glazer also spoke about the restructuring behind the scenes at the club, which involved John Murtough becoming the director of football with Darren Fletcher appointed as technical director, and how he is confident that the club will end their trophy drought.
"There's been a tremendous amount of work done behind the scenes and we feel like we're absolutely on the right track," Glazer said. "As you all know, we've put John Murtough as our first football director, along with Darren Fletcher in there as well. And we feel with them together leading the way, and the work done behind the scenes, that we're absolutely on the right track.
"Our recruitment process policies, the way we go about it has changed in the last few years, I think we've all seen how that has changed. We think we're absolutely in a position for a lot of success for the future.
"Any other club that has won titles recently had years where they didn't win the league, then they moved up, they were successful and then everybody appreciates the way their structure is set up. We think we're on that path. We feel very good about where we are.
"But at the end of the day, we all share the same goal – to win trophies. And we will make sure that everything is being done to put us in the best position to win trophies, we'll continue to do that. And we think we've set up a structure behind the scenes to deliver success."