Meet The Underground NDC Man Behind Kufuor's Victory In The 2000 Presidential Election
The democratic political game of Ghana seems to be always tilted towards two paths; either on the path of the New Patriotic Party (NPP) or that of the National Democratic Congress (NDC).
However, during the late 90s and early 2000, something different occured in the country's political arena.
Follow me carefully, and let's together unravel this mystery that had long existed but hidden in the sight of many.
The man at the heart of this very discussion was born on July 14, 1927 at Senya Breku, Central Region, Golf Coast (now Ghana).
He had his secondary education at Achimota School in Accra and Mfantsipim School in Cape Coast.
Kow Arkaah Nkensen then proceeded to Harvard University, where he graduated with an MBA in 1954.
Before he returned to Ghana, he worked for a while at the Second Oil Corporation in New York, USA as an Assistant Sales Manger.
In Ghana, Kow intially worked as a Marketing Executive Officer for Mobil Oil Ghana Limited for three years (from 1964 to 1957).
Kow additionally served as a Business Consultant in The Gambia, Ethiopia, Yugoslavia and Sierra Leone, and as well served as the Chief Commercial Officer for Foreign Trade.
Nkensen was also the Executive Director of Ghana Airlways Airline, Ghana National Trading Corporation and Ghana Procurement Agency.
Between 1966 and 1968, he was promoted to the position of Principal Secretary at the country's Civil Service Industry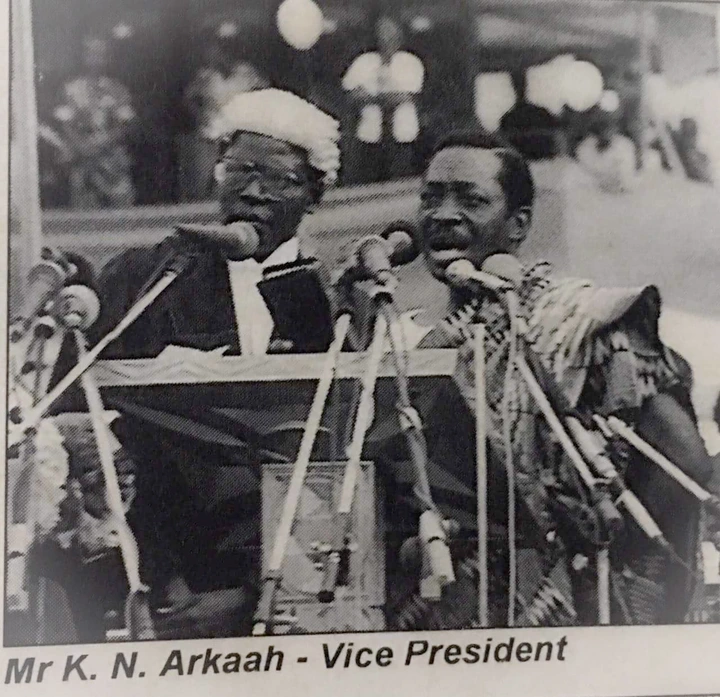 Kow was initially well-known as an iconic leading member of the National Convention Party (NCP), and having known the kind of influence and support he had from Ghanaians at that time, the then leader and Founder of the National Democratic Congress strategically built a strong relationship with him.
He then took a bold step to establish an alliance with the NCP and another popular party, Every Ghanaian Living Everywhere (EGLE). In that sense, they came together as one strong force to face their remaining political parties during the 2000 constitutional established general elections.
This decision by late Jerry John Rawlings led to their victory, and in 1993, he was sworn-in as the first president of the Fourth Republic of Ghana, and Kow Arkaah Nkensen as his Vice.
Kow served as Ghana's Vice-President from 1993 to 1997.
During a cabinet meeting on 28th December 1995, Nkensen strongly alleged that President Jerry John Rawlings had beaten him due to certain misunderstandings that ensued between them.
This case started trending on the national media space, after he particularly addressed the media at the Presidency, and further reported it at the Headquarters of the Ghana Police Service, specifically the IGP.
When Rawlings saw how serious the issue was, as it was taking grounds in almost every part of the country, he gave an order to the then Ghana's Attorney-General, Dr. Obed Asamoah, to change the section of the law that allowed the Vice-President to chair the Fire, Police, Prisons Councils, and other Service Councils.
Kow was strongly mocked and criticized by many government officials, especially the members of the NDC.
As such, he was tagged as 'The Stubborn Cat'.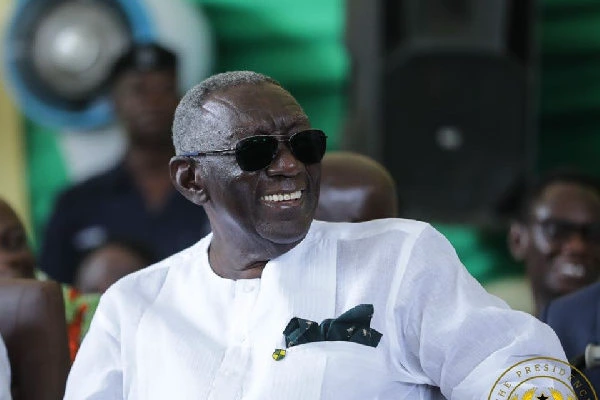 Due to that, Nkensen had a shift of interest and attention in his political career. He realized that there was no way he relationship with Rawlings was going to be revived and renewed anytime soon, so he decided to toe his dream towards a different political path.
Prior to the 1996 presidential election, Kow changed his party's name from NCP to PCP, and further formed a very strong relationship and alliance with one of the most popular and influential parties in Ghana, the NPP.
When this was established, negotiation and agreement was supposed to be reached between the two parties through a voting process to elect a leader.
On two voting rounds, a tie was attained between John Agyekum Kufuor and Kow Arkaah Nkensen. However, on the third round, Al-Hajj Asoma Banda of the PCP voted against his own party member, Kow for Kufuor to become victorious.
The negotiation process however delayed the campaign programmes of the NDC, which eventually led to their loss in the 1996 presidential election.
Election 2000 was a race NPP was never going let it slip them so they really worked hard until they emerged victorious.
Probably many thought that Kufuor's 2000 Political Victory was mainly championed and pioneered by the NPP gurus you possibly know already, but in reality, Kow was the man who worked tirelessly and rigorously to realise that great success.
Ghana's underground political icon, Kow Arkaah Nkensen died in Atlanta, United States on April 25, 2001 after he suffered severe injuries regarding a deadly road traffic accident he experienced at Cantonments, Accra, Ghana.
He was married to Marian Arkaah.
Accra Timber Market On Fire, Fire Service Respond With No Water; Ghanaians React | WATCH
Reports coming in from the famous Accra Timber markets suggest some part of the place is on fire and some personnel from the Ghana Fire Service went to the venue without water.
As at now, its not known what might have caused the fire at the market which mostly trades in 'wood' by an eye witness account reveals people from the market called the Ghana National Fire Service and reported to them about some place of the market burning in flames.
They say the Fire Service responded to the call swiftly and upon arriving at the place, told the people and the shop owners around that they don't have water in their truck to quench off the fire which was spreading to other areas of the market.
This left the people and the shop owners to result in a different method to try and quench off the fire and prevent it from spreading to other shops around.
Since the news hit media circles Ghanaians are reacting to it stating Fire Service don't have water to quench off fire but yet still, the Ghana Police Service yesterday filled their trucks with hot water ready to spray it on #FixTheCountry protestors.
Check out the video of some parts of the market burning and the some comments from the public;
Nana Hemaa@Mystery26265713·1hReplying to @SneakerNyame_Yet water was reserved to hurt citizens… The hashtag must be taken to a much higher level.. The foolishness within the country must end now…. Govt officials think state resources are for their use alone.. Just look at this, totally burnt
Hit Boi@asapfreag·57mReplying to @SneakerNyame_You see they didn't bring the sobolooo trucks
#FixTheCountryNow@kofi_nokturnal1·56mReplying to @SneakerNyame_But yestee, those afuom people will be like, "nne de3 yeb3 nua amanfuor mma." Siasem #FixTheCountry#fixitnow
"Nana Addo And His Appointees Are Planning To Eliminate John Dumelo" : Ibrah One Alleges
Controversial news commentator, Ibrahim Dauda, also known as Ibrah One has dropped another bombshell, revealing some of the evil plans of the ruling New Patriotic Party (NPP) government. He seems to be inviting trouble to his camp and has never learned from his mistakes.
According to him, Ghanaian actor cum politician, John Dumelo should be careful because the President and his appointees are conspiring against him.
He said that Nana Akufo Addo and his appointees are planning to eliminate the actor for some reasons better known to him.
Well, he never specified as to the President and his appointees would want to eliminate John Dumelo but he cautioned his to be extra careful.
He wrote; "John Dumelo should be very vigilant, What happen to Ahmed Suale might happen to him. Nana Addo and his appointees are evil, they are planning to eliminate him.#Ibrahone"
See the screenshot below:
Meanwhile, Ibrah One also took his platform to launch fresh attacks on controversial politician, Kennedy Agyapong following his comments on the #FixTheCountry campaign.
According to Ibrah One, Kennedy Agyapong first needs to fix his 'foolishness' before coming out to advise Ghanaians to fix their minds.
In his post, he also said that Karma will one day brutally deal with the Assin Central representative in parliament.
Kennedy Agyapong should Fix his foolishness before coming out to tell Ghanaians to fix their minds. When karma hits Kennedy in the face, Ghanaians will there. Just in case it needs some help.#Ibrahone, he wrote.
Israel Warplanes Unleash Strikes In Gaza, Killing 24 Palestines Including Nine Children
At least 24 Palestinians including nine children were killed on Tuesday morning by Israeli warplane strikes, in Gaza after Hamas fired rockets at Israel in response to clashes in Jerusalem this week.
Over the weekend, confrontations erupted at the Al-Aqsa Mosque compound in east Jerusalem, which was captured and annexed by Israel in the 1967 Mideast war.

The compound, located in Jerusalem's Old City, is the third holiest site of Islam and the holiest site of Judaism.

Islamist terror group, Hamas issued an ultimatum to Israel to withdraw security forces from the Mosque and Muslim areas of the Old City.
And on Monday Hamas fired bombs into Israel, leading Israel ro unleash airstrikes on Gaza Tuesday morning, smashing the tower block of a Hamas field commander and two border tunnels.

Israel says that at least 15 of the dead were militants, adding that six Israeli civilians had been wounded after Hamas fired more than 200 rockets.

Israeli Prime Minister Benjamin Netanyahu has now warned that the fighting could 'continue for some time,' claiming that Hamas had 'crossed a red line' by launching rockets at Israel.'z

Christians revere Jerusalem as the place where they believe that Jesus preached, died and was resurrected while the Palestinians want the eastern section of Jerusalem as a capital of a future state.

Israel sees all of Jerusalem as its eternal and indivisible capital and till this day Israel's annexation of East Jerusalem is unrecognized internationally.