Milan Sack Marco Giampaolo After Only 9 Points In 7 Serie A Matches
Milan have officially sacked Marco Giampaolo and are expected to replace him with former Fiorentina and Inter boss Stefano Pioli.
Four defeats in the opening seven rounds, and deeply unconvincing wins over Brescia, Hellas Verona, and Genoa, were not enough to keep Giampaolo in the role.
"AC Milan announce that Marco Giampaolo has been removed from the post of the first-team Coach. The club wishes to thank Marco for the work done and wish him all the best in his professional career."
Giampaolo only replaced Gennaro Gattuso in the Rossoneri's hot seat over the summer, having spent the past three seasons establishing Sampdoria as a Serie A team.
However, four defeats in his first seven League games were exacerbated by poor performances and a lack of supporter confidence.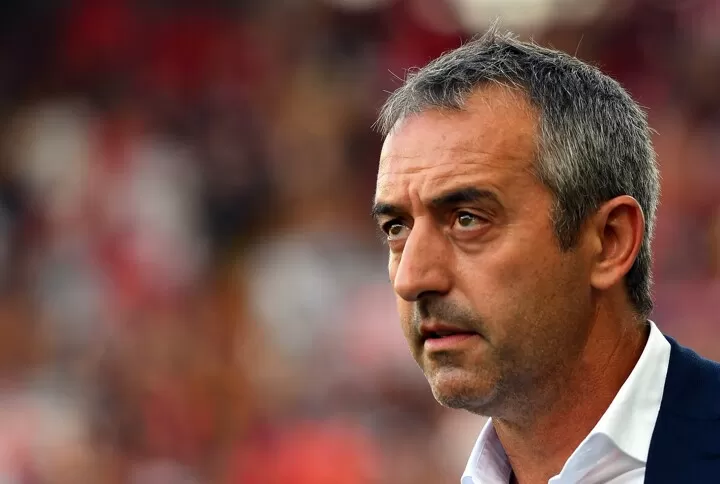 The ex-Sampdoria Coach also came under fire for scrapping his famed 4-3-1-2 formation after just one match.
The Diavolo hoped to bring in Luciano Spalletti, but Inter were unable to agree on a severance package with the Coach.
As a result, Milan has moved for Pioli, who is likely to put pen to paper on a one-year contract with the option of a second.
He is widely considered an underwhelming choice, given he failed with Inter and has not won any senior silverware in 16 years as a Coach.
Menzgold Begins Document Validation For Payments
Menzgold has announced outlets in the various regions for their customers to go and verify their documents in order for payments to be effected to them.
A statement by the gold collectible firm said the document validation period will begin on October 28, 2019 and end on November 28, 2019.
The outlets where the exercise will take place include Mile 7 in Accra, Osu, Kosoa, Bogoso among others.
Below are details of a statement from Menzgold
Menzgold schedule for payment: Commencement of Validation As a part of our efforts to finally discharge our financial obligations to our cherished customers, we have tabled down the following schedule to commence the process of validation in order to settle all verified claims of our customers.
All customers are to take note of the following:
1. Validation of documentations starts from 28th October to 28th November, 2019. Time: 9am-4pm each working day.
2. Designation outlets for this exercise are as follows:
GREATER ACCRA REGION
Venue Location
a) Osu Opposite Osu Police Station,
behind Glory Oil Filling Station.
b) Dansoman After Dansoman Roundabout, Bechem Bus stop.
c) Odokor Opposite Anointed Electricals Company.
d) Mile 7 Adjacent ECOBANK.
e) Madina Madina-Tamale Lorry Station.
f) Awoshie Opposite Victory Bible Church.
CENTRAL REGION a) Kasoa Opposite Walantu Junction, after Justap Clinic.
ASHANTI REGION
a) Adum Adjacent Melcom.
b) Bremang Behind Bremang Park, adjacent Church of Christ.
WESTERN REGION a) Bogoso Adjacent Multi Credit.
La Liga Does Not Agree El Clasico To Play On December 18th
La Liga does NOT agree with the decision that El Clasico to play on December 18th, and they may take legal action to appeal.
The match had been scheduled to be played at the Blaugrana's Camp Nou stadium on 26 October but due to the current volatility of the situation, La Liga asked that the game be reversed to Madrid's Santiago Bernabeu stadium.
The Spanish FA, as supported by the clubs, have pushed for the date of 18 December but La Liga instead had been arguing for 7 December, with the Real Madrid-Espanyol and Barcelona-Mallorca matches, scheduled for that weekend, be played on Wednesday 4 December.
The date of Wednesday 18 December coincides with the Copa del Rey – when neither of the giants will be playing, but La Liga wanted a weekend date for maximum TV exposure.
"La Liga does not share the resolution of the Competition Committee to set on December 18 – following the agreement reached by FC Barcelona and Real Madrid, despite LaLiga's refusal – as the dispute date of the Classic previously postponed, although it is studying the documentation recently received from the file referring to this procedure to assess the possible legal actions to be taken, against the corresponding institutions and before the public bodies or jurisdictional bodies that it deems appropriate," read a statement from the league.
"We believe that, given the briefness of the resolution, the lack of reference to legal norms and the reference to various reports and documents to which this League has not had access until now, a detailed study of all the documents in the file of reference to assess the possible actions to be filed, against which institutions, and before which organs or agencies."
Forbes List Gareth Bale's Agent Jonathan Barnett As The World's Most-Powerful Sport Agent After Generating Deals Worth £1Billion
Forbes has ranked Jonathan Barnett, agent to Real Madrid winger Gareth Bale as the world's most powerful sports agent with Cristiano Ronaldo's agent Jorge Mendes and Paul Pogba's agent Mino Raiola also making the top five.
Barnett, who also manages Atletico Madrid midfielder Saul Nigez owns the London based Stellar Group and has made over 99million pounds in commission and negotiated over a billion pounds of transfer fees and player salaries.
Coming second in the Forbes 2019 ranking is Baseball agent Scott Boras , with Cristiano Ronaldo and Jose Mourinho's agent, Jorge Mendes coming third. Jeff Schwartz, the most powerful basketball agent at No 4 and Zlatan Ibrahimovic, De Ligt and Paul Pogba's agent Mino Raiola coming fifth.
Mendes negotiated Cristiano Ronaldo's £100m move from Real Madrid to Juventus last year, negotiated De Gea's new 300,000 pounds per week salary and also represents the likes of Bernardo Silva and James Rodriguez.
Raiola, one of the world's most outspoken agent who came into limelight when he started managing Mario Balotelli is fifth on the list with £54m worth of commissions.