Milan Sack Marco Giampaolo After Only 9 Points In 7 Serie A Matches
Milan have officially sacked Marco Giampaolo and are expected to replace him with former Fiorentina and Inter boss Stefano Pioli.
Four defeats in the opening seven rounds, and deeply unconvincing wins over Brescia, Hellas Verona, and Genoa, were not enough to keep Giampaolo in the role.
"AC Milan announce that Marco Giampaolo has been removed from the post of the first-team Coach. The club wishes to thank Marco for the work done and wish him all the best in his professional career."
Giampaolo only replaced Gennaro Gattuso in the Rossoneri's hot seat over the summer, having spent the past three seasons establishing Sampdoria as a Serie A team.
However, four defeats in his first seven League games were exacerbated by poor performances and a lack of supporter confidence.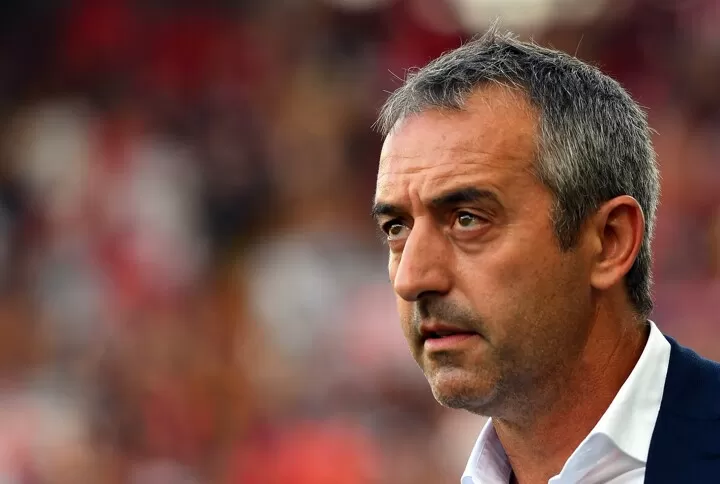 The ex-Sampdoria Coach also came under fire for scrapping his famed 4-3-1-2 formation after just one match.
The Diavolo hoped to bring in Luciano Spalletti, but Inter were unable to agree on a severance package with the Coach.
As a result, Milan has moved for Pioli, who is likely to put pen to paper on a one-year contract with the option of a second.
He is widely considered an underwhelming choice, given he failed with Inter and has not won any senior silverware in 16 years as a Coach.
Puma & More Fight For Signature Of Marcus Rashford
On going news feed reveals Manchester United's player maker Marcus Rashford's deal with Nick is soon expiring.
As a result of this, the Puma brand is leading the race to obtain the signature of the player.
According to other sources, Marcus Rashford signed for Nike at age 11 making him the youngest player to ever sign with the giant company.
Puma recently had the change to have Brazilian player Neymar Jnr as a major signee on their brand as a Brand Ambassador.
See tweets surrounding Marcus Rashford's new incoming deal.
Marcus Rashford is at the centre of a multi-million pound scramble as brands try to prise him away from Nike. Puma are among the companies keen on making him the face of their brand, but industry sources expect all the major brands to make approaches #mulive [@SamiMokbel81_DM]

— utdreport (@utdreport) February 24, 2021
After signing Neymar, Puma have turned their attentions to Marcus Rashford, who they view as the perfect brand ambassador. Puma are hopeful of winning the race to sign Rashford #mulive [@SamiMokbel81_DM]

— utdreport (@utdreport) February 24, 2021
Rashford's current deal with Nike is expiring, news that has alerted a host of athletic-wear firms to the players potential availability. Rashford signed to Nike aged 11 and is the youngest footballer to ever sign for the iconic brand [@MailSport] pic.twitter.com/TpqIUIzG6o

— United Zone (@ManUnitedZone_) February 24, 2021
"I'm Spreading AIDS On Campus Because A Lady From Pent Hall Gave Me" : Male Legon Student Boldly Says
A screenshot is circulating on social media that sees a user of 'Jodel' app saying boldly that he's spreading HIV/AIDS among his mates at University of Ghana, Legon.
According to him, a student from Pent Hall gave him AIDS, and he has also decided to spread it to many in revenge.
His messages on the discreet social media platform reads: "I eat some Twitter girl rydee for Evandy (name of a hostel) she tell ein boy for hostel say she dey go SU all night".
He continued: Go and get tested brother. Same excuse one girl gave to her BF to just come see me. I'm positive now.
Me I get AIDS already I give am. Adey spread am for campus cos some pent girl take gimme".
About Jodel app
Jodel is the community app that shows you what's happening in your area in real-time.
Unlike other apps, they kind of keep your personal details private so people feel free to confess their dirtiest calls.
Ghanaians Angry After Sky News Called Ghanaians The World's Poorest People | WATCH
Ghanaians are angry after the UK-based Media network, Sky News referred to them as one of the world's poorest people.
This comes after 600,000 doses of the Oxford-AstraZeneca vaccine arrived safely in Ghana this morning.
Sky News reported on it. However, how they labeled Ghanaians in their caption on Twitter has caused an uproar on the microblogging site.
Their caption reads: "A flight carrying 600,000 doses of the AstraZeneca coronavirus vaccine has arrived in Ghana as part of a global effort to immunize the world's poorest people."
Ghanaians on Twitter have fired at the media company, telling them that they deserve to be referred to with a much respectable word and not calling them 'poorest people'.
See some reactions below:
Background
Approximately 600,000 doses of the Oxford-AstraZeneca vaccine have arrived in Ghana this morning.
Ghana applied for Covid-19 vaccines from the COVAX facility and the country was assigned 6 million doses.
The 600,000 doses which arrive in the country today forms part of the 2.4 million doses of the first batch of Oxford-AstraZeneca the country is expected to receive.