More Than 200 People Dead After Earthquake Strikes Haiti | PHOTOS
A powerful 7.2-magnitude earthquake rocked the western part of Haiti on Saturday, August 14, leaving nearly 230 people dead, hundreds more injured or missing, and causing enormous damage.
The earthquake which struck the country's southwest at 8.29am local time, was felt across the Caribbean and rekindled painful memories of the devastating 2010 quake that killed more than 200,000 people. The prime minister, Ariel Henry, has declared a month-long state of emergency.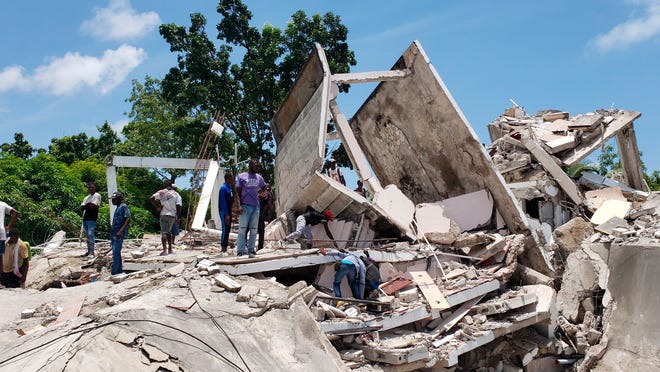 The death toll jumped from 29 to 227, according to Haiti's Office of Civil Protection. Jerry Chandler, the agency's director, said teams will be sent to the area for search and rescue missions.
"The most important thing is to recover as many survivors as possible under the rubble," said Prime Minister Ariel Henry, who declared a one-month state of emergency for the country.
"We have learned that the local hospitals, in particular that of Les Cayes, are overwhelmed with wounded, fractured people." he added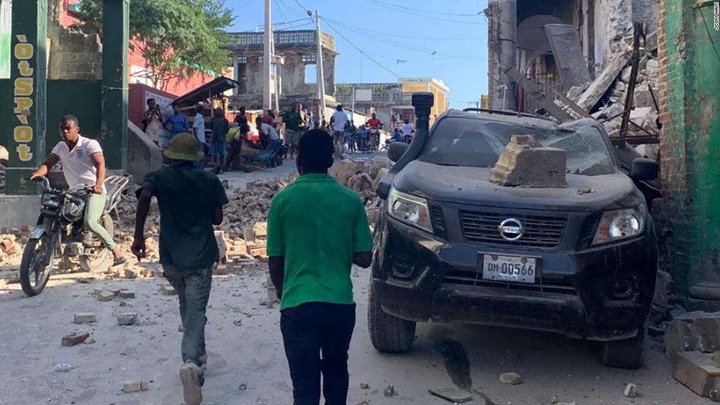 Cardinal Chibly Langlois was among those injured in the quake. He was one of 19 men chosen by Pope Francis to be inducted into the College of Cardinals.

The quake's epicenter was roughly 78 miles west of the capital of Port-au-Prince, according to the U.S. Geological Survey's website.
Civil protection officials tweeted that initial reports indicate homes collapsed during the quake.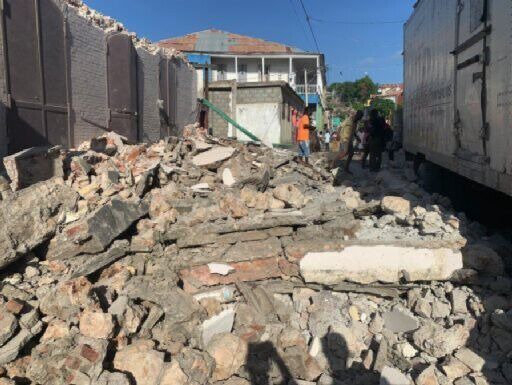 "We will continue to inform you," the tweet read.
President Joe Biden and Vice President Kamala Harris were briefed on the earthquake, a White House official told NBC News. Biden authorized an immediate U.S. response, and named Samantha Power as the senior U.S. official to coordinate this effort.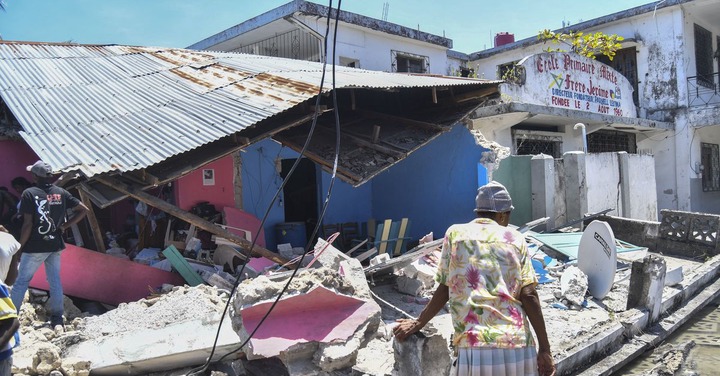 "In what is already a challenging time for the people of Haiti, I am saddened by the devastating earthquake that occurred in Saint-Louis du Sud, Haiti this morning," Biden said in a statement. "We send our deepest condolences to all those who lost a loved one or saw their homes and businesses destroyed."
The sad news comes weeks after the assassination of the country's President Jovenel Moïse.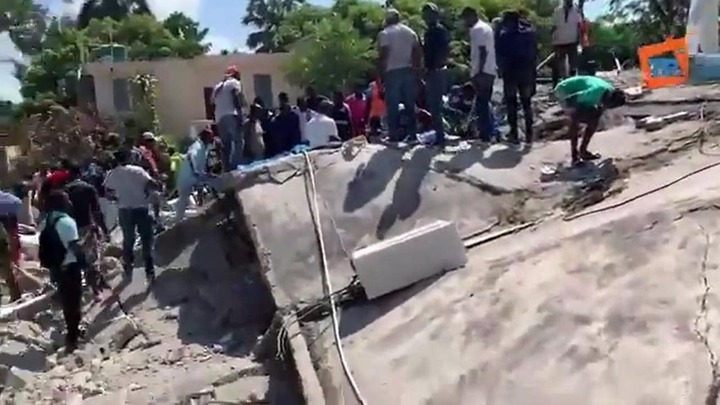 Lady Causes A Stir On Social Media After Sharing PHOTOS From Her Private Wedding
A lady caused a stir on social media after she shared photos from her private wedding.
From the photos she shared, it appears the only people present at the wedding were the bride, her husband, and the officiating Minister.
The said bride posted the photos and wrote;
"My perfect little private wedding"
Doctors Baffled As Girl Cries Stone Tears From One Eye
Doctors are baffled by a teenage girl who cries small rocks from one eye.
The 15-year-old girl from Kannauj, Uttar Pradesh, northern India, is the centre of a bizarre medical mystery, with doctors claiming that her affliction is not medically possible.
Her family members claim that between 10-15 stones have come out of her left eye when she cries.
In a clip, which was filmed in the village of Gadiya Balidaspur, a lump can be seen in the upper left-hand side of the teen's eyelid.
A person off-camera appears to massage it down until what appears to be a stone drops out of her eye and falls onto the girl's top. Later, another rock-like item drops from her eyelid, this time coming from the upper right-hand side.
The family have consulted doctors, all of whom insist it is not medically possible.
This isn't the first time such has happened.
Back in 2014, the Mail Online reported on Saadiya Saleh, 12, from Yemen, who suffered from a similar condition.
Doctors said they still could not give an explanation for such a phenomenon since the girl, Saadiya Saleh, is not suffering from any known disease.
Saadiya's condition triggered panic in rural areas where they assumed the girl must be possessed by magic.
A YouTube film aired by Yemen's Azal satellite TV channel showed doctors gathered a small box full of stones that had fallen from her eyes.
7-Year-Old Boy Who Went Missing Found Dead With Throat Slit | Graphic PHOTOS
The world has reached a stage where crime has become the order of the day. Day after day, we hear stories of and see innocent life wasted just like that.
In recent times, there has been a surge in killings in this part of Africa which has got people scared of their lives.
In another heart-wrenching story KUBILIVE has come across, a 7-year-old boy identified as Abdul Ahad Nasiru, has been found dead with his throat slit a day after he was declared missing.
The boy was reported missing in Tudun Pera area of Jos North Local Government Area of Plateau State.
The young boy's body with the throat slit was found at Rimi River in Angwan Rogo, Nigeria on Friday morning, September 24.
According to one Bello Lukman of Unity Fm 93.3 Jos, the boy was last seen around 2 pm on Thursday, September 23, when he returned from an errand and went out again.
He wrote this on Facebook;