My Mother Doesn't Control My Career, I Run My Own Shit : Shatta Wale Replies Burna Boy
The war of words between Burna Boy and Shatta Wale doesn't look like it's ending anytime soon as the Ghanaian singer has fired back at the Nigeria superstar.
Recall Shatta Wale has been ranting for days about Nigerians not doing enough to promote Ghanaian artists and their music in Nigeria. In Burna's initial reply, he accused Shatta Wale of pushing an agenda of separation and then proposed a one on one fight with him to squash it off.
While Shatta Wale wants to instead face Burna Boy in a freestyle battle, the Nigerian singer had to clarify that he's only interested in a physical fight between them, adding that he wants to see the Ghanaian singer's teeth and blood on the floor.
Hitting back at Burna Boy in a series of tweets, Shatta Wale made several claims against the Nigerian singer while insisting he only wants lyrical battle and not fist fight.
In some of his tweets, he mocked Burna for allowing his mom manage him, claiming she's controlling his career, accused him of hiding his father from everyone. He also claimed that he helped Burna when he had a Police case in Nigeria, and alleged that the Nigerian singer is a 5minutes man.
Read his tweets below;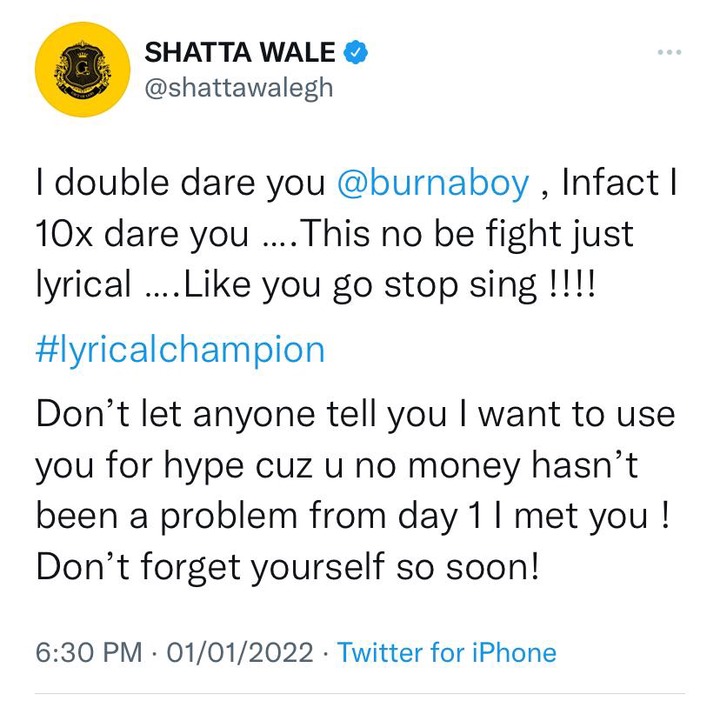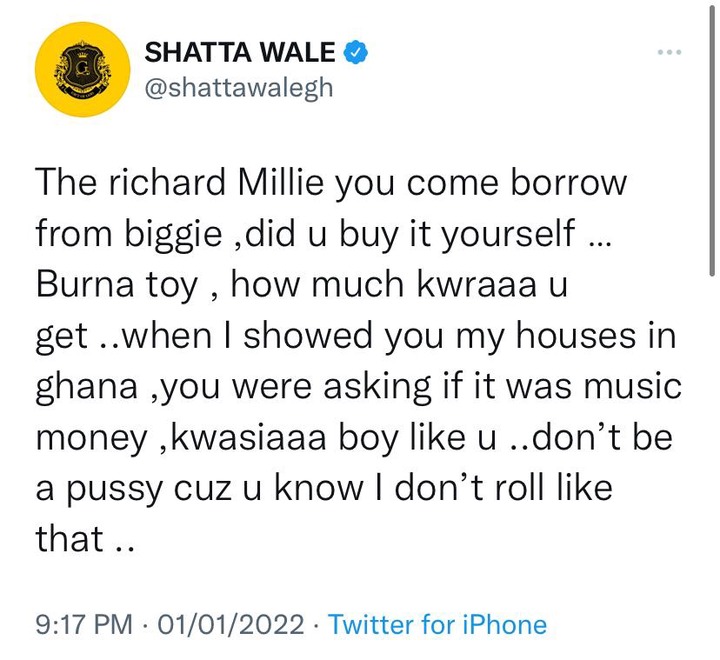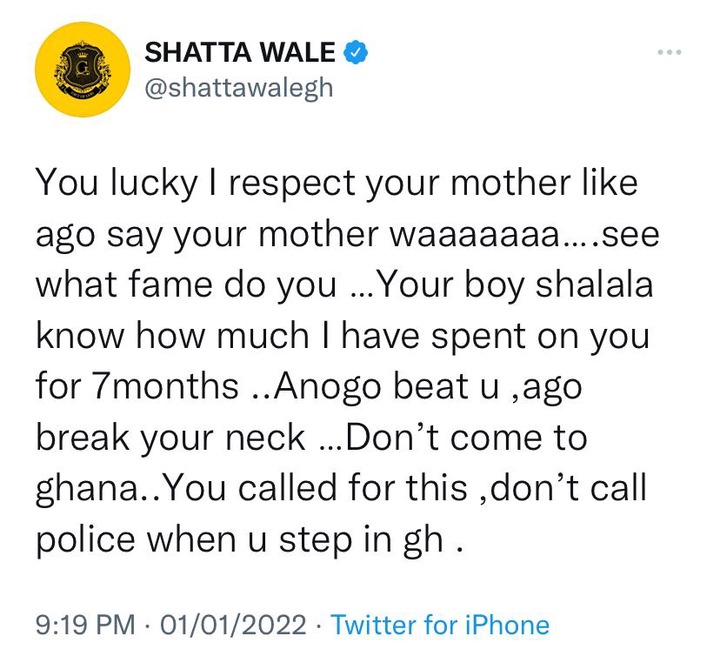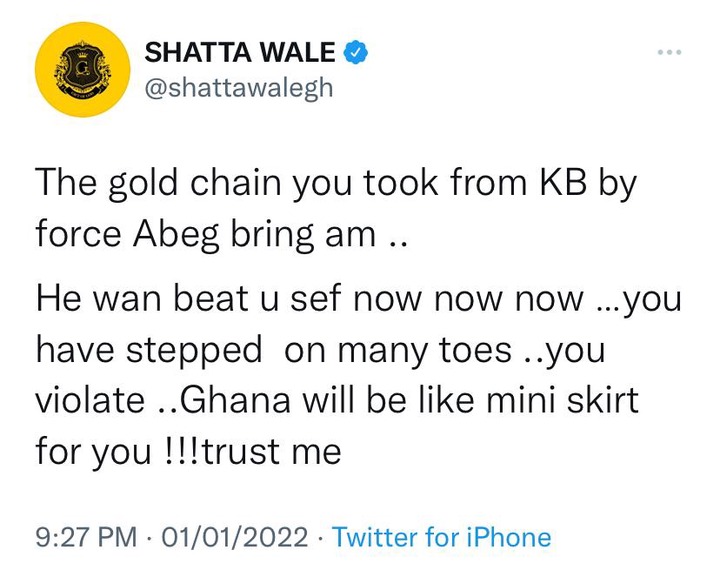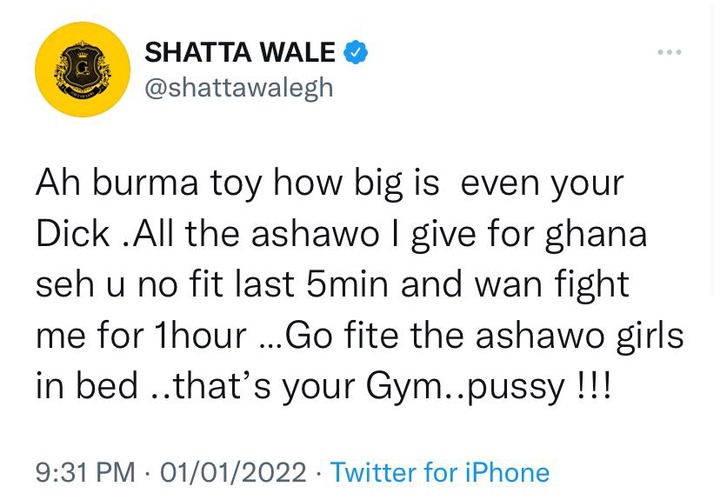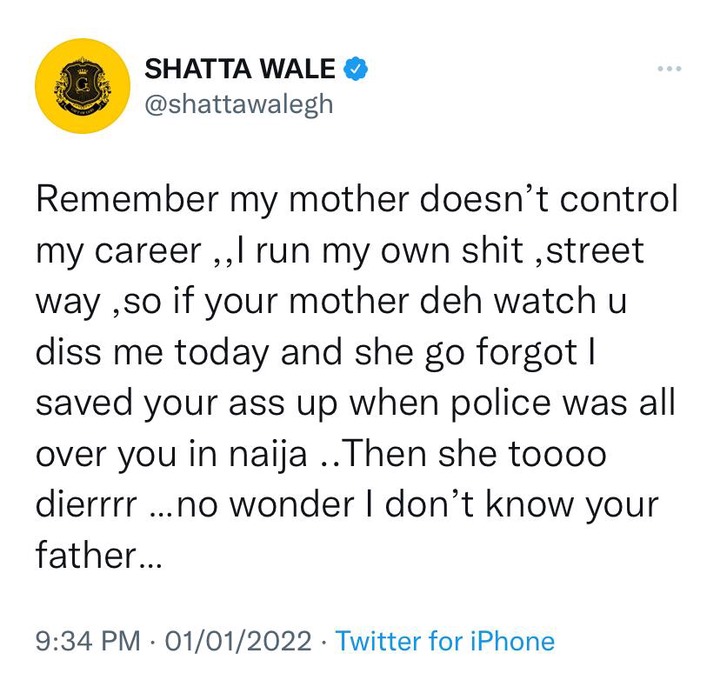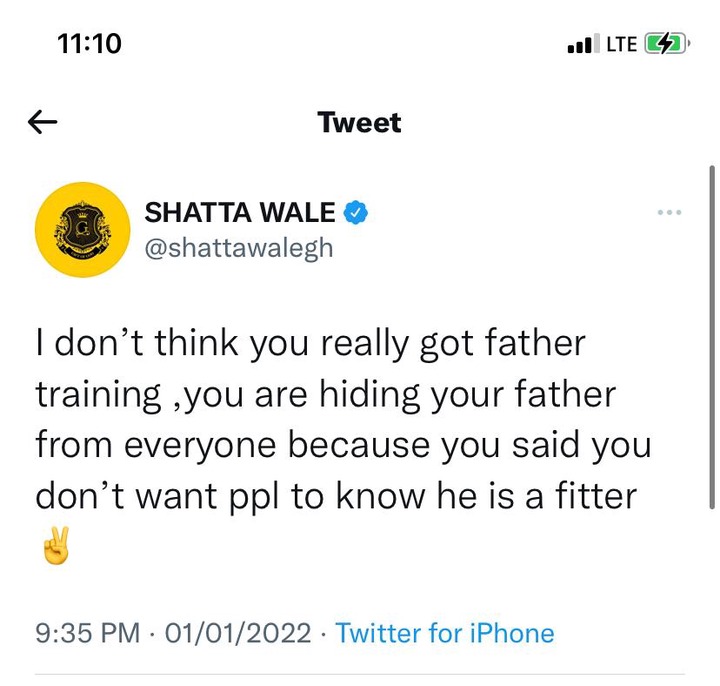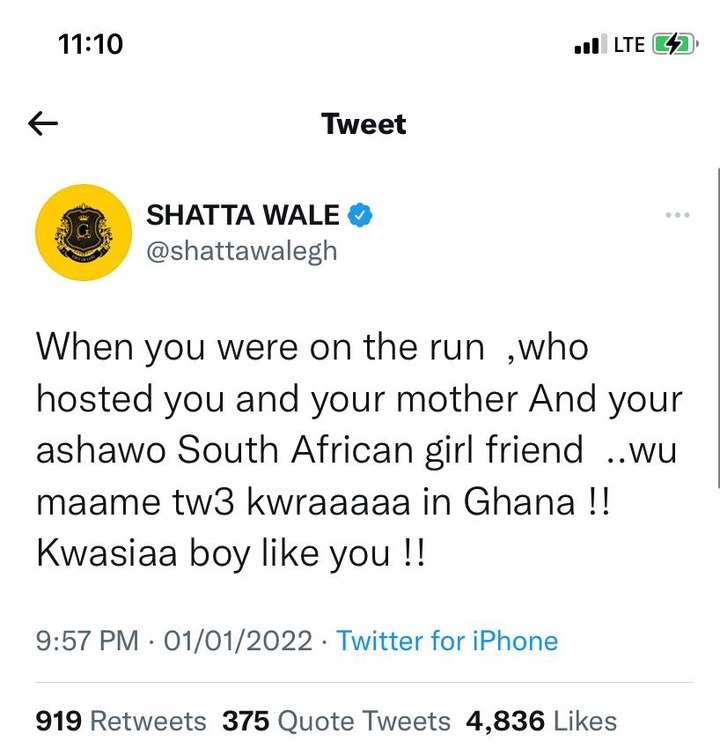 "Her Name Is Elfreda; She Was Shatta Michy's Best Friend" : More Juicy Details About Shatta Wale's New Girlfriend Drops
Shatta Wale, African Dancehall King, has taken over the trends table once again after revealing his new sweetheart to the world in a series of Snapchat videos.
After parting ways with Shatta Michy roughly three years ago, the father of one has finally found a woman to replace her.
In these all-loved-up videos that have gone popular on the internet, it's clear that Shatta Wale adores his new girlfriend, whose name has been revealed as Elfreda, and hopes to officially settle down with her.
Some trolls have revealed some amazing insights about Elfread, which have wowed netizens.
According to an Instagram user who slid into IG blogger @Aba_thegreats inbox, Shatta's new girlfriend is an SM diva.
The insider further went on to add that, Elfreda was Shatta Michy's best friend prior to her break up with Shatta Wale.
Well, little did Shatta Michy know that her own best friend was jealous of her affair with Shatta and was fervently praying behind closed doors to see to the ruin her relationship with the music maestro.
Seemingly, more juicy details about Elfread will flood the media space ahead for the next few weeks ahead until the dust finally settles.
See below;
"My GH¢50K Surgery Body Is To Attract Only Rich Men" : Kisa Gbekle
Kisa Gbekle, Ghanaian actress, has disclosed the rationale behind her surgical physique, claiming that she spent GH50,000 on her appearance in order to attract wealthy men.
According to her, she is only interested in dating wealthy men or "papa no." She went on to say that age was just a number and that she would date an older man if he was wealthy.
Kisa Gekle stated in an interview that she has spent a lot of money to improve her figure and that she would require a man who is wealthy enough to maintain her status and financially assist her to take extremely good care of her body.
"When I say heavy, heavy entails a lot, but I don't mean financially. You are aware that I have just completed my entire body. And it isn't easy. It's a large sum of money. So I need someone who is wealthy and has a lot of money."
"It doesn't matter how old you are. I'm cool as long as the person is cool, calm, collected, and heavy."
Kisa Gbekle travelled to Instabul Turkey to go under the knife in order to enhance her overall look and physique.
She spent a whopping GH¢50,000 to have a butt lift to correct her saggy tummy and achieve a tighter snatched midsection.
"I Liked It More When My Life Was Mine" : Black Sherif Writes
Popular Ghanaian Hiplife/Trap superstar, Mohammed Ismail Sherif, often known as Black Sherif, may be feeling pressured by the celebrity lifestyle because one cannot live according to his own will longer but by the will of others, as he laments that he wishes his life was his.
One of the drawbacks of being a public figure is that people get to tell you how you should conduct your life. Fans on social media will always be harshly critical of famous personalities if they fail to achieve their expectations.
Well, Black Sherif, who exploded into the scene and is now regarded as one of Ghana's top young acts, has regretted the fact that his previous life used to be his best because it became a routine for him to avoid severe criticism from the public.
According to him, he felt safe being himself and the people around him, but he thinks that his new lifestyle will allow him to rediscover himself.
This comes after the musician was supposed to have walked out of school and enrolled in a different institution because he thought he was being left behind.
He wrote;
"I Like It More When My Life Was Mine. When I Used To Enjoy Living In Fear Because It Became My Routine. When I Felt Safe Being Real. Hopefully, I Sail Through These All To Meet A New Me. Good Luck Kwaku, Keep Going".
See below;