Native Doctor Shows Off The Mansion He Built After Answering The "Call Of The gods" | PHOTOS
A Nigerian native doctor, Desency Emeka Ofiaeli has shown off the mansion he built after worshipping his "queen mother".
According to Ofiaeli, the mansion he built is just one of the promises his "gods made to him after answering their call."
He wrote; My brother's and Sister's help me to thank the Gods
I don't suppose to show this here because some may think that am so full of my self , but ,if you tell people where you are going, tell them when you get there,
They have completed one of their promise to me, for answering their call ,
The Queen mother is a great woman, she has wiped away my solo and gave me joy, she has picked me up from disturbing and make me king,
Queen of riches, mother that blesses the poor and make them rich ,mother that makes the baring woman mama ejima, mother that never discriminate, mother of all
Help me to say thank you to the Queen mother SOBALI , one of the kindest spirit ever SOBALI Igwe
SOBALI BABADUDU SOBALI DUDUBABA SOBALI KALICHA KALICHA SOBALI igwe
Look below and see where I started and see where I am
As she has done for me so shall she do for you
E dey play E dey show
Kim Kardashian Steps Out Without Her Wedding Ring After Filing For Divorce From Kanye West | PHOTOS
Kim Kardashian has been spotted without a ring after filing for divorce from Kanye West to end their nearly seven-year marriage.
The Keeping Up With the Kardashians' star stepped out for dinner without her wedding ring at Beverly Hills hotspot Matsuhisa on Tuesday February 23. It was her first night out as a single lady just days after officially filing paperwork to end her marriage.
The mother of four, 40, showcased her banging body in a skintight dress neon dress which she rocked with a pair of strappy lime green heels for girls' night out with sister Kourtney, her best friend La La Anthony, and former assistant, Stephanie Shepherd.
The outing comes just six days after Kim Kardashian filed for divorce from Kanye West, who she wed in May 2014.
They are seeking to split physical and legal custody of their four children (North, seven, Saint, five, Chicago, three, Psalm, 21 months) 50/50.
See the pictures below.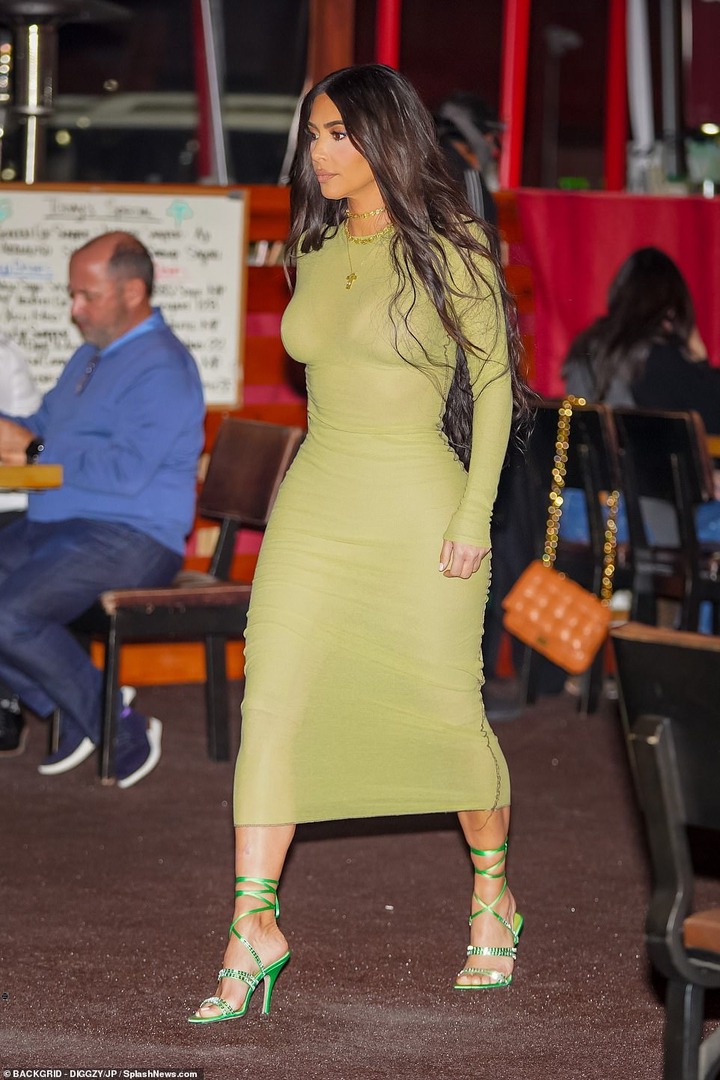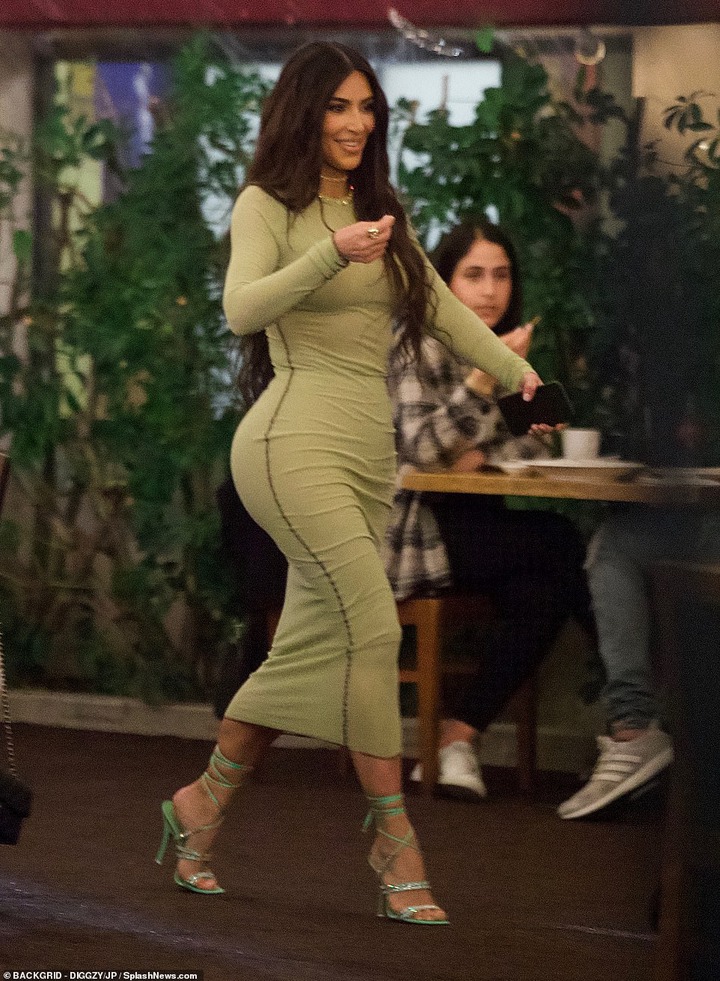 Afia Schwarzenegger Post Old PHOTO As Air Hostess, Challenges Mona Gucci To Also Prove She Went To Law School
Afia Schwarzenegger has this Thursday morning posted an old photo of herself as an air hostess back in South Africa.
In the caption, she challenged TV presenter Mona Gucci to also prove that she went to law school as she claimed on United Showbiz on UTV last weekend.
Recall a few days ago when Mona claimed that she studied Immigration Law at Massachusetts University of Law & did internship at Abigail Williams & Co law firm, Afia Schwarzenegger came out to challenge her that she should post her graduation photos or her law certificate if she indeed went to law school.
Mona Gucci in reply to Afia Schwarzenegger also challenged her that if she was indeed an air hostess in South Africa as she has been saying, she should also prove which airline she worked for.
Okay now, Afia Schwarzenegger has proved it to us that she indeed worked as an air hostess.
She claims her photo was taken on 25/10/2008.
"The river behind us separates Congo Kinshasa (DRC) from Congo Brazzaville.", she added.
"Now can the lead counsel from Abigail williams and Co.lead us in prayers with some throwback memories from the highest court of Massachusetts??? Rtflmao 😄 🤣 😂 😆 😄 🤣 😂 😆", she finally wrote in a challenge to Gucci Mona.
Myanmar Coup: Thousands Including Government Workers Defy Military Warning And Take Over The Streets In Massive Protests | PHOTOS + VIDEO
Hundreds of thousands of protesters have turned out in Myanmar in defiance of the military to stage one of the largest protests yet against the military coup that has held the country bound since the beginning of this month.
On February 3, Military leaders overthrew Aung San Suu Kyi's elected government and placed her under house arrest, charging her with possessing illegal walkie-talkies and violating the country's Natural Disaster Law.
Ever since then there have been protests all over the country.
But on Monday, February 22, businesses closed, and even government workers and bankers joined a general strike, despite a military statement that said protesters were risking their lives by turning out.
The military had to disperse crowds in the capital, Nay Pyi Taw, using a water cannon truck .
A statement from the military carried on state-run broadcaster MRTV said that protesters were "now inciting the people, especially emotional teenagers and youths, to a confrontation path where they will suffer the loss of life".
The military cautioned people against "riot and anarchy".
This comes after at least two people were killed in protests on Sunday the worst violence yet since the onset of demonstrations.
Protesters say they want an end to military rule and want Ms San Suu Kyi released, along with senior members of her National League for Democracy (NLD) party.
Foreign pressure on military leaders has also been high.
In a speech on Monday, UK Foreign Secretary Dominic Raab said the UK will demand Ms Suu Kyi's release.
While the UN has also responded.
"I call on the Myanmar military to stop the repression immediately," United Nations Secretary-General António Guterres said in his annual address to the UN Human Rights Council.
"Release the prisoners. End the violence. Respect human rights, and the will of the people expressed in recent elections," he said, before insisting that "coups have no place in our modern world".
The US, Canada and the UK have all imposed sanctions on the leaders of the coup.
On Monday, the European Union said it was ready to impose its own sanctions on Myanmar's top generals.
"The EU stands ready to adopt restrictive measures targeting those directly responsible for the military coup and their economic interests," the bloc's foreign ministers said in a joint statement.
During the demonstrations in Myanmar's main cities, people could be seen waving flags and chanting.
Monday's protest, which has been nicknamed the "22222 Revolution" because it is taking place on 22 February, is being compared by protesters to demonstrations on 8 Aug 1988 – known as the 8888 uprising – when Myanmar saw one of its most violent protests.
Images on social media show some protesters forming the shape of 22222, while others waved signs and banners bearing the number.
See the pictures and video below.
Drone footage of mass protest in downtown Yangon as the widespread fury about the February 1 military coup is channeled into a general strike taking place in a number of cities across the country. #WhatsHappeningInMyanmar #22222GeneralStrike pic.twitter.com/RJ5hYcw4gl

— Myanmar Now (@Myanmar_Now_Eng) February 22, 2021