New Report: Missing Lecturer's Wife Allegedly Killed By Her Husband
Few months ago, Mrs Rhodaline Amoah-Darko was reported missing after she left her home at Gyenyase in the Ashanti Region for an official assignment on 30th August.
New reports indicate that Madam Rhodaline has allegedly been killed by her husband who is a lecturer at the Kwame Nkrumah University of Science and Technology.
According to reports, the kidnappers allegedly contacted Madam Rhodaline's husband and demanded a 1M cedis ransom for her release.
The Ghana Police Service with the help of the telecommunication service provider traced the location of the call and found out that it was the same location as Madam Rhodaline's husband.
It has been revealed that the marriage between Rhodaline and her husband was on the brink of collapse.
They have been at loggerheads with each other for 8 months now, and it was one of their fighting episodes that the husband reportedly beat his wife to death.
He then concealed his wife's lifeless body and later reported to the police that his wife has gone missing.
According to new information, the husband reportedly sprayed the entire house with chemicals to hide all traces of the crime he has committed.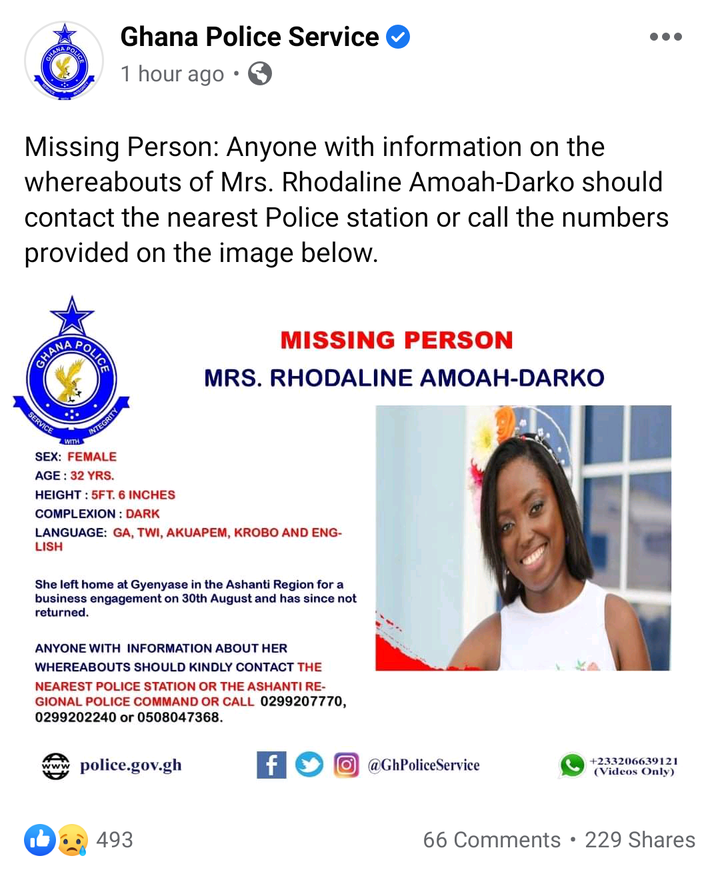 The husband identified as Dr. Aggrey has reportedly been arrested by the police but has refused to give out any information in regards to the whereabouts of his wife.
Madam Rhodaline who works as a Land Administration Officer with the Lands Commission in the Ashanti Region was declared missing in August 2021.
Father Who Carried His Daughter To School During Drivers Strike To Receive A Brand New Car
A picture of a father carrying his daughter to school that went viral on the local digital space has attracted a group of kind-hearted people to extend their benevolence to the lucky dad.
After the picture went rife on the internet yesterday, many pessimists and naysayers blasted other social media users who applauded the heroic father for doing his daddy duties.
Well, Joy FM's Kenneth Darko has authored a tweet on the bird app seeking the personal details of the man as some anonymous philanthropists have offered to gift him a car.
He wrote;
"Y'all remember this man who has become the poster boy for yesterday's drivers' protest as he carried his little girl to school?
Well, today a group wants to buy him a CAR.
Kindly RT to help us locate him. "
https://twitter.com/TheKennethDarko/status/1468152566584328196?s=20
Sleeping With Man City's Jack Grealish Is Britain's Top Xmas Fantasy For Women, While Margot Robbie Is Number 1 For Men
Manchester City player, Jack Grealish and Austrailian acrress Margot Robbie are the celebrities British men and women would love to sleep with over the festive season.
Of the 2,000 people polled, 40 per cent think this is the best time of the year to get between the sheets and a third say they have kinkier sex.
The Sun reported that 15 per cent are on Santa's naughty list after confessing they have cheated on their other half at the office party.
Here's the +18 survey below;
Goil Reduces Fuel Price After Akufo-Addo's Directive
The Ghana Oil Company (GOIL) has reduced fuel by 15 pesewas after a directive from President Akufo-Addo following a meeting with driver unions on Monday, December 6.
The reduction took effect Tuesday morning with a litre of fuel at Goil now selling at 6 cedis 70 pesewas. The reduction came after a crunch meeting with driver unions who declared a sit-down strike Monday over fuel prices.
It is, however, not known how long the reduction will be in effect.
Some commercial drivers in parts of Accra Monday morning began a sit-down strike in protest against numerous levies and taxes imposed on petroleum products by the government, resulting in an increase in fuel prices.
At Gbawe and Mallam in the Weija-Gbawe Municipality, there were many commuters stranded along the shoulders of the road while those who had already boarded commercial vehicles were forced to disembark.
Some GPRTU station officers blocked roads with car tyres and other metallic weapons to prevent the passage of loaded commercial vehicles.
The situation resulted in hot verbal exchanges and a near fisticuff between the station officers and the passengers.
The strike was later suspended after the President called for a meeting with leaders of driver unions to find an amicable solution to the strike.