Rapper, Eminem's Daughter Hailie Jade Flaunts Her Hot Body In Sexy Two-Piece | PHOTOS
Legendary rapper, Eminem's daughter Hailie Jade, took to her Instagram to share this hot photos of herself posing in sexy two-piece swimwear.
See another photo below.
Meet The Beautiful Family Of Giovani Caleb As They Reunite After A Year 😍 | PHOTO
Giovani of TV3 and 3 FM is vacationing with his family and they are serving family goals from the Volta Region. According to the wife of the Showbiz 360 host, it has taken them over a year to get together like this.
Sharing their beautiful family photo, she wrote "after a whole year and then some apart, allow us to take some cringe-worthy lovey-dovey selfies… I think we have earned it… won't you agree?" Yes Mama B we agree. Y'all swipe up to catch up with the Elolos reunion vacay and you'd sure agree to deserve this getaway.
Frederick Nuamah Confirms Divorce Rumours By Flaunting His New Fiancée | PHOTOS
CEO of Ghana movie awards and media guru, Frederick Nuamah has confirmed rumors by flaunting his new beautiful fiancee on his fiancée media pages.
Prior to this, widespread speculations which went rife on the local digitals space purported that the actor had parted ways with his ex-lover whom he married two years ago.
At the moment, none of the ex-lovers has bold enough to come out to address the divorce rumors.
But this love-centered birthday message from Frederick Nuamah to a woman by the name Mtoto kapendeza may have just confirmed the widespread speculations.
As revealed by Fred in the birthday message, adorable Mtoto has always been his dream girl and he's glad he came into his life.
Check out the post below to know more;
Pakistani Man Buys Land On The Moon As Wedding Gift For His Wife | PHOTOS
A Pakistani man has bought a one-acre plot of land on the moon as a wedding gift to his wife.
Sohaib Ahmed, a resident of Rawalpindi, bought the lunar land in the region called 'Sea of Vapour'. The land was bought for $45 from the International Lunar Lands Registry.
The couple was sent the documents of the land on the moon at their home via US Postal Service.
According to the Lunar Settlement Initiative's website, "under the terms of the LSI, property claims on Luna may be offered to private entities to finance the exploration, settlement, and development of the Moon and its resources."
It further states that "upon the recognition and certification of land claims, property owners shall be entitled to inhabit and develop their property in any manner, subject to any laws or statutes that may be established by the sovereign and independent government of Luna, which shall be freely elected by its citizens."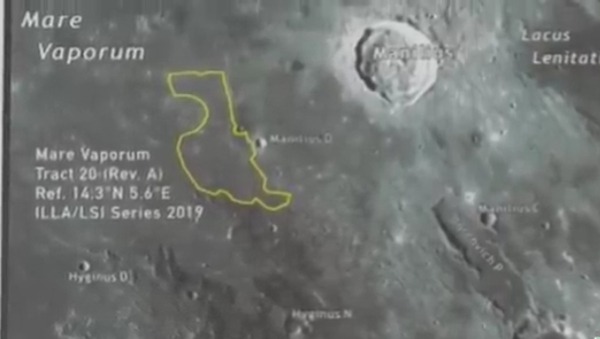 Ahmed said that he was inspired by late Bollywood actor Sushant Singh Rajput to buy his own piece of land on the moon. In 2018. Sushant bought a piece of land in the region of Mare Muscoviense, or the 'Sea of Muscovy' through the International Lunar Lands Registry.
His wife, Madiha said that her friends did not believe her when she told them about the shocking wedding gift she got from her husband.
"At first everyone thought it was a joke, but then I showed them the documents and then they believed it," she told Samaa TV. She added that one of her friends also wants her fiancé to gift her a plot of land on the moon for their wedding.