Algerian international Riyad Mahrez has been crowned 2016 African Player of the Year in Nigeria's capital, Abuja.
Mahrez beat Gabonese Pierre-Emerick Aubameyang and Senegalese winger Sadio Mane to be the winner of the continent's top football award.
"IT'S A HUGE HONOUR TO RECEIVE THIS AWARD, I WANT TO THANK ALL MY TEAMMATES, MY FAMILY, AFRICA, AND NIGERIA AS WELL,"
The Leicester city winger said.
The Algerian international had been tipped for the award after his sterling performance in his team, Leicester City's fairy tale Premier League triumph. He also won the PFA player of the year 2016 and BBC African footballer of the year in December 2016.
ALSO READ: Shatta Wale reveals the song he will be performing at the GLO CAF Awards
Below are the other awards presented on Thursday night at the Abuja International Conference Centre in Nigeria.
African Player of the Year: Riyad Mahrez

CAF

Platinum Award: Muhammadu Buhari
Football Leader of the Year:

Manuel

Lopes

Nascimento
African Player of the Year – Based in Africa: Denis Onyango
Referee of the Year: Bakary Papa Gassama
Women's Player of the Year: Asisat Oshoala
Coach of the Year 2016: Pitsoo Mosimane
Youth Player of the Year 2016: Alex Iwobi
Most Promising Player of the Year 2016: Kelechi Iheanacho
Club of the Year: Memelodi Sundowns
Women's National Team of the Year: Nigeria
National Team of the Year: Uganda
Source:Kokonsagh.com
Adam Kwarasey Regrets Playing For Ghana : Odartey Lamptey Reveals
Former Ghana goalkeeper Adam Kwarasey regrets playing for Ghana, Odartey Lamptey, a former Ghana forward has disclosed.
Odartey Lamptey claims that Kwarasey rues the day he opted to play for Ghana instead of Norway.
He told Ahomka FM that Kwarasey is harboring pains over the treatment Ghana handed him in his short stint as Black Stars goalie.
"I know where Kwarasey came from and all that. If Kwarasey decides to open his mouth and tell you what he went through… He regrets playing for Ghana", Odartey said.
Odartey was discussing Ghana's attempt to lure Brighton star Tariq Lamptey who is one of many young footballers the country is courting.
He disclosed that for those players to shun their countries and play for Ghana, some drastic changes ought to happen.
He said until the players are assured of their comfort during and after their footballing careers, they will 'never' pick' Ghana ahead of those countries.
"These children monitor social media a lot so you can't tell me he'll let go the benefit he will enjoy from England and play for Ghana. I wish it will happen but I'm telling you point blank it will be very difficult for a player nurtured outside to play for Ghana".
"It will never happen because they look at the benefit and consider what they'll go through in Ghana and no one will choose what we go through. I may be wrong but there is no way we can convince these guys".
Another player that Ghana was chasing was Anderlecht winger Jeremy Doku and Odartey has revealed why the youngster chose Belgium over Ghana.
"I went to Belgium and I met Doku and his parents and we had interactions. You could feel his parents didn't want him to play for Ghana. If you look at the difficulties some players who switched nationality to Ghana …" he told Ahomka FM.
Accounting And Consulting Firm "Gammal EK" Launches In Ghana
Self-Economic management and development have tended to become a major issue for individuals across the world.
The drive to go according to an individual's budgeted plan, avoiding overspending, and also investing in a personal interest sometimes deviates from unexpected expenses and problems that come up in one's daily life.
Gammal EK, an accounting and consulting firm has officially launched in Ghana to help individuals achieve more in their daily lives especially amid this coronavirus pandemic era.
Known as a trusted firm, they provide the following services below.
• Bookkeeping
• Accounting
• Statutory, Internal, Revenue, Stock and Receivables Audit, Concurrent, Pre- Audit, Forensic Audit, and Tax Audit
• Conversion of Single Entry into Accrual Based Double Entry
• Physical verification of Fixed Asset and Stores
• Designing/Strengthening/Assessing Internal controls systems
• Direct and Indirect Tax Practise
• Consultancy Services
Their mission is to provide the highest level of professional services to meet their clients' needs through mutual financial success as well as to maintain integrity and honesty in everything they do.
They also provide for the development, growth, and accountability of their team members by offering opportunities to achieve personal and professional success.
Lastly, to maintain an environment that encourages giving back to the community.
Gammal EK's major vision is to be the most trusted and respected accounting firm by providing innovative and practical services that contribute to their clients' success in an exceptional team environment.
Officially launched in Ghana on September 20th, it witnessed the CEO, Mayart Brefo Gyebi, at the Alima Suites in Labone, Accra with its Board Members; Daniel Oppong Adjei, Enoch Amoako, Nana Yaw Okai, persons and more who graced the launch making it a success.
At the launch, the CEO Mayart Brefo Gyebi was grateful to her team and present people at the event for their time and support.
See images from the launch below.
Follow Gammal EK on Instagram: @Gammal_EK
Call: 0342292679 or 0245405524.
Pakistani Man Buys Land On The Moon As Wedding Gift For His Wife | PHOTOS
A Pakistani man has bought a one-acre plot of land on the moon as a wedding gift to his wife.
Sohaib Ahmed, a resident of Rawalpindi, bought the lunar land in the region called 'Sea of Vapour'. The land was bought for $45 from the International Lunar Lands Registry.
The couple was sent the documents of the land on the moon at their home via US Postal Service.
According to the Lunar Settlement Initiative's website, "under the terms of the LSI, property claims on Luna may be offered to private entities to finance the exploration, settlement, and development of the Moon and its resources."
It further states that "upon the recognition and certification of land claims, property owners shall be entitled to inhabit and develop their property in any manner, subject to any laws or statutes that may be established by the sovereign and independent government of Luna, which shall be freely elected by its citizens."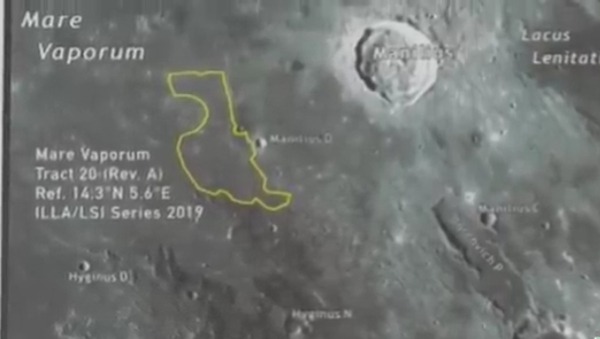 Ahmed said that he was inspired by late Bollywood actor Sushant Singh Rajput to buy his own piece of land on the moon. In 2018. Sushant bought a piece of land in the region of Mare Muscoviense, or the 'Sea of Muscovy' through the International Lunar Lands Registry.
His wife, Madiha said that her friends did not believe her when she told them about the shocking wedding gift she got from her husband.
"At first everyone thought it was a joke, but then I showed them the documents and then they believed it," she told Samaa TV. She added that one of her friends also wants her fiancé to gift her a plot of land on the moon for their wedding.