Ronaldinho 'Could Be Removed From FIFA 20' After Spending 32 Days In Prison
Ronaldinho could be removed from FIFA 20 after the Brazil legend spent 32 days in a Paraguayan prison over a fake passport.
The two-time World Player of the Year was released from jail yesterday and placed under house arrest after reportedly paying a £1.3million bond.
However, the 40-year-old could still be removed from the popular video game, with Argentinian outlet Diario Ole reporting that EA Sports are 'studying the removal' of the ex-Barcelona player from the game.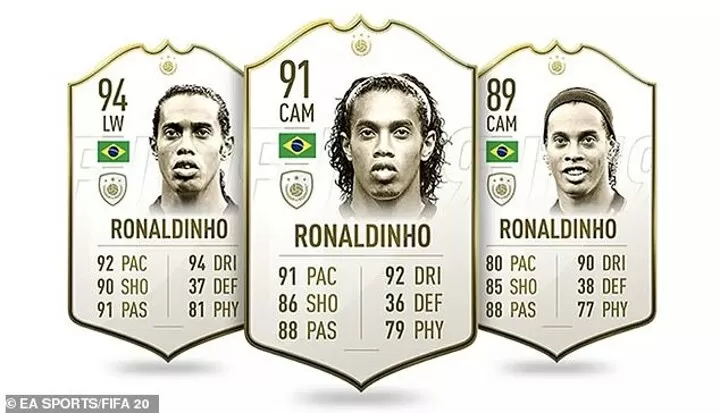 Eliminating his profile on the most recent version of the football game would may be necessary due to legal problems, the report details.
Ronaldinho currently has four ICON cards in FIFA's Ultimate team, ranging from a rating of 89 to 95.
Last month, both he and his brother Roberto were charged with attempting to enter Paraguay with fake passports, and had been faced with six months jail time.
But judge Gustavo Amarilla has permitted them both to stay at a hotel for the mean time, with the case still being decided and the player's lawyers attempting to appeal the decision to jail him.
It had been argued that he should be spared from facing prison due to his high-profile status as a former footballer, with his legal team saying his detention was 'arbitrary, abusive and illegal'.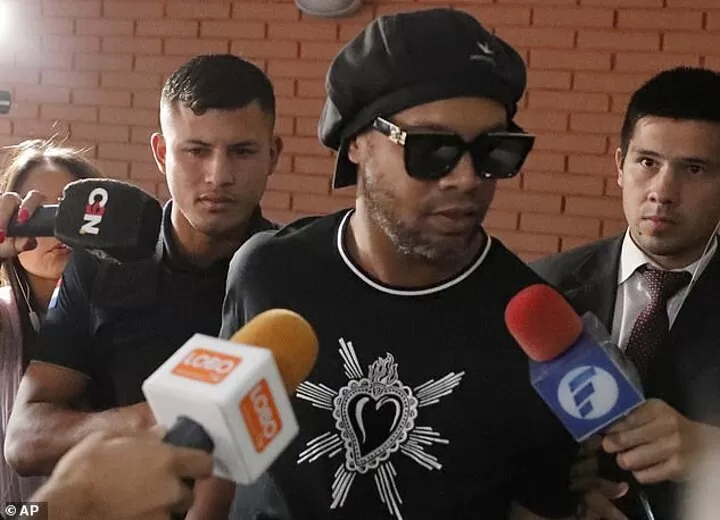 Ronaldinho, who last played for Brazilian outfit Fluminense in 2015, was arrested along with Roberto on March 6, but denied using a forged passport, with the 2002 World Cup winner insisting he didn't know he had committed an offence.
His own lawyer Adolfo Marin said the former player had been 'stupid' and criticised the courts for not taking into account his mistake.
At the height of his football career he won one Ballon D'or and two FIFA World Player of the Year awards, clinching two LaLiga titles and a Champions League crown with Barcelona, and also lifted the World Cup with Brazil in 2002.
Lionel Messi Blasts Barcelona For 'Throwing' Luis Suárez Out Of The Club
Lionel Messi has launched a fresh attack on Barcelona's hierarchy for the way the club treated his close friend Luis Suárez after the striker left for rival club, Atlético Madrid.
The Argentine playmaker, who threatened to leave Barça last month and recently hit out at the club's president Josep Maria Bartomeu's leadership, said Suárez was harshly treated and 'thrown out' of the club.
In an emotional goodbye post dedicated to Suarez, the club's third-highest scorer of all time, Messi wrote: "I had already begun to imagine it but today I went into the dressing room and it truly dawned on me. It's going to be so difficult to not continue to share every day with you both on the pitches and away from them.
"We're going to miss you so much. We spent many years together, many mates, many lunches and many dinners. So many things we will never forget, all the time we spent together.
"It will be strange to see you in another shirt and much more to come up against you on the pitch. You deserved a farewell that fit with who you are: one of the most important players in the history of the club. Someone who achieved great things for the team and on an individual level.
"You did not deserve for them to throw you out as they did. But the truth is that at this stage nothing surprises me anymore."
On Thursday, an emotional Suarez said goodbye to Barcelona and paid tribute to Messi after sealing a switch to Atletico Madrid. The Uruguay international had previously made it clear that he wanted to stay and see out his contract but was told by Barca's new coach Ronald Koeman that his playing days were over at the club.
Suarez helped the club win four LaLiga titles, four Copa del Rey crowns, and the Champions League in 2015. He scored 195 goals and provided 113 assists in 283 outings for the club before his exit.
Western Togoland 'Military' Group Block Major Roads To The Volta Region
Reports reaching KUBILIVE reveal there is chaos on Kpong-Akosombo road as young men believed to be members of the Western Togoland have mounted roadblock at Akrade preventing vehicular movement.
The group said to be wielding implements and sticks chanting war songs mounted the roadblock around 3: 00 am Friday turning away vehicles as they claim ownership of the area.
Armed Police and Military officers have been deployed to the scene.
The Western Togolanders also used heaps of sands to block the Mepe-Sege road and the Accra-Ho road at Juapong preventing the flow of traffic.
As a result of the blocks, most passengers traveling to areas in the Volta Region including Tefle, Tsopoli, and Juapong have all been left stranded
15-Year-Old Girl Smoking Sparks Outrage On Twitter | WATCH
A video of a 15-year-old girl smoking was uploaded to Twitter and it has sparked outrage.
The number 1 trending topic at the moment amongst Nigerians on Twitter is "She's 15" as people debate the girl's action.
A number of people have been condemning the girl, while some made a case for her, saying we all did silly things at 15 but didn't film it.
Watch below.