Sandra Ankobiah shows fans her tiny waist in new PHOTOS
Ghanaian Lawyer, TV host and entrepreneur, and fashionista, Sandra Ankobiah has recently excited her fans with stunning photos and her fans are absolutely going 'crazy' over them.
Sandra Ankobiah, known for her slaying on social media and her extravagant lifestyle, took to her official Instagram handle to share pictures from her Maldives trip.
In the photos, she was seen spending quality time at the beach.
As many Ghanaians advocate for ' buy made in Ghana products', Sandra was seen wearing 'leggings' from Ghanaian songstress, sister Deborah's latest collection.
She tagged Sister Debbie in the post to let her know of her full endorsement.
Frederick Nuamah Confirms Divorce Rumours By Flaunting His New Fiancée | PHOTOS
CEO of Ghana movie awards and media guru, Frederick Nuamah has confirmed rumors by flaunting his new beautiful fiancee on his fiancée media pages.
Prior to this, widespread speculations which went rife on the local digitals space purported that the actor had parted ways with his ex-lover whom he married two years ago.
At the moment, none of the ex-lovers has bold enough to come out to address the divorce rumors.
But this love-centered birthday message from Frederick Nuamah to a woman by the name Mtoto kapendeza may have just confirmed the widespread speculations.
As revealed by Fred in the birthday message, adorable Mtoto has always been his dream girl and he's glad he came into his life.
Check out the post below to know more;
Pakistani Man Buys Land On The Moon As Wedding Gift For His Wife | PHOTOS
A Pakistani man has bought a one-acre plot of land on the moon as a wedding gift to his wife.
Sohaib Ahmed, a resident of Rawalpindi, bought the lunar land in the region called 'Sea of Vapour'. The land was bought for $45 from the International Lunar Lands Registry.
The couple was sent the documents of the land on the moon at their home via US Postal Service.
According to the Lunar Settlement Initiative's website, "under the terms of the LSI, property claims on Luna may be offered to private entities to finance the exploration, settlement, and development of the Moon and its resources."
It further states that "upon the recognition and certification of land claims, property owners shall be entitled to inhabit and develop their property in any manner, subject to any laws or statutes that may be established by the sovereign and independent government of Luna, which shall be freely elected by its citizens."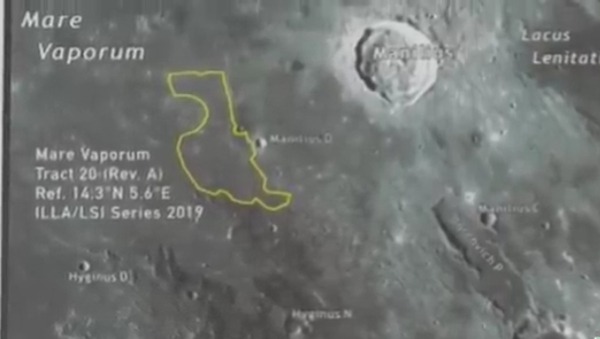 Ahmed said that he was inspired by late Bollywood actor Sushant Singh Rajput to buy his own piece of land on the moon. In 2018. Sushant bought a piece of land in the region of Mare Muscoviense, or the 'Sea of Muscovy' through the International Lunar Lands Registry.
His wife, Madiha said that her friends did not believe her when she told them about the shocking wedding gift she got from her husband.
"At first everyone thought it was a joke, but then I showed them the documents and then they believed it," she told Samaa TV. She added that one of her friends also wants her fiancé to gift her a plot of land on the moon for their wedding.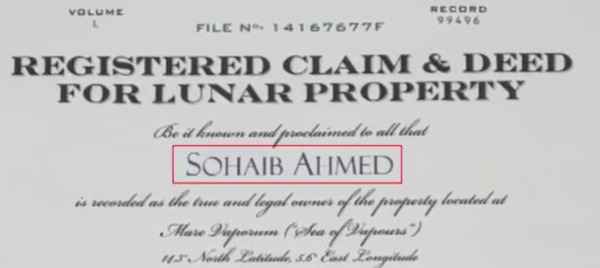 Adwoa A. Amoako Adjei Launches Her First Book "Mixed Up" | PHOTOS
Adwoa A. Amoako Adjei born on 11/04/1994 is a young lawyer who doubles as an author and is the first Ghana-based Ghanaian to publish a mystery thriller novel and also the first female Ghanaian to self-publish a mystery-thriller-romance novel. She is from Koforidua in the Eastern Region of Ghana and from a family of five.
On the 18th of September 2020. Ms. Adjei launches her first fictional novel which was held at Accra City Hotel and was chaired by Nana Kwasi Gyan – Appenteng currently the President of the Ghana Association of Writers who is also the past chairman of the National Media Commission and same was attended by many dignitaries including the first Deputy Speaker of Parliament and MP for Bekwai – Hon. Joe Osei Owusu, Deputy Special Prosecutor – Mrs. Cynthia Lamptey, Deputy Minister for Local Government and Rural Development and MP for New Juaben North – Hon. K. Boateng Adjei, Chief of Tinkong and CEO of Hill Palace Hotel, Peduase – Nana Toprah, Director at National Petroleum Agency – Mr. Samuel Asare-Bediako, Eastern Regional Bar President – Kwasi Amoako Adjei, President of Ghana Rowing Association-Lawyer Stephen Bekoe and many others.
Ms. Adjei wanted to pique the interest of many non-readers and readers across the nation and internationally and she achieved that as many took on social media to happily supported her by sharing her work on their pages and platforms. The book, Mixed Up as stated by Nyamekye Nkansah at the launch walks you through the life of a woman who faces so much pain, horror, and battles with her love life. It touches on her life as a teenager and engages the reader to reminisce, relate, and empathize. The book includes plot twists and many more. Ms Adjei stated that the book helps the world to see modern Ghana as we know it and also encourage young talents.
She stated that she is already working on 2 other novels and hopes that in no time she will have a collection. Mixed-up is an international standard modern-day social book and it's time to support your own because this is a good step for Ghana in the literature world. She stated that what she needs from us now is to help her create a bigger literature world for Ghana.
In her closing remarks, she had a message to the public. She said "So often than I'll like to admit, I have been in a position where people doubt my abilities and so often I am proud to say, I have been in a position to prove them wrong. I believe that you can do anything once you challenge yourself. I dreamt, I wanted that dream and I worked towards it. And this is a dream come true."
Check out some photos from the launching below:
First of many. The genre isn't popular in Ghana but I dared myself. how about 1st Ghana-based author to self publish a mystery thriller fiction and 1st Ghanaian female to publish a mystery-thriller romance novel. pic.twitter.com/rU3jWQJeU7

— A. A. A. A. (@Mz_Adjei) September 21, 2020