See The Dubai Mega-Mansion With A 'Free' Rolls-Royce And Ferrari That's Up For Sale At £25million | PHOTOS
A luxury Mega-Mansion in Dubai with Free' Rolls-Royce and Ferrari is up for sale at £25million.
The 14,000-square-foot mega-mansion, called One100, which was completed just a week ago for a Swedish entrepreneur, is located on Dubai's Palm Jumeirah island.
The owner, Michael Alibhai, 43, who has a Dubai-based company that designs and manufactures clothing for top European fashion labels likes Zara, Mango, Diesel, Reiss, and Zadig and Voltaire has decided to move back to his native Sweden to be with family.
A £250,000-plus Rolls-Royce Wraith coupe parked in the driveway comes with the house. As does the matching black, ultra-rare £450,000-and-up Ferrari 599 GTO. The same goes for the fully custom, mustard-yellow Harley-Davidson Ultra Glide parked, as a piece of art, in the hallway.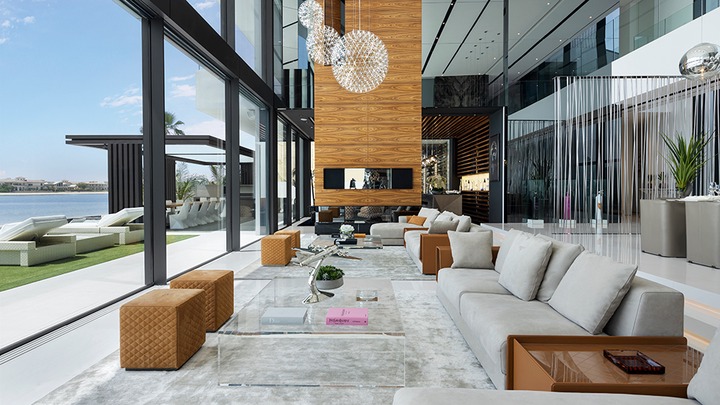 "Just as I have completed this piece of art, I came to realize the importance of family," he told Arabian Business magazine. "I have been missing out on valuable moments in life and having close friends passing away during Covid-19 forced me to reconsider my life."
According to the Robb Report, the Mega-Mansion is now on the market for £25 million. It's being sold with free £250,000-plus Rolls-Royce Wraith coupe and ultra-rare £450,000-and-up Ferrari 599 GTO.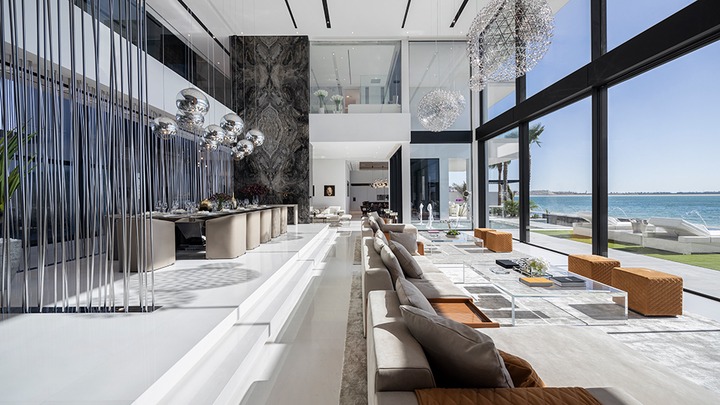 Inside the mansion, there are extravagant sculptures from Finnish artist Eero Arnio and French artist Richard Orlinsky. Plus, a Champagne vault stocked with Cristal and vintage Dom Pérignon.
It also boasts of eight extravagant bathrooms lined with book-matched Italian marble, five oversized bedroom suites, including a 1,300-square-foot master with a closet and dressing room worthy of a Rodeo Drive designer boutique, three industrial-grade kitchens, and three distinctively different bars.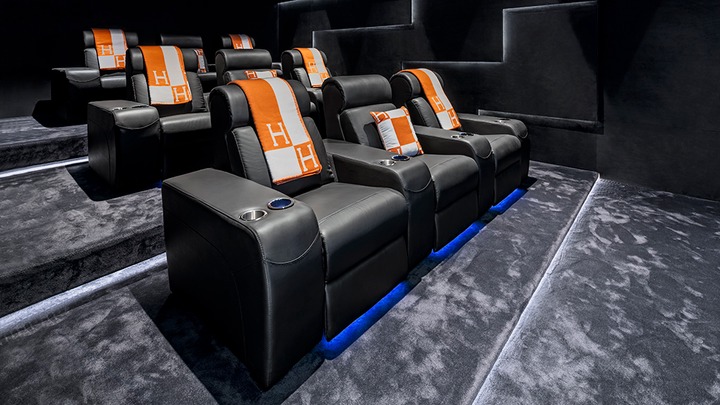 According to the listing, every stick of furniture in the mansion is a bespoke, one-of-a-kind creation from the likes of Fendi and Bentley Home, with much of the interior soft furnishings by Louis Vuitton and Hermès.
See more photos below.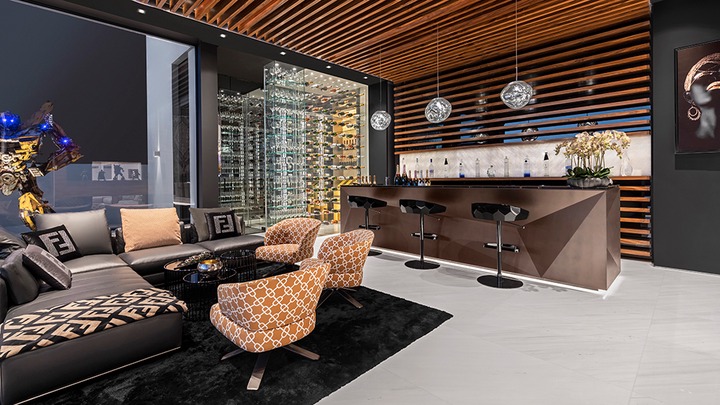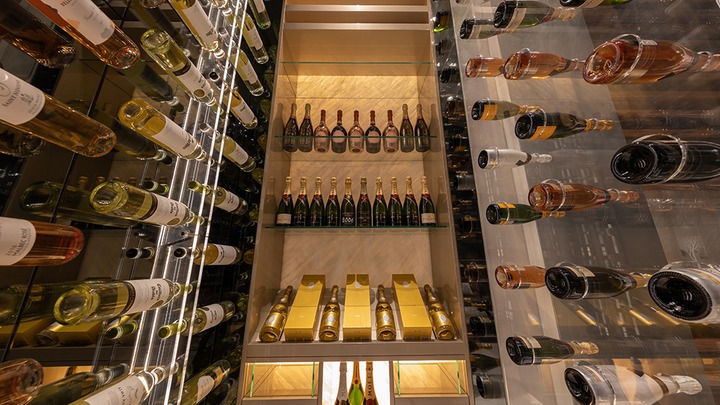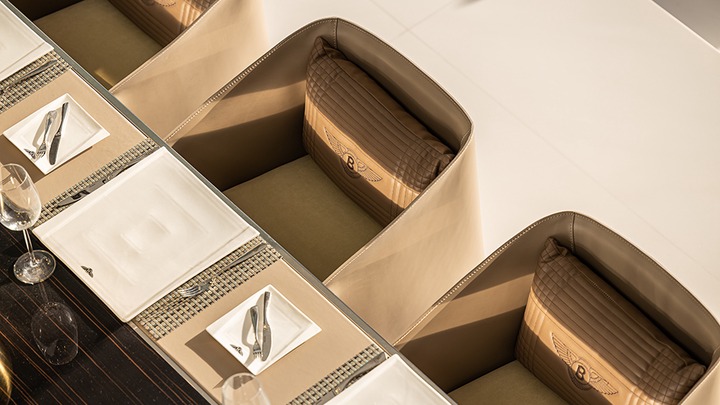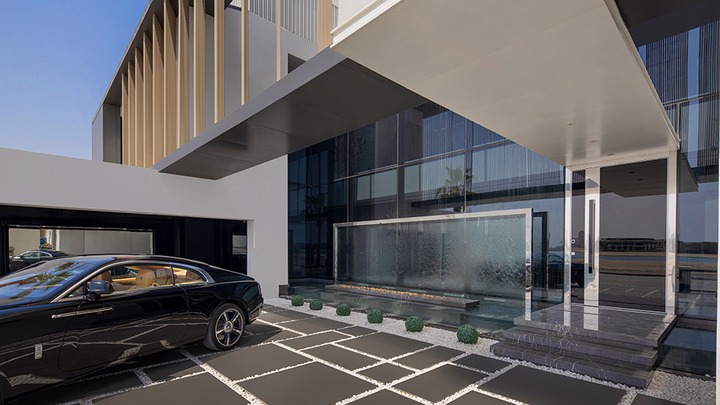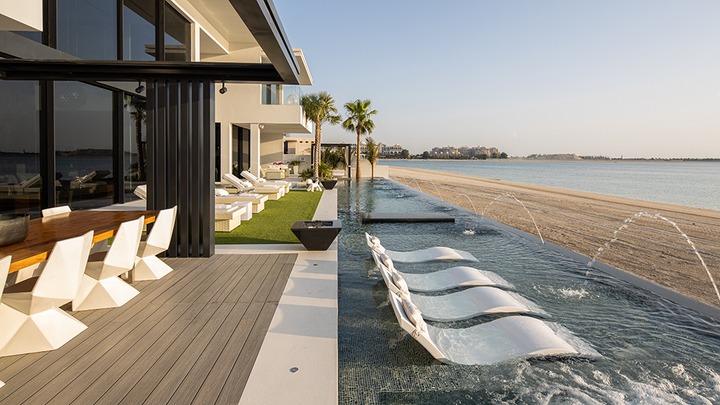 Hajia4Real Flaunts New Lover On Social Media As She Confirms He's The Real Owner Of Her Body | PHOTOS
Socialite and fashionista Mona Faiz Montrage, known famously as Hajia4real, has sparked another controversy on social media following a photo she posted.
The photo shared by Hajia4Reall confirms rumors that she has finally settled on that one person who controls her curvy and nice body.
It became the biggest topic on social media regarding who owns the body of the socialite and fashionista extraordinaire.
She earlier shared a video of herself having crazy fun with a nice looking gentleman on social media.
But that wasn't the "Mr Right" netizens were expecting as it turned out he(the man in the video shared) is her blood brother.
Well, the Hajia4Real herself has finally shown her new boyfriend after a long wait to calm her fans and critics who were busy throwing jabs at each other.
Sharing the photo of herself and the lucky guy she captions "when you're in love" to signify that she's now soaked in the deep realms of love.
See the photo everybody is talking about below;
See her post below.
10 Hot PHOTOS Of Adrienne Nicole, The American Lady In D-Black's Leaked Video
D-Black's bedroom tape still trending across all social media platforms and everyone is talking about it.
The leaked video of the Black Avenue Muzik boss captured him having the best time of his life. He was bonked well by the white lady in the video identified as Adrienne Nicole.
Few hours after the sex tape went viral, Adrienne Nicole issued a press statement to explain how the video found got to the public space without her doing.
In brief narration to her communique, she said her phone got lost and hours later was receiving threat messages by an anonymous person who had the phone in his possession to pay a huge sum of money else her nude videos and photos on the phone will be leaked.
More to the trending story, social media users are 'thirsty' to see some photos and who actually Adrienne Nicole is. Well, you are at the right place at the right time.
Following the release of the bedroom video of Ghanaian rapper D-Black and his ex-girlfriend Adrienne Nicole, Ghpage has gone into search to bring to you some 'hot' photos of the lady in the viral tape.
TAKE A LOOK AT 10 HOT PHOTOS OF ADRIENNE NICOLE, THE LADY IN D-BLACK'S SEX VIDEO;
Checks made by our feat, also reveals Adrienne Nicole is an American who lives in Los Angeles, CA and she is the ex-lover of D-Black. Nicole from what we gathered is a career woman.
This clearly shows that D-Black 'the ladies man' goes in for better women, not just slay queens.
US Presidential Candidate Joe Biden Kneels Before Don Little | PHOTO
There's a photo on-trend that captures US Presidential Candidate Joe Biden kneeling before Ghanaian diminutive actor Don Little in the USA.
The viral photo of the two has got the whole of the Ghanaian social media community talking. They are questioning the authenticity of the photo.
It's kinda weird how the two met and the kind of conversation that went on between them that made a whole US Presidential Candidate go down and his knees before Don Little.
The viral photo has stolen all the attention on social media. Netizens believe it's a photoshopped picture.
I think they have a point, in this era, everything is possible with respect to making a photo or video look real.
But one thing stays unclear. If it's a photoshopped picture why then did Joe Biden post on his official Instagram page?. You don't believe he actually posted? Well, see for yourself.
See post below;