Serwaa Amihere Flaunts Her Beautiful Daughter On Social Media | PHOTO
Serwaa Amihere has shared a beautiful photo of herself and her adorable daughter on social media.
In the photo She shared on Twitter, Amihere is seen embracing her beautiful daughter as she displays her appeal on social media.
The photo she captioned 'My baby' has earned diverse responses from social media users, many express their love for the child.
Photo below;
Kanye West And Julia Fox Make Red Carpet Debut As A Couple | PHOTOS
Kanye West and Julia Fox have officially made their red carpet debut as a couple.
The rapper and actress made their debut this weekend at Paris Men's Fashion Week as they attended Kenzo's show in matching denim looks.
Arriving on the red carpet on Sunday 23 January, Fox was dressed in full Schiaparelli, wearing a cropped denim jacket and loose-fitting, low-waisted blue jeans.
The jacket, which featured conical breasts reminiscent of Jean Paul Gaultier's signature corsets, was paired with large gold earrings and matching Diesel denim boots.
West opted for a full Balenciaga look, wearing a padded denim jacket, blue jeans, and knee-length Red Wing boots.
Speaking to WWD about her outfit, Fox said she was wearing Schiaparelli creative director Daniel Roseberry's personal pair of jeans.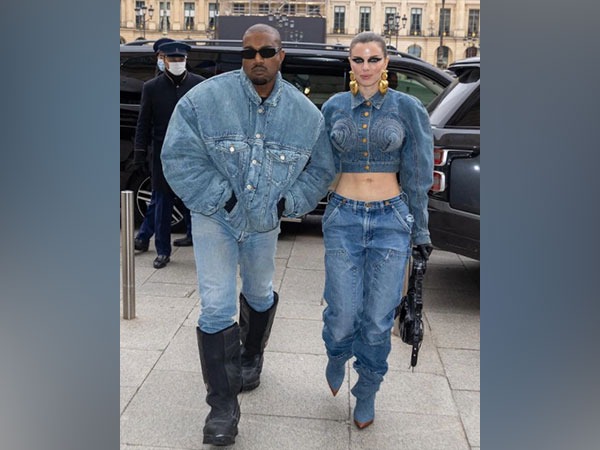 "I was just at the [Schiaparelli] showroom before coming here," she said.
"I'm actually wearing Daniel's pants, the designer of Schiaparelli. I took the pants off of his body and he was very kind to let me wear them," she added.
Fox shared photographs of the pair arriving at the show to her Instagram stories. In one, West smiles at the floor as he walks with his arm around the actor's shoulder.
At the show, the couple were seen seated between rapper Tyler The Creator and Kenzo's artistic director, Tomoaki Nagao, better known as Nigo.
Fox and Kanye have been dating for less than a month, since meeting on New Year's Eve 2021.
See the images below;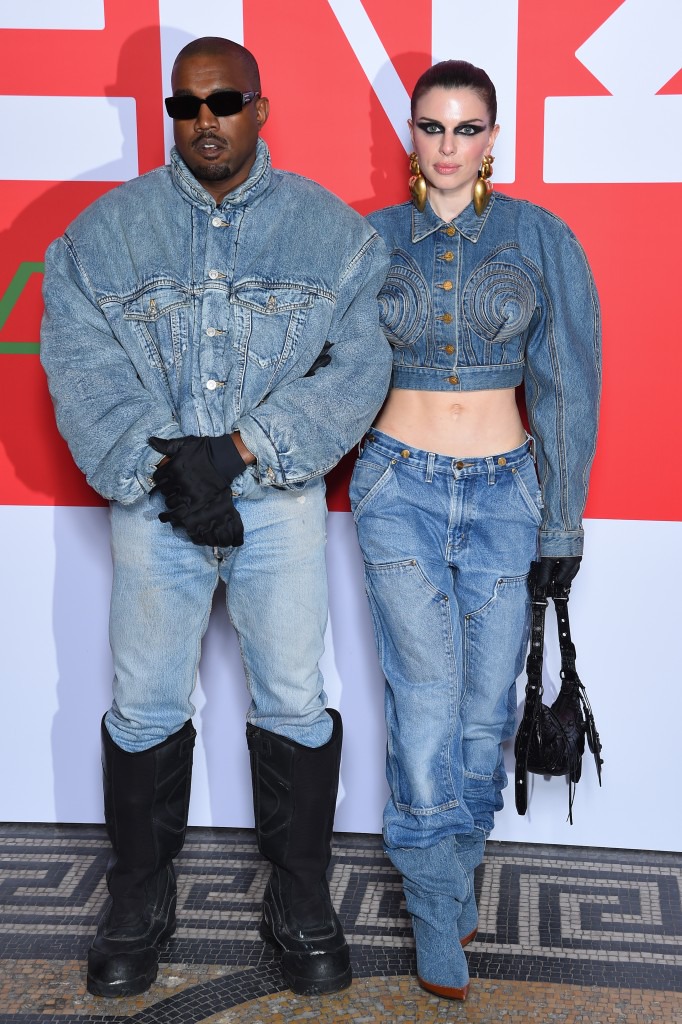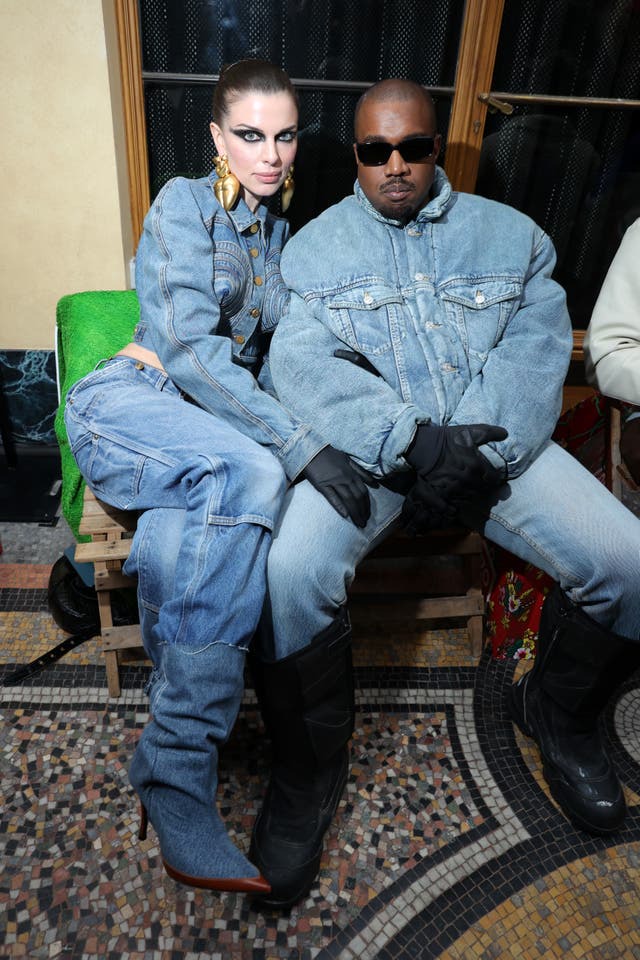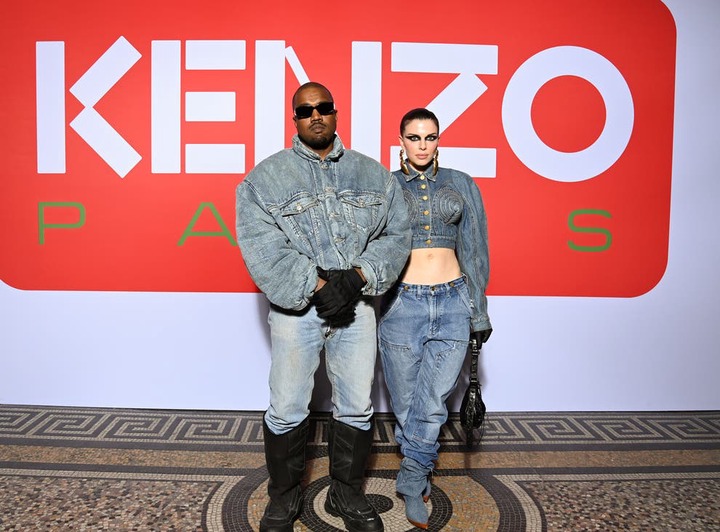 'So Happy I Met You My Love' : Shatta Wale Says As He Shares Another PHOTO Kissing His New Lover
Dancehall artiste Shatta Wale appears to be madly in love and he can't hide it from his fans and followers anymore.
For a couple of days now, the award-winning musician whose affair with baby mama Shatta Michy ended about 3 years ago has been seen showing off a new woman believed to be his girlfriend.
This comes after the romantic relationship between him and his alleged cousin Magluv, who took the place of Shatta Michy, seemingly hit the rocks abruptly.
In these all-loved-up photos and videos that have gone viral on the internet, it's evident that Shatta Wale is madly in love with his new bae whose name has been given as Elfreda, and will hopefully settle down with her officially.
In a new photo shared on his Instagram page, Shatta Wale expressed his happiness to meet Elfreda who he touts as his Queen.
The caption of the photo read: "Who's that lucky girl. So happy I met you my love. The queen for my future. Zaddy is here mami ..Just enjoy this beautiful life God is".
According to Insider information shared by IG blogger AbaTheGreat, Shatta's new girlfriend is an SM diva.
The insider further went on to add that, Elfreda was Shatta Michy's best friend prior to her break up with Shatta Wale.
Nana Addo: Serwaa Broni's Floral Ankh Tattoo In The Leaked PHOTO Is The Same : New Info Pops Up
A piece of floral ankh tattooed on the back of Evelyn Serwaa-Broni, a notorious Canadian lady claimed to be President Akufo-ex-girlfriend, Addo's has generated a major social media uproar.
The image, which has gone viral on Facebook and Twitter, is thought to have been shot from a film playing on a laptop, in which a topless man dresses up while a camera mounted behind the bedroom captures whatever happens in the room.
Many people have noticed parallels between old photographs of the notorious Serwaa Broni with the tattoo behind her and a picture in the circulation of a guy in the shape and appearance of President Akufo-Addo, which NPP communicators have declined to comment on while NDC members had a field day with.
While some people are sceptical that it is President Akufo-Addo, many others believe that Hopeson Adorye's attempt on Serwaa-Broni proves that the photo and video it was taken from are really of President Akufo-Addo.
See the photo below;
Serwa Broni Allegation
It would be remembered that Serwaa Broni months ago jumped on social media to drop a wild allegation against the President and NPP member Hopeson Adorye.
According to her, she has a video that when released would cause the first gentleman a lot of harm than good hence her staged robbery on the Accra-Aflao road on her way to Togo.
She explained that despite the fact that they took her phone and her laptop, that doesn't mean that she has lost those files as she has them stored safely somewhere.
It would be remembered that in her over two hours video that found its way unto social media she revealed that some NDC folks who had knowledge of her relationship with the President asked her to release the video prior to the elections.