South African Casino Operators Push For Online Casino Legislation
South African casino operators such as Tsogo Sun and Sun International are quietly pushing the government to pass legislation allowing online casinos to operate alongside the already legalized and regulated online sports betting industry. They are hoping that the hard work put into the 2008 National Gambling Amendment Act to formally legalize online casino gambling will finally be completed.
Kelvin Jones, the senior editor of PlayCasino (), explained: "For many years, South Africa's online gambling industry has been operating in a grey zone. The hard blow which the industry took during the Covid-19 lockdown had retail casino operators looking anew at alternative revenue options, and the obvious focus has been on internet gambling. These operators need to reshape their business in the wake of the pandemic and obviously, they want to avoid retrenching staff. The best way to do so is to divest their businesses, and what better – and more proven – way to do so than to offer their services online?"
"South Africans are huge fans of online casinos," continued Kelvin Jones. "Millions of South Africans already play at regulated, licensed offshore sites that are fully focused on the local player and even allow them to pay in ZAR. Well-established and reputable casino operators such as Tsogo Sun and Sun International are obviously aware of this, but they want to do things the right way. They want the government to give the green light for them to tap into the multi-million Rand online casino industry."
Sun International has been campaigning the South African Department of Trade and Industry to allow land-based casinos the right to offer online casino games. Its subnet brand launched draw-based games several months ago and plans to introduce online versions of live dealer titles.
Tsogo Sun has also urged the government to take another look at existing online gambling legislation. The group's CEO, Chris du Toit said that online gaming was a "natural progression" for the business, which is already at an advanced stage of moving into online sports betting.
"The South African government should not pass up on this momentous trend," said PlayCasino's Kelvin Jones. "As we've seen in other parts of the world, it's not a given that land-based casino operators are fully supportive of online gambling industry. Here is the perfect opportunity for the operators to build their businesses, avoid retrenchments, increase their revenue, and offset the terrible losses caused by the pandemic. On the other hand, the government will benefit from increased tax revenue and a stronger economy. It really is a win-win."
About PlayCasino:
PlayCasino is the premier online casino and online gambling guide for South African players. It is considered the largest and most trusted SA gambling website, having been established in 2008. PlayCasino offers an all-inclusive gambling guide for everything players need to know about the local industry. It covers the mobile, retail, and online gambling industry, and helps players find the best games, bonuses, and casinos to help them navigate the exciting world of gambling.
Model Emily Ratajkowski Announces She's Pregnant With First Child; Says She And Her Husband "Won't Know The Gender Until The Child Is 18" | PHOTOS
Emily Ratajkowski is expecting her first child with her husband Sebastian Bear-McClard.
The American model/actress, 29, shared the happy news on Vogue and revealed her growing baby bump in the special digital issue for the magazine.
Ratajkowski also penned an essay for the magazine, where she said the couple would wait until the "child is 18″ before revealing the gender because they hope to raise the child in a gender-neutral environment.
She wrote, "When my husband and I tell friends that I'm pregnant, their first question after 'Congratulations' is almost always, 'Do you know what you want?' We like to respond that we won't know the gender until our child is 18 and that they'll let us know then."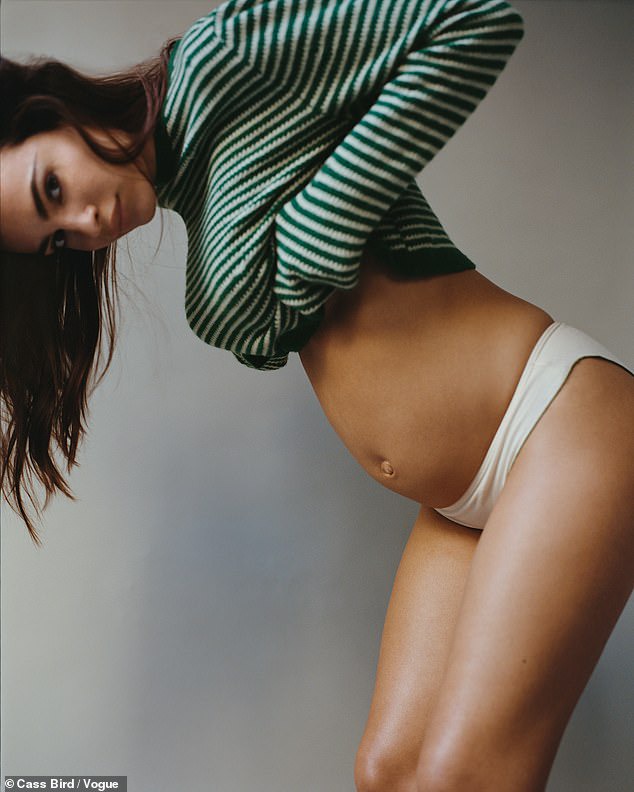 "Everyone laughs at this. There is a truth to our line, though, one that hints at possibilities that are much more complex than whatever genitalia our child might be born with: the truth that we ultimately have no idea who – rather than what – is growing inside my belly."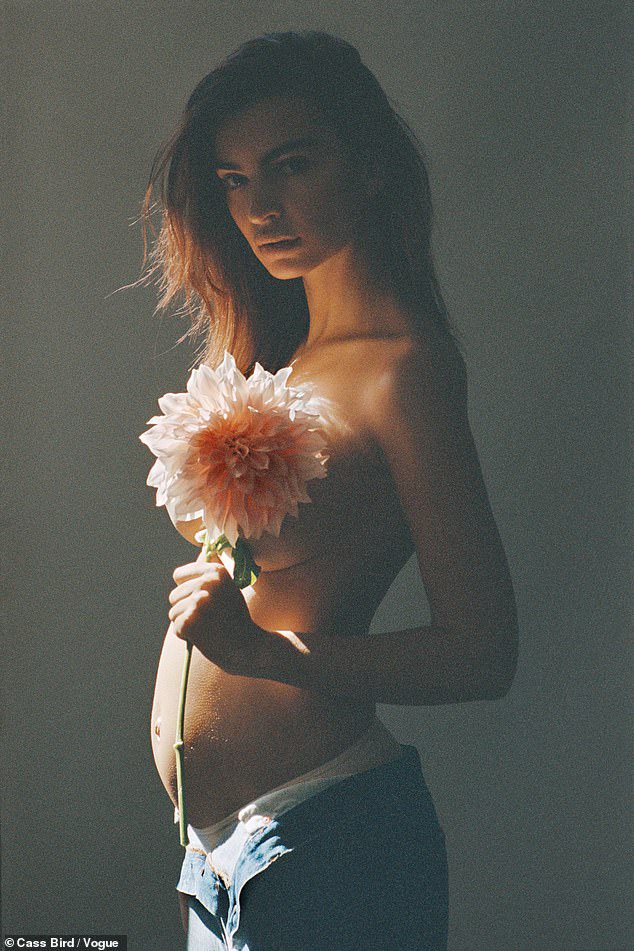 "But no matter how progressive I may hope to be, I understand the desire to know the gender of our fetus," she continues. "It feels like the first real opportunity to glimpse who they might be."
Emily Ratajkowski and her husband, movie producer Sebastian Bear-McClard have been married since 2018.
Instagram Apologizes To Nigerians For Incorrectly Flagging Posts In Support Of #EndSARS Campaign
Social media network, Instagram has apologized to Nigerians for incorrectly flagging down posts in support of #EndSARS as "false information."
Recall several Instagram users took to their respective accounts to react in anger after their posts aimed at spreading awareness about the #EndSARS campaign were flagged down as "false information."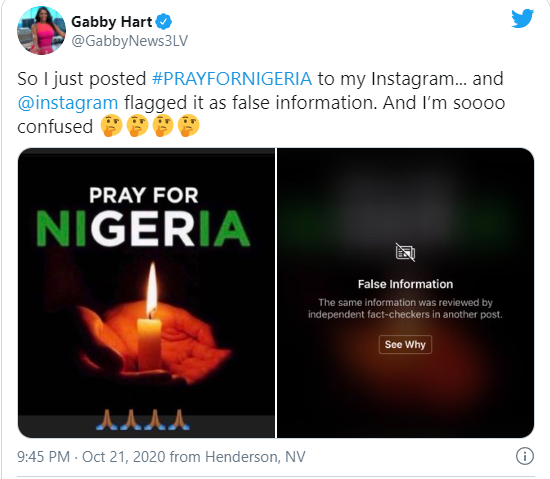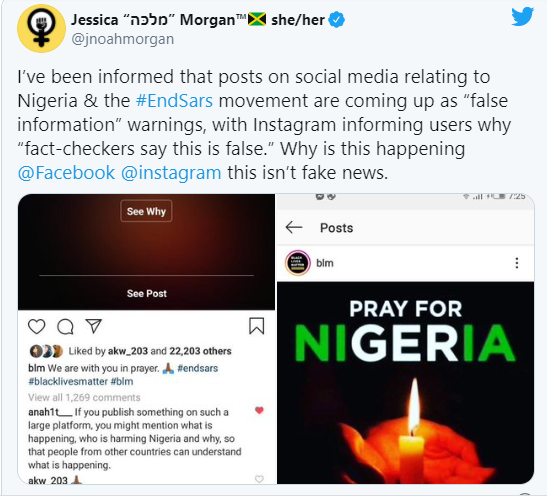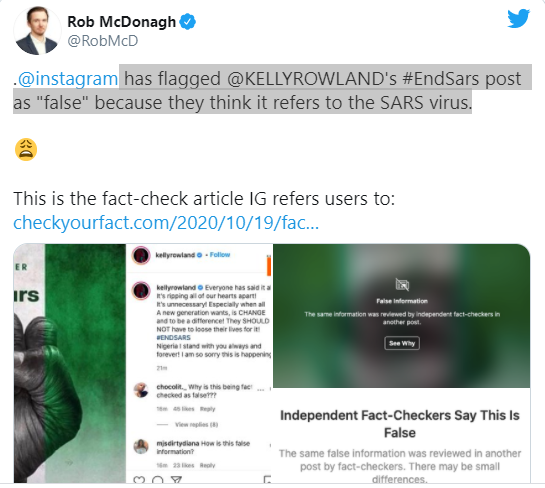 In a statement released to their Twitter page, the social media platform admitted that they incorrectly flagged down posts in support of #EndSARS and apologised to Nigerians for the error.
The statement read: "Yesterday our systems were incorrectly flagging content in support of #EndSARS, and marking posts as false. We are deeply sorry for this. The issue has now been resolved, and we apologize for letting our community down in such a time of need."
Yesterday our systems were incorrectly flagging content in support of #EndSARS, and marking posts as false. We are deeply sorry for this. The issue has now been resolved, and we apologize for letting our community down in such a time of need.

— Instagram Comms (@InstagramComms) October 22, 2020
I Will Never Love A Woman Again : Ghanaian Man Shares Sad Story After Looking After A Woman Through School For 4 Years, Preparing For Her Wedding & Finding Sleeping With Another Man In His Own House
A Ghanaian made on Jodel app has shared a sad story of him looking after a level 100 UPSA lady for 4 years.
According to him, they started as friends and since the lady's family was fit enough to pay her school fees, they asked the lady to drop out of school but then, the young man told the lady's parents he will look after her.
The man had spent millions on the lady by looking after her, paying her fees, buying her provisions, and all.
Fast Forward, it got a time the lady proposed to the man and the guy had to speak with the lady's father on the issue. The man accepted and decided to marry her, buying her wedding gowns and all. Unfortunately, his brother died and they had to do the funeral in his village. He spends about a month and more there and upon returning to his own home, he found a car parked in his own home.
Entering the home, she heard a moaning voice which probably was his yet-to-be wife who was being given a serious doggy.
Read the full story below.
https://twitter.com/David_Sackey_Jn/status/1317899598980128769?s=19
Guys you really need to fear women.