TAIVOS™ Lab Brings CAMON 16 Premier An Unparalleled Night Shot Experience
TECNO, the global premium smartphone brand, successfully hosted the first augmented reality (AR) online product launch that integrated technology and photography. TECNO launched its latest CAMON 16 Premier at the event, which boasts an industry-first rear 64MP quad camera and a front 48MP configuration. One of the main attractions is the trademarked TAIVOS™ technology, which is one of the key outputs of TAIVOS™ lab – providing users an excellent and unprecedented visual experience, especially at night and low-light environments.
TAIVOS™, which stands for TECNO AI Vision Optimization Solution, is an advanced signal processing technology that interprets raw data through an AI multi-framed, portrait segmentation based on tens of millions of data points. This capability means that TAIVOS™ can filter image noise better and optimize image clarity, thereby enhancing night photography effects. Not long ago, TAIVOS™ technology won the CVPR 2020 LIP global competition, the first place in the dark complexion segmentation track, which also validates the prowess of the CAMON 16 Premier.
TECNO is always committed to bring products with the latest technology to consumers, with the goal to push the performance of mobile phone photography further. For this reason, TECNO has carried out a number of researches and tests on the core technologies of photography on the lab platform, in order to seek more refined technological breakthroughs. TECNO's research centers train deep learning algorithms through tens of millions of deep skin data that are supported by multiple visual algorithms, enabling users to record and take more sophisticated photos. When compared to other smartphones, the TECNO CAMON 16 Premier can better filter image noise and optimize image clarity. Combined with the ultra-clear 48MP front camera and 64MP rear camera to enhance night-time photography, TECNO's night shooting mode becomes a big selling point of the smartphone.
In addition, most of the mobile phones usually only sports 1080 pixels resolution for video recording and playing, while the TECNO CAMON 16 Premier makes use of its TAIVOS™ technology in tandem with the equipped 2.9 μm super-large lens pixels to be able to film better in dark environments than normal camera. This configuration delivers twice as effective results as that of ordinary mobile phones. TECNO CAMON 16 Premier can also use AI to intelligently identify super night scenes, dark environment and portrait, and divide and protect the portrait, so that the portrait can be captured but not exposed, and the night scene is more transparent, bright and dark environment is clearer, so as to take the most perfect photos. It can not only ensure the stable output of 1080P clear quality video but also enables filming in dark environments by allowing users to get brighter exposures, which other mobile phones cannot do.
At the same time, TECNO CAMON 16 Premier can also perform intelligent recognition through AI, distinguish super night scenes, dark environments, and portraits with professional-level quality. The integrated software can segment and identify portrait-style photos, so that users can manipulate and edit videos to meet their creative vision, in both night and day. TECNO has painstakingly considered these details in the pursuit of empowering users to create the most perfect images, be it in video or photo form.
Model Emily Ratajkowski Announces She's Pregnant With First Child; Says She And Her Husband "Won't Know The Gender Until The Child Is 18" | PHOTOS
Emily Ratajkowski is expecting her first child with her husband Sebastian Bear-McClard.
The American model/actress, 29, shared the happy news on Vogue and revealed her growing baby bump in the special digital issue for the magazine.
Ratajkowski also penned an essay for the magazine, where she said the couple would wait until the "child is 18″ before revealing the gender because they hope to raise the child in a gender-neutral environment.
She wrote, "When my husband and I tell friends that I'm pregnant, their first question after 'Congratulations' is almost always, 'Do you know what you want?' We like to respond that we won't know the gender until our child is 18 and that they'll let us know then."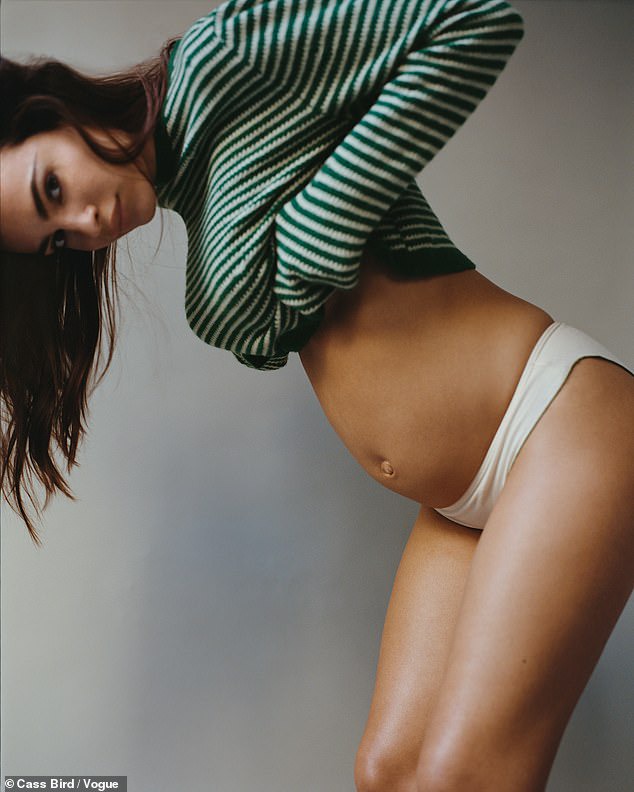 "Everyone laughs at this. There is a truth to our line, though, one that hints at possibilities that are much more complex than whatever genitalia our child might be born with: the truth that we ultimately have no idea who – rather than what – is growing inside my belly."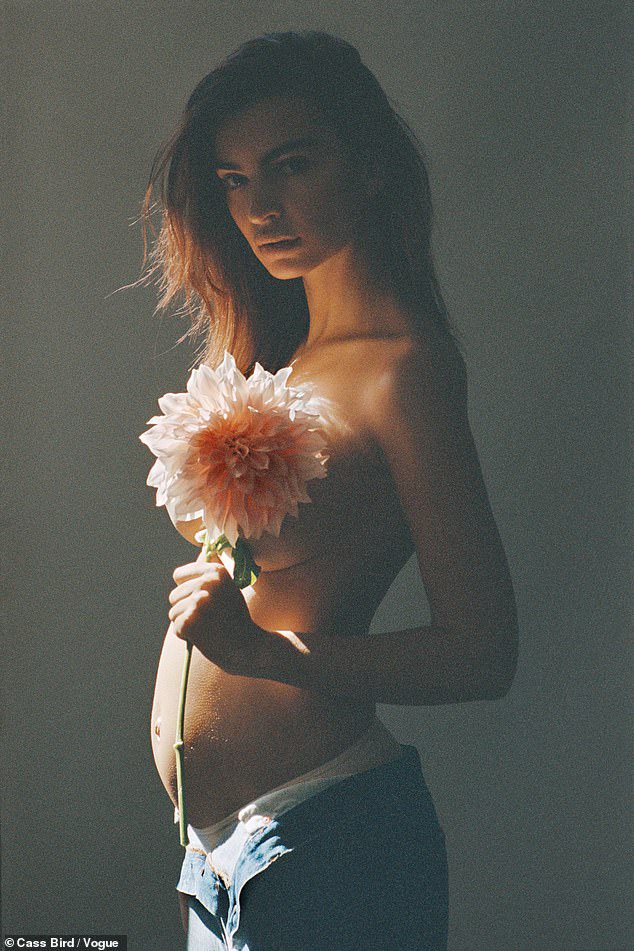 "But no matter how progressive I may hope to be, I understand the desire to know the gender of our fetus," she continues. "It feels like the first real opportunity to glimpse who they might be."
Emily Ratajkowski and her husband, movie producer Sebastian Bear-McClard have been married since 2018.
Instagram Apologizes To Nigerians For Incorrectly Flagging Posts In Support Of #EndSARS Campaign
Social media network, Instagram has apologized to Nigerians for incorrectly flagging down posts in support of #EndSARS as "false information."
Recall several Instagram users took to their respective accounts to react in anger after their posts aimed at spreading awareness about the #EndSARS campaign were flagged down as "false information."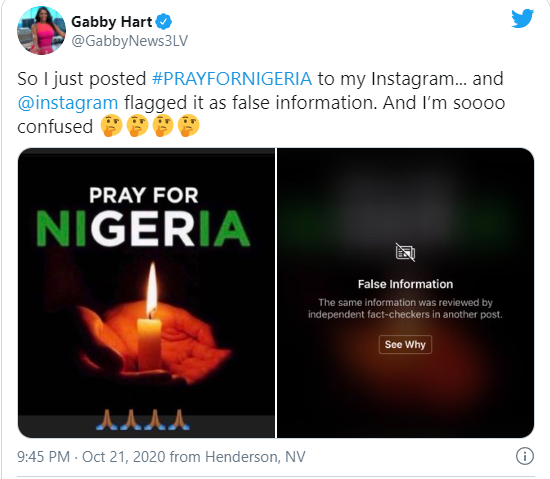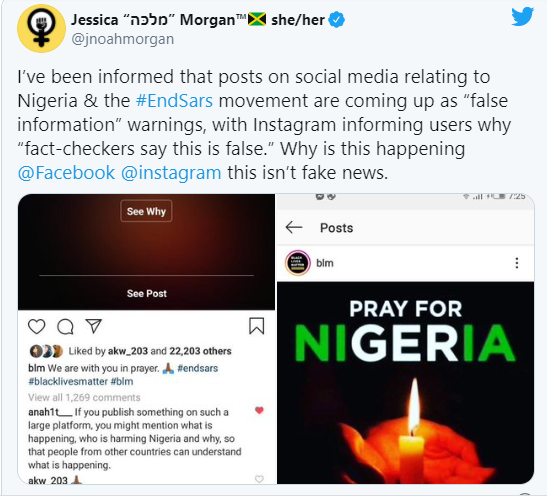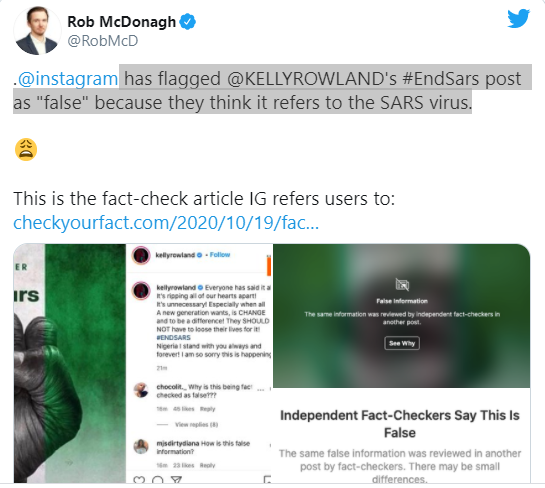 In a statement released to their Twitter page, the social media platform admitted that they incorrectly flagged down posts in support of #EndSARS and apologised to Nigerians for the error.
The statement read: "Yesterday our systems were incorrectly flagging content in support of #EndSARS, and marking posts as false. We are deeply sorry for this. The issue has now been resolved, and we apologize for letting our community down in such a time of need."
Yesterday our systems were incorrectly flagging content in support of #EndSARS, and marking posts as false. We are deeply sorry for this. The issue has now been resolved, and we apologize for letting our community down in such a time of need.

— Instagram Comms (@InstagramComms) October 22, 2020
I Will Never Love A Woman Again : Ghanaian Man Shares Sad Story After Looking After A Woman Through School For 4 Years, Preparing For Her Wedding & Finding Sleeping With Another Man In His Own House
A Ghanaian made on Jodel app has shared a sad story of him looking after a level 100 UPSA lady for 4 years.
According to him, they started as friends and since the lady's family was fit enough to pay her school fees, they asked the lady to drop out of school but then, the young man told the lady's parents he will look after her.
The man had spent millions on the lady by looking after her, paying her fees, buying her provisions, and all.
Fast Forward, it got a time the lady proposed to the man and the guy had to speak with the lady's father on the issue. The man accepted and decided to marry her, buying her wedding gowns and all. Unfortunately, his brother died and they had to do the funeral in his village. He spends about a month and more there and upon returning to his own home, he found a car parked in his own home.
Entering the home, she heard a moaning voice which probably was his yet-to-be wife who was being given a serious doggy.
Read the full story below.
https://twitter.com/David_Sackey_Jn/status/1317899598980128769?s=19
Guys you really need to fear women.