TECNO Never Disappoints; Its Latest CAMON 16 Premier Beats Competitors To Lead The Industry
As smartphones are becoming increasingly integrated into our everyday lives, it is essential to choose one that fits your lifestyles and your needs. Every mobile phone brand is trying to stand out from the rest by upgrading their technology and introducing new functions; however, the best way to measure their value is through their performance side by side. Today, we have selected three android phones for comparison: the TECNO CAMON 16 Premier, Huawei Y9 (2019), and Samsung A41.
Mobile phone screen design
While the three phones consider the different needs of users, they differ quite a lot when it comes to design. TECNO focused on the user's convenience and has shifted its fingerprint scanner to the side so that it will be easier to gain access to the phone. This was a good move on TECNO's part as it was a concern when we tested Huawei's Y9 (2019) that was rear-mounted. This stopped me from unlocking the phone accidentally every time my fingers brushed the scanner. The CAMON 16 Premier also opens faster and is extremely convenient to do so, so much so that it felt intuitive after a while. The unlocking time of CAMON 16 Premier is less than a second, and this is a marked improvement from even their own CAMON 15. This allows users to save time over minute actions, making the Samsung A41 and Huawei Y9 (2019) appear inferior. It seems that TECNO has done a lot of user research on this aspect, and the attention to detail made us feel very good about the CAMON 16 Premier.
In terms of screen size, which is a crucial consideration for users today, the TECNO CAMON 16 Premier takes the lead with its display with over 6.85" of the high-resolution screen while 6.53FHD hole screen on Samsung A41 and 6.59"FHD notch on Huawei Y9 (2019). This is the real estate for users to watch their favorite TV shows or make video calls, users can enjoy greater visual details. The bigger screen is more comfortable to watch for extended periods, allowing users more considerable viewing time before getting tired. The CAMON 16 truly shines when users watch their favorite high-resolution videos. The widescreen works in perfect sync with the 90Hz ultra-clear resolution, so users do not have to strain their eyes to enjoy a high-quality viewing experience.
Camera function – front and rear cameras
The camera qualities of a phone have become a clear determining factor for users when it comes to buying a phone. After much consideration, the TECNO CAMON 16 Premier once again stands out with their ultra-clear visuals that reflect what you see with your eyes. It boasts a 64MP ultra quad-camera while the Huawei Y9 (2019) only has a rear camera of 13MP. The Samsung A41 comes a little closer with a 48MP triple rear camera and a panorama function but still shy of the quality that CAMON 16 Premier can produce.
TECNO's CAMON series has always been notable for its superior camera and photography capabilities. They put the user's needs first and develop technology around that, bringing the user an unprecedented clear photography experience. Each camera lens has its mission and an outstanding feature, genuinely living up to their expectations that each picture could be a masterpiece. Based on the MTK flagship-level G90T core chip, the CAMON 16 Premier supports 64MP full-size output. As we understand, this is an industry-first, and not many phones can compete with this configuration. With five rear flashes, the user can get clear and bright photos regardless of the darkness of their environment.
Camera function – anti-shake function
Clear photos will always be a priority when shooting. TECNO CAMON 16 Premier uses the Super Hybrid Video Anti-Shake (Super HIS) to stabilize and has produced fantastic photography results. Another advantage is that it supports 960 frames of super slow-motion shooting, thus expanding the potential of video shooting exponentially. The CAMON 16 Premier's 8Gb of RAM also helps tremendously in accelerating the video processing time.
It seems to us that the TECNO CAMON 16 Premier is not merely a phone but a professional camera integrated with many other easy-to-use phone functions. These functions ensure the users get the best photo quality everywhere, every time. It is impressive that TECNO managed to fit something of this quality into a mobile phone.
Battery life
Battery life is a significant feature that determines how long your phone can last while you complete your tasks. The TECNO CAMON 16 Premier has a 4500mAh battery and a quick charge of up to 70% in just 30 minutes. This is an upgrade compared to the smaller 4000mAh and 3500mAh capacity of Huawei Y9 (2019) and Samsung A41. Furthermore, the user's safety is TECNO's priority as CAMON 16 Premier comes with its newest safety features. TECNO has engineered the CAMON 16 to reduce overheating during fast-charge and lowered the surface temperature by two degrees. It does this while simultaneously offering two types of charging options as CAMON 16 Premier has managed to even add a Type-C fast charging capability inside its lithe frame.
This is complemented with another safety function that automatically shuts the phone down when the battery is fully charged. This is a breakthrough in the industry, TECNO has integrated into the CAMON 16 Premier to better protect the mobile phone and the user.
The promising future of AR
One critical measure of a good smartphone is how they approach new technology. In this aspect, TECNO's CAMON 16 Premier is already off to a strong start with its unique AR Graffiti function that Huawei Y9 (2019) and Samsung A41 do not have. This new function gives users the ability to unleash their creativity digitally and re-imagine their surroundings. The AR Graffiti function has countless brushes and unlimited colors that you can use to customize your photos. This took us by surprise because it is something refreshing on the market, and also we had a lot of fun playing around with this technology.
To make it even better, TECNO CAMON 16 Premier also has other complimentary AR features. AR Sticker and AR Emoji, for example, allows users to interact in many creative ways. The features will enable you to capture any expression you want with over 200 facial features available. This technology also includes light beautification and localization features to make sure you look your best, even in AR. We know AR in smartphones is still an experimental technology, but if this is the direction that it is going to be in the future, then we think the CAMON 16 Premier will become popular very fast.
After reviewing so many functions, the clear winner amongst these three phones is clearly TECNO's CAMON 16 Premier. TECNO has not only continually integrated advanced technologies into their products but also makes sure they are an economical product. The CAMON 16 Premier offers outstanding value for money, which is only one of the many other benefits that this phone offers.
Instagram Apologizes To Nigerians For Incorrectly Flagging Posts In Support Of #EndSARS Campaign
Social media network, Instagram has apologized to Nigerians for incorrectly flagging down posts in support of #EndSARS as "false information."
Recall several Instagram users took to their respective accounts to react in anger after their posts aimed at spreading awareness about the #EndSARS campaign were flagged down as "false information."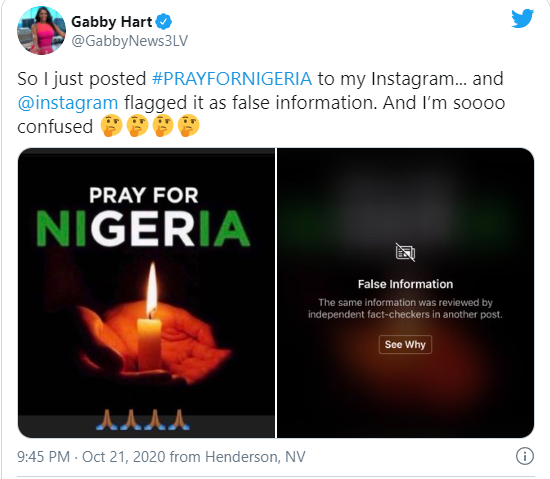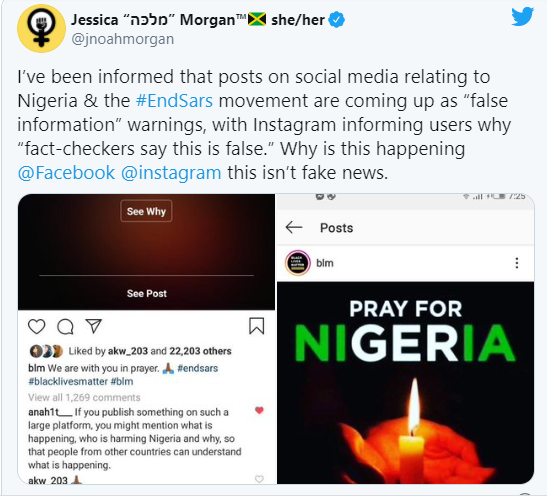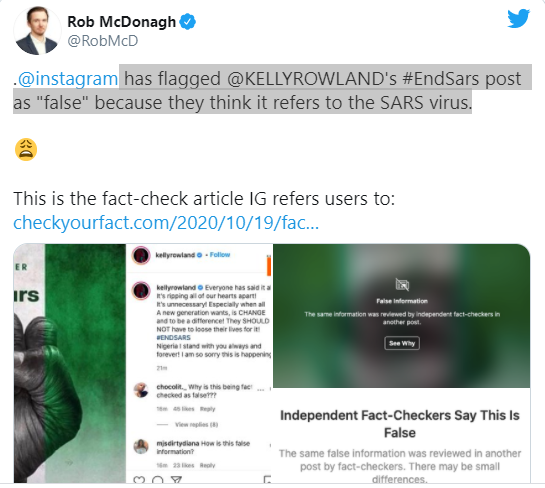 In a statement released to their Twitter page, the social media platform admitted that they incorrectly flagged down posts in support of #EndSARS and apologised to Nigerians for the error.
The statement read: "Yesterday our systems were incorrectly flagging content in support of #EndSARS, and marking posts as false. We are deeply sorry for this. The issue has now been resolved, and we apologize for letting our community down in such a time of need."
Yesterday our systems were incorrectly flagging content in support of #EndSARS, and marking posts as false. We are deeply sorry for this. The issue has now been resolved, and we apologize for letting our community down in such a time of need.

— Instagram Comms (@InstagramComms) October 22, 2020
I Will Never Love A Woman Again : Ghanaian Man Shares Sad Story After Looking After A Woman Through School For 4 Years, Preparing For Her Wedding & Finding Sleeping With Another Man In His Own House
A Ghanaian made on Jodel app has shared a sad story of him looking after a level 100 UPSA lady for 4 years.
According to him, they started as friends and since the lady's family was fit enough to pay her school fees, they asked the lady to drop out of school but then, the young man told the lady's parents he will look after her.
The man had spent millions on the lady by looking after her, paying her fees, buying her provisions, and all.
Fast Forward, it got a time the lady proposed to the man and the guy had to speak with the lady's father on the issue. The man accepted and decided to marry her, buying her wedding gowns and all. Unfortunately, his brother died and they had to do the funeral in his village. He spends about a month and more there and upon returning to his own home, he found a car parked in his own home.
Entering the home, she heard a moaning voice which probably was his yet-to-be wife who was being given a serious doggy.
Read the full story below.
https://twitter.com/David_Sackey_Jn/status/1317899598980128769?s=19
Guys you really need to fear women.
Five Key Factors For A Future-Oriented Digital Transformation Of Electric Power Enterprises
At HUAWEI CONNECT 2020, IDC and Huawei jointly released the white paper for the electric power industry — Building the Future-Ready Power Enterprise: Road to a Successful Digital Transformation.
In the white paper, IDC proposed a methodology for the transformation of electric power enterprises. This methodology supports and aligns with Huawei's digital transformation methodology. IDC and Huawei follow a similar approach with frameworks and blueprints to help organizations design their digital transformation priorities and set their agenda, which in turn enables power enterprises to deliver the business value of scale.
Electric Power Enterprises Urgently Need New Operating Structures and Business Models
The power industry has long faced disruption. Power enterprises are now facing multiple changes. Management will need new operating structures and business models if power enterprises are to remain key players in the energy ecosystem. As 2020 progresses, COVID-19 has introduced another dimension of change and disruption that business leaders in the power industry must tackle.
Hou Jinming, Deputy Director of the Technology Department of the Global Energy Interconnection Development and Cooperation Organization (GEIDCO) said that "As the advance of global energy reform and energy Internet development, the power sector will take an entirely different shape. It will be decarbonized, digitized, and intelligent." The implications of the change will impact the management, operations, services, and transaction modes of the electric power industry. Power enterprises must reconsider who the customer is and who the competitor is, a new breed of stakeholders and participants, and how the energy ecosystem works. This will mean new customer engagements, new business models, new competitors, more stakeholders, and increased risks.
Increasing renewables, emerging power consumption devices, multiplying power grid connections, and the integration of energy, information, and transportation networks require power enterprises to systematically improve their response capabilities and the intelligence of their management systems and business processes. This will allow power enterprises to better adapt to complex environments, and enable power systems to operate more securely, adaptively, flexibly, and efficiently. Therefore, high operation data analysis efficiency, rapid and efficient artificial intelligence (AI) decision-making capability, and full-process automation will be crucial to the survival of power enterprises.
Methodology: Five Stages of Digital Transformation of Electric Power Enterprises
To build a future power enterprise, IDC proposes the digital transformation methodology for the electric power industry.
IDC's maturity model is part of its digital transformation methodology that seeks to provide a framework for companies to build their roadmaps. According to the maturity model, the digital transformation of electric power enterprises is divided into five phases: adhoc, opportunistic, repeatable, managed and optimized.
The factors most critical to the success of power industry digital transformations are as followed: 1. A single enterprise digital strategy; 2. Resolution to make the required organizational and cultural changes; 3. A long-term investment commitment to digital transformation; 4. A platform-based strategy; 5. An enterprise-wide data governance model.
Emilie Ditton, AVP of the Energy and Manufacturing Insights Group, IDC Asia Pacific, believes that modernization, digitalization, and transformation of the grid are an immediate requirement. The transformed digital grid will combine traditional centralized generation, large-scale distributed generation, and renewables as well as enabling visualized management and control of the complex power grid environment. Grid operations will transform from digital grid operations to smart grid operations. New business models will be established, and the power service mode and power grid management mode will be changed.
Huawei: Reliable Partner for Digital Transformation
Collaborating with its enterprise partners, Huawei implements comprehensive awareness, interconnection, and intelligence of various power terminals by integrating 5G, IoT, optical, IP, cloud, big data, and AI technologies into the power system. Through digital transformation, Huawei is committed to assisting customers to develop coping strategies in dealing with industry challenges and seizing future opportunities.
Lu Yongping, Vice President of the Global Energy Business Dept of Huawei Enterprise Business Group, stated that Huawei is a reliable partner for digital transformation. Huawei will facilitate the digital transformation of electric power enterprises through a variety of methods, including assisting in the understanding of their own status quo, the market, and the entire industry ecosystem. Based on extensive digital transformation practices in the energy industry, Huawei has developed an energy ring — '1-2-3-2-1' — a digital transformation framework applicable to the energy industry, in aiding electric power enterprises to realize the vision of their digital transformation goals.
Adhere to one transformation vision: Electric power enterprises should interpret 'digital transformation' as a corporate-level transformation strategy and an indispensable element of their overall strategy.
Create two assurance conditions: Develop data literacy levels of enterprises and employees, progress the cultivation of a digital and transformation culture, and build a talent team for digital transformation, supporting enterprises' digital transformation objectives.
Implement three key processes: Implement integrated management of planning, construction, and operations and ensure that digital transformation is progressing as outlined, so that an organization's transformation vision can be converted into enterprise value.
Build two core driving forces: Follow service and technology trends and seize opportunities in the future.
Build one basic platform: Build a fully connected digital platform to provide solid foundations for the digital transformation of businesses.
Huawei's digital transformation methodology is similar to that of IDC, and they complement each other. Both parties believe that digital transformation steps and frameworks need to be planned and established to help electric power enterprises design their digital transformation priorities and set their agenda, which will enable power enterprises to deliver the business value of scale.
Hu Hao, Chief Digital Transformation Officer of the Global Electric Power Industry of Huawei Enterprise BG, pointed out that the global energy industry is facing transformation. The traditional energy consumption structure centered on primary energy is gradually transforming into a new structure centered on secondary energy such as PV and wind power. This will drive the industry evolving towards decarbonized, clean, electrified, and distributed. During the transformation, Huawei will help power enterprises optimize management processes, reduce production costs, improve operation security, and innovate business models. It will also help enterprise customers accelerate digital transformation to achieve the goal of building an intelligent energy system that features multi-energy synergy, ubiquitous connectivity, and intelligent interaction.
For more information, please visit: https://bit.ly/3dH7ZgK.