Trump Impeachment: 'My Party Put Enormous Pressure On Me To Support Impeachment Inquiry,' : House Democrat Reveals
A Democrat that didn't want Donald Trump's impeachment unless it was a Bi-partisan agreement, has come out to reveal that she was pressured into finally supporting impeachment proceedings against the United State's number one citizen by her party.
Rep. Debbie Dingell, D-Michgan, claimed she was put under "enormous" pressure to change her stance and support the impeachment inquiry – even though it might divide the nation and also affect her re-election in the state, a state Trump won in 2016.
Trump faces several impeachment enquiries by the Democrat controlled House of Reps for allegedly pressuring Ukraine's president to investigate presidential election rival Joe Biden and his son, Hunter, before they could get $400m of military aid.
Dingell, who was initially against impeachment, said she decided to support the inquiry last week when the inspector general of the Department of National Intelligence found the whistleblower complaint about Trump's phone call with the president of Ukraine "to be true and credible"
"I was one of the most recent people to come out under [an] enormous amount of pressure," Dingell told "CNN Newsroom." on Wednesday.
"I was the focus of ads by both Tom Steyer and Moveon.org, but I was worried about how divided the country is. And frankly, we're continuing to see how divided [it is]. Though, you can't be divided on [the] rule of the law."
"That's my job. To protect this country, and to protect the Constitution. I think that there's a lot of confusion, a lot of chaos out there. I am actually surprised back home… they're asking questions, they're puzzled, they're focused."
'They (my constituents) just see chaos in Washington, trying to figure it out — what does it mean," she said.
"They look at Washington and say, 'What's happening?'…  To me, this is an investigation. We're getting the facts, we're following the facts… But we need to protect our national security. We need to protect our country. And I think people are asking questions. Not everybody understands it, but they're concerned when they heard that our national security is in danger."
"It's a difficult situation everybody finds themselves in, but we all have a fundamental responsibility to protect this country… That's what we do as Americans… This should not be partisan. It's more partisan than it should be. We need to get the facts, and the American people need to understand what's being found."
Former Black Stars Player Odartey Lamptey Welcomes Third Child
Information reaching KUBILIVE indicates that former Ghanaian footballer Nii Odartey Lamptey has welcomed his third child.
This good news was shared on Twitter by Sports Journalist Saddick Adams where he revealed that it is the footballer's first male child after his issue with his ex-wife.
Saddick Adams tweeted; "Congratulations to Nii Odartey Lamptey (Ex-Ghana international) on the birth of his third child. Finally, that one male that you so desired. Those who know the story knows why we so happy for this man".
See tweet below.
Odartey Lamptey is one of Ghana's exceptional footballers who has played a vital role in the Ghana Football Association.
He retired from active football in 2008 and later founded the Glow-Lamp International School.
Odartey Laptey divorced his first wife Gloria Appiah after DNA test proved that he was not the biological father of all his three children.
After the divorce, his ex-wife took him to court to get 50% of his assets but was refused by the judge.
Odartey Lamptey is currently married to model and actress Ruweida Yakuba with whom he now has three children with; two girls, one boy.
FIFA Announces Arsene Wenger As Chief Of Global Football Development : Official
Arsene Wenger has been unveiled today as FIFA's new Chief of Global Football Development. The illustrious French manager was welcomed by FIFA President Gianni Infantino to the world football governing body's headquarters in Zurich.
Wenger will be chiefly responsible for overseeing and driving the growth and development of the sport for both men and women around the world.
He will also be the leading authority on technical matters, both as a member of the Football and Technical Advisory Panels involved in The IFAB's review and decision-making process on potential changes to the Laws of the Game, and as chairman of the FIFA Technical Study Group, which has conducted the technical analysis of FIFA tournaments since 1966.
Wenger said: "I very much look forward to taking on this extremely important challenge, not only because I have always been interested in analysing football from a broader perspective but also because FIFA's mission as world football's governing body is truly global.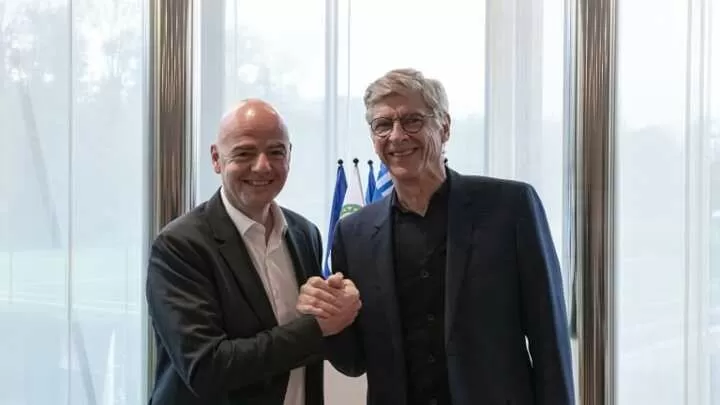 "I believe that the new FIFA we have seen emerging in recent years has the sport itself at the very heart of its objectives and is determined to develop the game in its many different components. I know I can contribute to this objective and will put all my energy into this."
On the new appointment, President Infantino said: "Arsene Wenger's profound knowledge and passion for the different aspects of our game sets him apart as one of the most respected personalities in football. I am delighted to welcome him to the team.
"Since I arrived at FIFA, we have placed football at the centre of our mission, striving to learn from those who know the sport inside out: Arsene is someone who, with his strategic vision, competence and hard work, has dedicated his life to football.
"His arrival is just another example of how we keep strengthening our purpose to bring FIFA back to football and football back to FIFA."
'I Have The Trust From Manager' : Fred Reveals The Key To His Utd Transformation
Fred, Manchester United midfielder says the trust he has from Ole Gunnar Solskjaer has played a major role in his improved form at the club.
The 26-year-old impressed again at the weekend as United defeated Brighton in the Premier League, and after the game Fred expressed his gratitude towards the Norwegian manager for sticking by him.
"The trust from the manager is important and I feel I have this," he told The Athletic.
"I just want to continue doing what I'm doing, playing well and starting the games — but I want to score, too. I came close [against Brighton] and hit the bar but I'll keep working until this happens.
"I'm very happy, firstly because we won but also because we're getting some rhythm and we're doing well in the cups.
"But we needed to do better in the league. We just have to carry on fighting so that we reach the Champions League.
"I'm feeling better than I've ever felt since moving to England. All I ever wanted was to play regularly and now that I'm doing that, there's no doubt my confidence is higher and that helps any player."