White House Unveils Official Portraits Of Joe Biden And Kamala Harris
The White House has released official portraits of US president Joe Biden and Vice President Kamala Harris.
Chief official White House photographer, Adam Schultz, who shared the image on Friday, April 9, said he took the photo of Biden in the Library Room of the White House last month.
Proud to unveil the official portrait of @POTUS, taken on March 3, 2021, in the Library room of the @WhiteHouse. pic.twitter.com/8FXoJ4vYQ5

— Adam Schultz (@schultzinit) April 9, 2021
Peter Velz, the director of Press Operations for Kamala Harris also shared her official portrait.
Happy Friday to the official portrait of Madam @VP, only pic.twitter.com/RTc5m2SHLR

— Peter Velz (@PeterVelz46) April 9, 2021
In the portraits, Biden is seen sporting a blue tie and suit with a white shirt in his photo, while Harris is wearing pearl earrings and a navy blazer in her official snapshot.
The images will be placed in federal buildings across the country.
AC Milan Launch New 2021/22 Puma Home Kit
AC Milan have launched their brand new Puma home kit for the 2021/22 season, which draws inspiration from the energy, creativity and style of the city under the tagline 'Move like Milan'.
The reimagined shirt incorporates uneven stripes in a symmetrical design, with a bold, thick central black stripe flanked by narrowing stripes against the famous red.
Worn with black short and black socks, the new kit will be debuted by Milan's women's team when they face Sassuolo on Monday 16 May, representing a historic first.
The men's team will wear the new kit for the first time against Cagliari in Serie A the following day.
"I'm really excited to be wearing this kit on the pitch for the first time in our next game. I love the design, modern yet traditional, and how it has been influenced by the city of Milan," women's team captain and Italy international Valentina Giacinti said.
Men's team captain Alessio Romagnoli added: "Wearing the red and black colours day in and day out gives me immense pride. The new kit looks really modern, and you can truly see where the inspiration for the stripes comes from – it is a great representation of Milan's new and expanding skyline."
Both Milan's men and women are currently vying to compete in the respective Champions League competitions next season.
The women have narrowly missed out on a place in Europe in each of the last two seasons after finishing third in Serie A but are on course to land the second of the two spots open to Italian clubs.
The men, meanwhile, gave themselves a strong chance with a 3-0 win over Juventus in their last outing to climb into third place with only three games remaining.
Nicki Minaj Shares New Saucy PHOTOS As She Makes A Comeback After Social Media Hiatus
Nicki Minaj, female rapper queen is back on Instagram after going on a social media break following the birth of her son. 
On Monday evening, the 38-year-old rapper shared these new saucy photos of herself to tease fans with the possibility of dropping a new music this weekend. Posting the images, the rapper simply wrote: "F R I D A Y."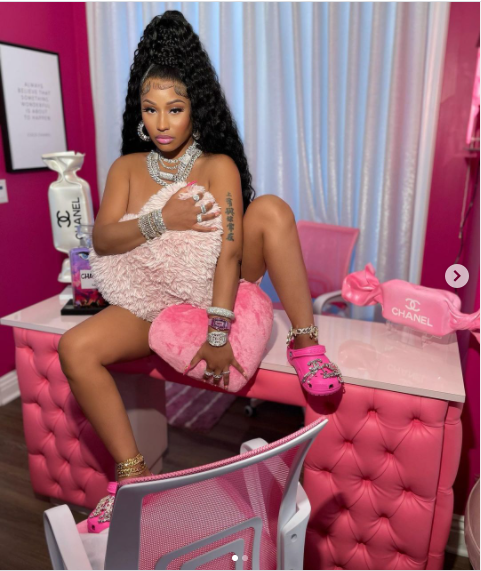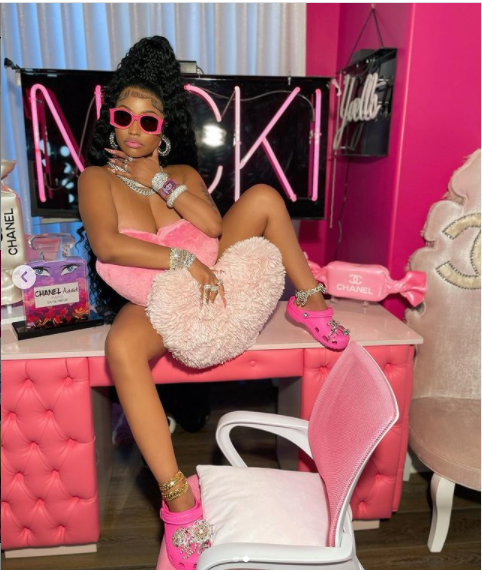 Diamond Appiah Shows Her Child For The First Time To Clamp Down Barren Rumours
Often mocked for being childless and also ageing, Diamond Appiah has 'shame' critics by showing off her beautiful child in the latest photo.
The New Patriotic Party NPP's sympathizer is well-known on social media for flaunting her assets but little did we know she was already a mother.
The popular Media figure on Mothers' Day took to social media to show her beautiful child to obviously prove that aside from her responsibilities at work she carries motherly duties.
See the photo below;
Diamond Nannah Appiah, commonly known as Boss Lady. She is a brand ambassador for different brands.
Born 5th September 1987, Diamond Appiah profile is also passionate about politics. In 2016, she ran for a parliamentary seat on the ticket of the United Progressive Party.