World's First Private Funded Moon Landing Crashes
The first privately funded mission to the Moon has crashed on the lunar surface after the apparent failure of its main engine.
The Israeli spacecraft – called Beresheet – attempted a soft landing, but suffered technical problems on its descent to the Moon's surface.
The aim of the mission was to take pictures and conduct experiments.
Israel hoped to become the fourth country to land a spacecraft on the Moon.
Only government space agencies from the former Soviet Union, the US and China have made successful Moon landings.
"We didn't make it, but we definitely tried," said project originator and major backer Morris Kahn.
"I think that the achievement of getting to where we got is really tremendous, I think we can be proud," he said.
Prime Minister Benjamin Netanyahu, watching from the control room near Tel Aviv, said: "If at first, you don't succeed, you try again."
After a seven-week journey to the Moon, the unmanned spacecraft approached a final orbit at 15km (9m) from the surface.
Tensions were high in the command center as communications were lost before Opher Doron, the general manager of Israel Aerospace Industries' space division, announced there had been a failure in the spacecraft.
"We, unfortunately, have not managed to land successfully," he said.
The audience outside had been through a turbulent journey themselves as they watched the first part of the landing go to plan.
As Mr. Doron announced that the engine had cut out, groans filled the room.
"We are resetting the spacecraft to try to enable the engine," he said.
The engine came on seconds later and the audience applauded, only for communication with the spacecraft to be lost shortly after. The mission was over.
The project has cost about $100m (£76m) and has paved the way for future low-cost lunar exploration.
Dr. Kimberly Cartier, an astronomer, and science news reporter tweeted that she was "sad about how #Beresheet ended" but "proud of the entire @TeamSpaceIL"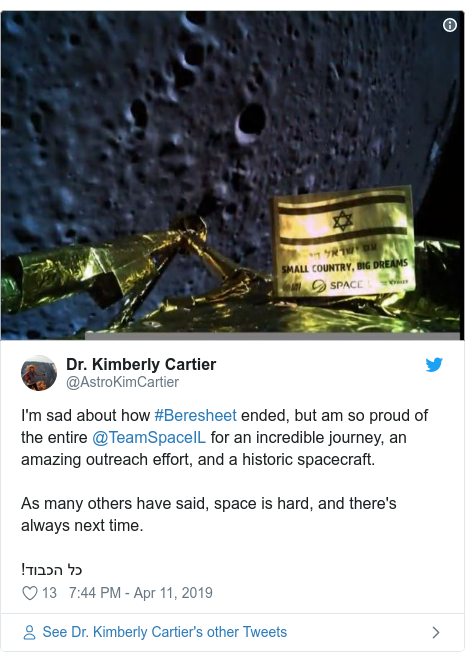 Beresheet, which is Hebrew for "in the beginning", was a joint project between SpaceIL, a privately funded Israeli non-profit organisation, and Israel Aerospace Industries.
Courts Have Ordered Indian States To Support Prostitutes
India's Supreme Court has ordered states to provide food to thousands of prostitutes whose livelihoods have been blocked by the Koranic curfew.
The judges told the authorities not to press for evidence from the women who would receive the grant.
Activists who spoke to the court said sympathy should be shown to women, who have lost their jobs due to the cholera epidemic.
NGOs working with women said many could not prove their identities because of the stigma attached to their profession.
Azam TV Completes The Migration Of Its Video Platform From The Eutelsat 7B To Eutelsat 7C Satellite
Azam TV has completed the migration of its video platform from the EUTELSAT 7B to EUTELSAT 7C satellite, with a multi-year extension of the existing contract and an incremental capacity commitment.
One of Africa's leading pay-TV operators, Azam will leverage the enhanced performance of Eutelsat 7 C to distribute some 120 channels in a mix of standard and high definition across its footprint covering Tanzania, Uganda, Malawi, Kenya, and Rwanda.
Commenting on the deal, Patrice Paquot, Deputy Regional Vice President, Sub-Saharan Africa of Eutelsat said: "We are honored to continue to partner with Azam, one of our anchor customers at the 7° East position as it successfully expands it broadcast offer. 7° East has become a new DTH hotspot for Sub-Saharan Africa and a key pay-TV neighborhood for Eastern Africa with some of the fastest growth rates in the region."
Jacob Joseph, Deputy Chief Executive Officer of Azam added: "Every Azam TV household will have the opportunity to enjoy a wide variety of local and international programs with excellent signal quality. We are delighted to rely on Eutelsat to leverage the unparalleled reach of its 7° East position."
About Eutelsat Communications
Founded in 1977, Eutelsat Communications is one of the world's leading satellite operators. With a global fleet of satellites and associated ground infrastructure, Eutelsat enables clients across Video, Data, Government, Fixed and Mobile Broadband markets to communicate effectively to their customers, irrespective of their location. Around 7,000 television channels operated by leading media groups are broadcast by Eutelsat to one billion viewers equipped for DTH reception or connected to terrestrial networks. Headquartered in Paris, with offices and teleports around the globe, Eutelsat assembles 1,000 men and women from 46 countries who are dedicated to delivering the highest quality of service.
Didier Drogba Wins The 2020 UEFA President's Award
Former Chelsea forward Didier Drogba has won the 2020 UEFA President's Award.
The 42-year-old is the second African-born winner of the UEFA President's Award after the great Eusébio, who received the accolade in 2009.
The President's Award recognises outstanding achievements, professional excellence and exemplary personal qualities.
"Didier is a hero to millions of football fans for his achievements throughout his glittering playing career. He is a leader – a pioneer. I will remember him as a player for his skill, strength and intelligence, but above all for his insatiable appetite to succeed – a trait which is just as present in his desire to help others off the field of play," said UEFA President Aleksander ?eferin, said in a statement.
"The UEFA Champions League has become the greatest club competition in the world, partly due to our clubs being able to attract the best players from around the world. We have been lucky to have seen the likes of George Weah, Samuel Eto'o and Didier Drogba play at the very highest level. They in turn, have blazed a trail for African footballers and have given inspiration to a whole new generation who look to follow in their footsteps." the statement reads.
Drogba, who will collect the UEFA President's Award in Geneva during Thursday's UEFA Champions League draw, began his career in France where he played for Le Mans, Guingamp and Marseille. However, it was following his move to Chelsea that he started to establish himself as one of the greatest forwards of the 21st century.
At Stamford Bridge, Drogba scored 164 goals in 381 appearances in all competitions. Arguably his most important strike was his equaliser in the 2012 UEFA Champions League final against Bayern. For good measure, he slotted the winner in the ensuing penalty shoot-out as Chelsea won the competition for the first time.
Born in Abidjan, Drogba is one of the greatest footballers the Ivory Coast has ever produced. He scored his country's first ever goal in their maiden FIFA World Cup finals appearance in 2006 and would go on to play at a further two tournaments.
"To have won a Champions League, to have played and scored for my country at a World Cup – these are things I could only have dreamed of when I was a child," said Drogba, who grew up in both his homeland and France.
"There are so many children in the developing world who have the potential to become not only footballers, but also doctors, teachers and engineers. This is why it is so important to help and support our youngsters to let them fulfil their dreams and aspirations."
After retiring from playing in November 2018, following spells in China, Turkey, Canada and the United States, Drogba returned to education and is currently enrolled on UEFA's Executive Master for International Players (MIP) programme – a step he considers key to enabling his transition to a successful post-playing career.
"I had been thinking, 'How can I keep having the same impact without playing, without using my physique, my legs and my heart?' The best way was to use my brain and think about how to stay in football and go into administration. That is why I am here – to get all the tools and skills needed to improve not only as a person but as an ambitious man who wants to contribute to the development of football."
Previous winners of the UEFA President's Award include legendary names such as Sir Bobby Charlton, Eusébio, Raymond Kopa, Johan Cruyff, Francesco Totti, David Beckham and Eric Cantona.